Last week, we had highlighted that the outlook for the Nifty is bullish and it would take a fall below 5,970 to violate the bullish sequence of higher highs and higher lows. Though there was a marginal breach of this swing low on Friday, we would not consider it as a significant violation of the swing low. The strong recovery today is also a pointer that the bullish camp is keen to defend this level.
We had also suggested a stop loss of 5,920 for long positions in the Nifty. This stop loss is still intact and was not under threat even during the brief excursion below the 5,970 swing low. From the 15-minute chart of the Nifty featured below, it is evident that the index is trying to claw its way up. From a short-term perspective, we still feel that the index could grind upwards to the key resistance at 6,090-6,110 range.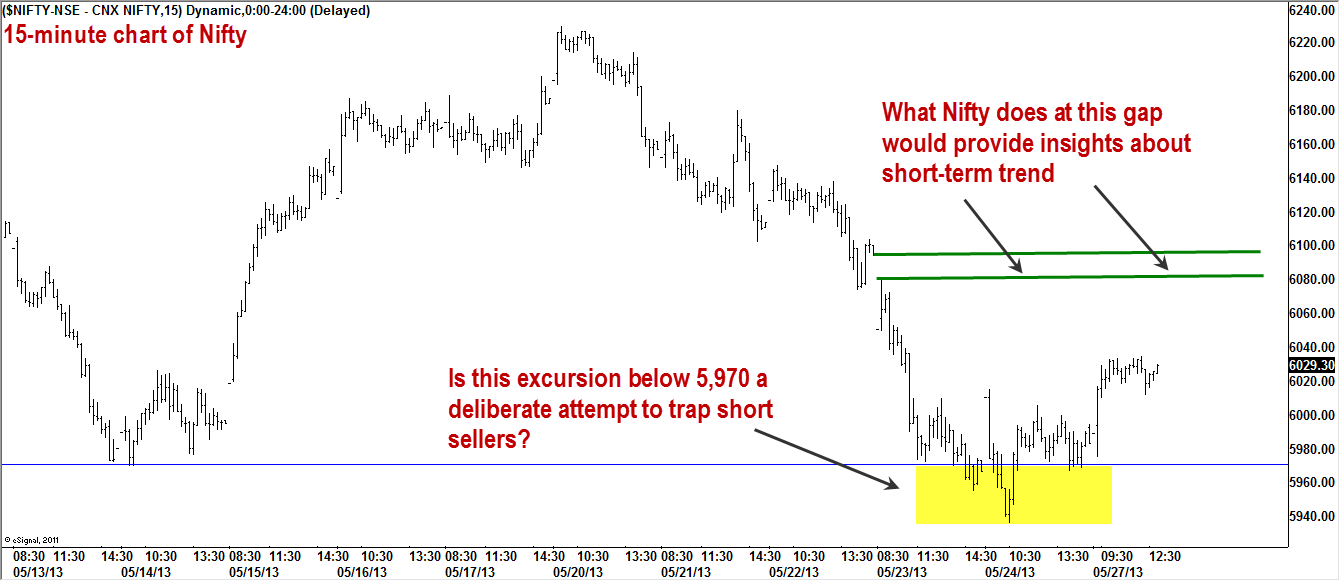 What the index does at the prior swing high of 6,112 would be a pointer towards the underlying trend in the Nifty. A failure near 6,112 would indicate that the index is getting ready for a deep downside correction while a breakout past this level would propel the Nifty to new highs.
What is a trader to do now? From a trading perspective, we would still lean on the long side as long as the recent minor swing low at 5,936 is not violated. Those wanting to consider long positions may do so with a stop loss at 5,920, the level mentioned last week, for a target of 6,080.
Any signs of weakness at the 6,100 neighborhood may justify the case for short positions. But, the short position is just a conjecture now.
[fbcomments]