The view expressed in the Last Week's update hasn't changed much. There is still no conclusive answer to the  key question – Is a  major low in place at 5,477?  Kindly direct your attention to the daily chart of the Nifty featured below.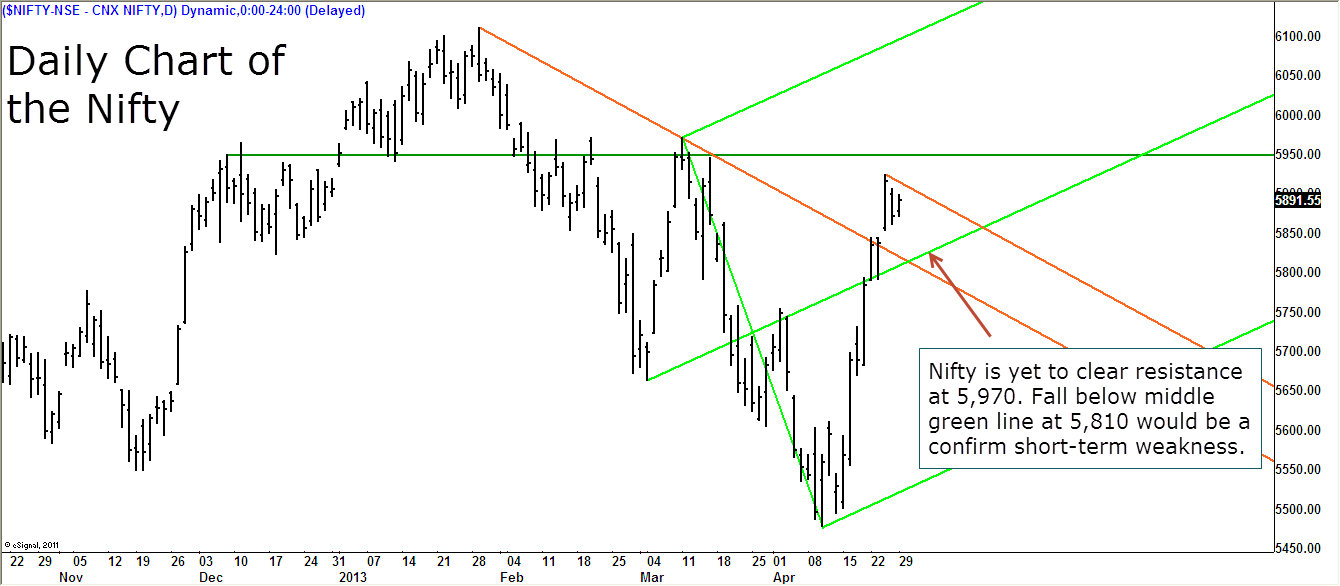 From the above chart, it is evident that the Nifty has managed to clear the downsloping red trendline, which is a positive sign. However, the index is struggling near the more significant resistance at the 5,970-level. A breakout past this level is more crucial in deciding if the major low is in place at 5,477 or not.
From a trading perspective, there is no reason to take fresh long positions at the current levels. There is no logical stop loss in place for long positions either. On the other hand, there are a few reasons to take a relatively low-risk short trade.  Nifty has seen an one-sided rally from the low of  5,477. This along with the weakness on Friday, just below key resistance of 5,970, suggests that at least a short-term downward correction may be on the cards.
Those holding long positions may trail their stop loss to 5,770. Those who do not hold any position and are itchy to take one may consider a short trade in the Nifty. We suggest a short trade primarily because there is a logical place for a stop loss and the risk is affordable.
Any pull back rally to the upper red trendline would be an opportunity to short the Nifty with a stop loss at 5,990, basis spot price. A more convincing and high probability trade would be to short the Nifty on a fall below middle green line at 5,810 for a trip down to 5,650. All these thoughts of shorting the Nifty would be brushed aside on a breakout past the stop loss of 5,990.
Trade Safe & Don't Get Hurt
[fbcomments]