Gold has been grabbing the headlines for all wrong reasons. Gold, which traditionally enjoys a safe-haven status, lost its sheen this week with the price collapsing sharply. We had last covered our view on gold in February and here is the link to that post. In this post, it was highlighted that gold is trading close to the lower end of the range and a breach of this support could trigger a slide to $1,250-1,260 range.  Have a look at the updated gold weekly chart featured below.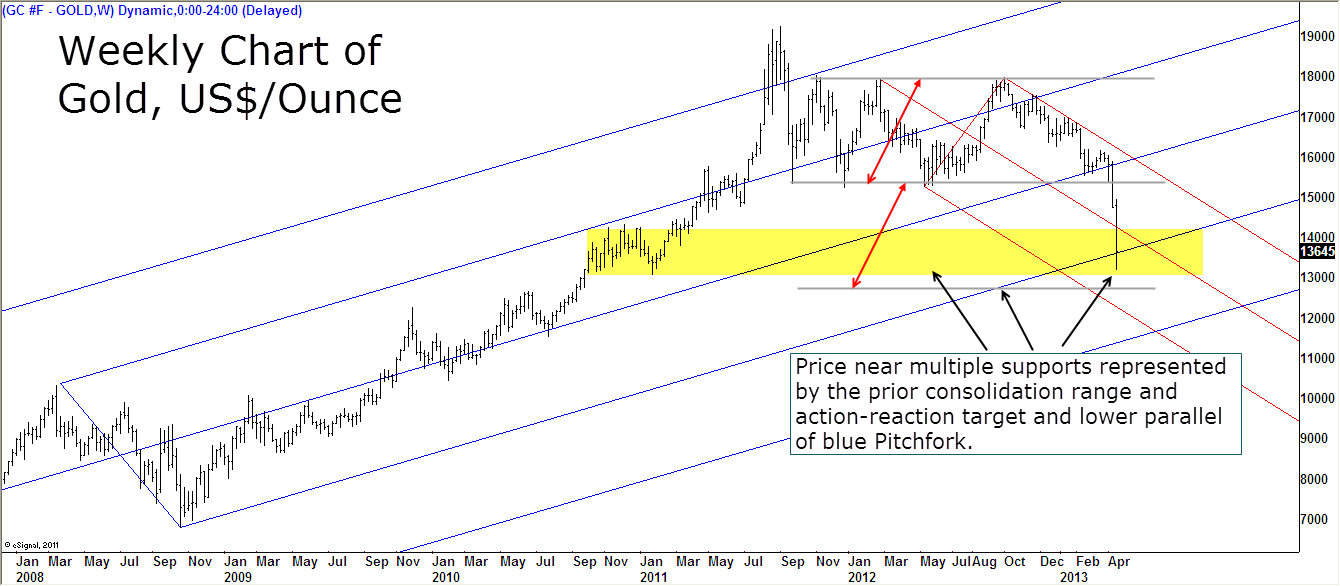 While it is very tempting to sport a bearish view, especially after the recent collapse, an objective look at the chart patterns does not support any meaningful downside to the yellow metal. As highlighted in the prior post, the logical downside target for gold, based on 100% range expansion is at $1,250-1,260.
There is also a huge multi-month consolidation zone in late 2010, which would be another significant support zone for gold. The lower end of this consolidation is at $1,310. Hence, the price zone between $1,250 to $ 1,310 is likely to be a strong support zone. From the weekly chart above, it is evident that the recent damage has not done any serious damage to the overall uptrend.
Let's switch over to the domestic prices. Featured below the daily chart of 10 gram gold traded at MCX. The chart below captures the price action in a Point & Figure format which filters out the "noise" in price.
It is evident from the above chart that there is a strong support near Rs.25,000 mark. This level is likely to offer atleast a temporary relief to gold from the current free fall.
With gold price hovering near key support level of $1,250-1,310 range, we do not foresee any meaningful slide from the current levels.  We shall revisit the outlook for gold if it falls below $1,250. On the way up, the immediate hurdle for gold is at $1,410-1,420 range and the prior support at $1,520-1,530 would act as a strong resistance as well.
Those aspiring to buy gold may consider SIP kind of approach as we see marginal downside from the prevailing levels.
[fbcomments]