For index-plus returns
If you are looking to buy a fund that is close to mirroring the index, then HDFC Index Fund – Sensex Plus Plan (HDFC Sensex Plus) is a good option. The fund is also a good candidate to buy into market dips such as the present one. With a track record in excess of 10 years, this index fund delivered 20% annually since its launch in July 2002. That is a good 4 percentage points more than the Sensex.
The fund and suitability
HDFC Sensex Plus seeks to invest 80-90 per cent of its assets in the Sensex basket and reserves mandate to invest 10-20 per cent outside the basket. In other words, the risk that you will take on will be only as much as the index. However, you will have an opportunity to earn some extra returns through exposure outside the index.
This fund will suit the following investors: one, those wanting to limit their risk by taking exposure to bellwether index stocks. Such investors can do a regular SIP in this fund. With a very low expense ratio (1 per cent) and a limited exit load period (30 days), this fund is ideal if you wish to test waters in equities.
Two, the fund is a good candidate for those looking for a vehicle to capitalize on market falls. In significant market falls, instead of scouting for individual stock/fund opportunities, it is a good idea to buy in to the bellwether index if you do not have much time to track/choose funds. A market fall of 5 per cent or more often provides opportunities to buy small amounts and average costs.
For those wanting to use tools such as the 'trigger option', an index fund can be a good low cost option. HDFC Sensex Plus, although actively managed to the extent of stocks outside the index, charges only as much/lower than most other index funds, although it has delivered more, thanks to the active part of the portfolio.
The Sensex has currently fallen by about 6 per cent from January to date. Trailing price earnings ratios have fallen from over 18 times to 16.5 times. While forecasts are clearly not factoring much upside on earnings, falling commodities as well as less painful interest rates may mean that margins and eventually earnings could make a slow recovery.
While earning downgrades continue, the quantum is much lesser now, suggesting that it could be bottoming out. That means the next few months, at least until the December earnings, could provide opportunities for stock accumulation. Hence, investors could use dips of say 5 per cent or more in the index to buy into funds such as HDFC Sensex Plus, which are similarly positioned.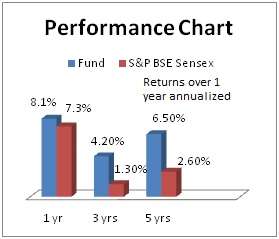 Performance and portfolio
HDFC Sensex Plus did not always hold a record of beating the index. In years such as 2005 and 2006, the fund managed only as much as the index. Only from 2008, did the fund begin to make a mark in terms of bettering the index. That year, the fund contained declines to 47 per cent as against the Sensex fall of 53 per cent.
While it just matched the index performance in 2009, it started consistently beating the index since. In fact, it has managed to keep pace with, or outperform the category average of active equity funds in some of those years.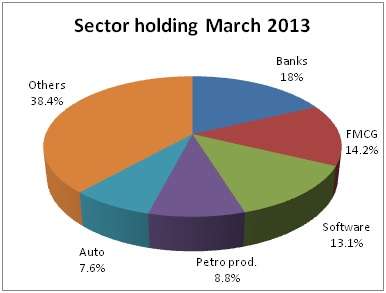 HDFC Sensex Plus has all the 30 Sensex stocks, roughly in the same weights as the index. But the stocks outside the index are an interesting mix of mid- and large-sized companies. Some of them, such as the stock of Solar Industries, can be seen across many HDFC funds. Evidently, some of them are house calls.
India Glycols, Navneet Publications and SJVN are also some of the interesting picks.
The fund is managed by Vinay R. Kulkarni.
[fbcomments]