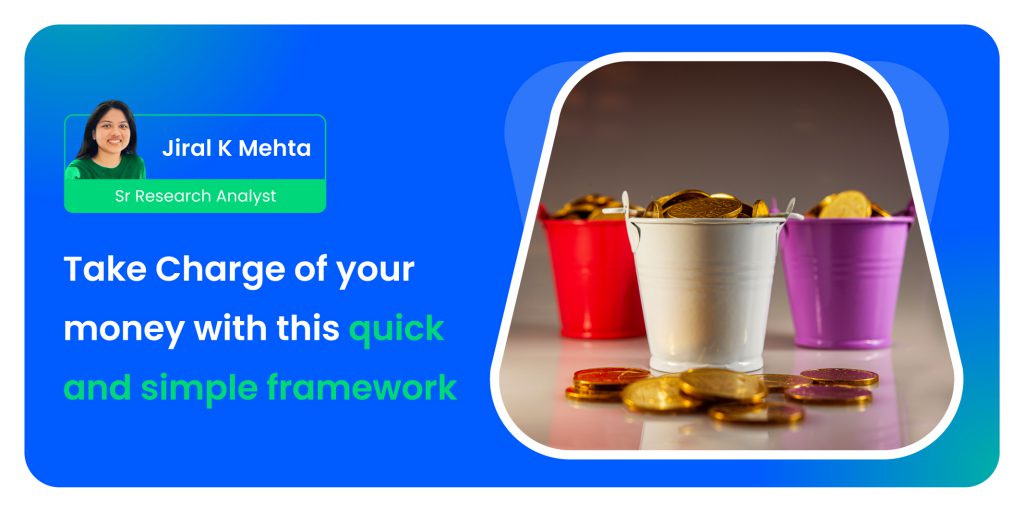 This article was originally published in mint genie. Click here to read it.
When it comes to financial decisions we are often hesitant to take charge. While we all know that Saving and Investing is important, we do not take a step in that direction because it's time consuming (while multitasking professional and personal life) and feels complicated.
Let's see how we can make this quick and simple…
CREATE A HABIT
Yes, you read it right, create a habit to SAVE.
Begin by saving atleast 20% of your monthly income and over time aim to gradually increase it to 30% of your monthly income.
But if you think 20% is a stretch, don't worry. Start saving whatever seems feasible, and when you have created a habit and are disciplined, you can gradually increase your savings. The key here is to START the habit of saving money every month..
FOLLOW THE 3 BUCKET APPROACH
With the amount that you have saved, follow the simple 3 Bucket approach.
Assuming you are able to save 20% of your monthly income, let us see how we can use this 3 Bucket approach to turn that savings into investment.
Bucket 1 – Safety Bucket
This bucket is for all your emergency requirements. Allocate 5% of your savings to this bucket, begin by investing this into a good liquid fund. Continue to add to this bucket till you have the amount equal to 6 months of your monthly spending. After this, shift this 5% savings to your long term bucket.
Bucket 2 – Short term Bucket
This bucket is for your short term goals (which are coming up in the next five years). Allocate 5% of your savings (or more based on your short term requirements) to this bucket, begin by investing this into a Low Duration or Short Term Debt fund.
If you are not comfortable with debt funds, don't worry. You can invest this amount into an FD.
Bucket 3 – Long term Bucket
This bucket is for your long term goals (which are more than 5 years away). Allocate the balance which is 10% of your savings to this bucket and start an SIP into good equity funds. If you prefer active funds then choose a few good diversified funds (3 to 5) and if you prefer passive funds then split it equally across Nifty 100 Index fund and Nifty Midcap 150 fund.



MAKE YOUR INVESTMENT DECISIONS RULE BASED
Creating pre-defined rules for your investment decisions will help you prevent your emotions from influencing your investment decisions. Let's see how…
When you receive a lump sum amount – If you receive any lumpsum amount like gifts or bonus save 50%, invest it using the 3 Bucket approach and then you are free to spend the remaining 50%.
When you need to withdraw –

For Unplanned Emergency: If you have any immediate emergency needs then first withdraw from the Safety bucket and then from the Short Term bucket.
For Planned Short Term Goals: Withdraw from the Short Term bucket.
When you want to explore new investing opportunities – You may also get new ideas to invest your savings, like cryptos or new fancy schemes that your friends are talking about. You should only explore these high risk opportunities if you are able to save more than 30% of your income and these investments should be limited to 5% of your overall investments.
AFTER YOU ACCUMULATE REASONABLE MONEY IN YOUR LONG TERM BUCKET
During the initial years of your career, you should concentrate on improving your earnings, developing a saving habit and making investing simple using the 3 bucket approach.
When you reach the stage where the value of your portfolio crosses the threshold of 5x annual spending, you should focus more on asset allocation, diversification and rebalancing in your Long Term Bucket. If you want to be a DIY investor then you will need to spend more time and equip yourself with the knowledge on these topics or you may choose to take the help of a professional.
SUMMING IT UP
Create a habit to save at least 20% of your income.
Keep it simple in the initial years of your career by following the 3 Bucket approach of Safety bucket, Short term bucket and Long term bucket.
Create Pre-Defined Rules for investing new money, withdrawal and investing in high risk investments
When your portfolio value is more than 5x of your annual spending then focus more on Asset allocation, Diversification and Rebalancing.
This framework will help you take charge of your financial decisions and keep the topic of money, saving and spending simple and less time consuming.
[fbcomments]