This is a fund for those who can take a little more than pure large caps in their portfolio. HDFC Top 200 is an alpha generator, provided you are willing to hold it over ups and downs.
If you have built an equity portfolio over the last few years, it is likely that HDFC Top 200 is among them. Its return of 4% in the last one year though, may have caused some doubt as to the fund's performance. While burgeoning asset size is cited by some as a reason for the under performance, others have attributed it to the fund's exposure to underperforming stocks.
Should you worry enough about the fund to stop your SIPs? We don't think so. And here's our take on why the fund's portfolio and performance does not suggest cause for much concern.
Fund size
First, the fund's asset size. Between December 2009 and 2012, HDFC Top 200's assets doubled from about Rs 6,000 crore to over Rs 12,000 crore, holding among the largest corpus in the industry. With its NAV expanding by about 25% over this period, clearly, the asset expansion was largely due to inflows.
Now, often times, funds, especially with focus on the mid and small-cap segment struggle to deploy huge inflows at one stretch, given the liquidity issues in this market-cap segment. This is why funds such as IDFC Premier Equity, in fact, restricted lump sum investments at one point. But this is not necessarily true of all funds.
With majority exposure in large-cap stocks, HDFC Top 200 has remained almost fully invested in the last few years, suggesting that it has not been holding cash for lack of deployable avenues. Its large asset size is less than 0.2% of the total market capitalization of the BSE. In the words of the fund manager Prashant Jain, as reported in a newspaper, the above proportion means there is little risk of being crowded out. Or in other words, the fund size is not large enough to start impacting performance.
This is so even as many peers, whether in the pure-large-cap space such as Franklin India Bluechip or those with some mid-caps such as Quantum Long Term Equity have take some cash calls based on market conditions.
Hence, the fund's performance may have little to do with lack of deployment of your money in equities thus far.
What being fully invested entails
The natural fall out of being fully invested, is, mostly, to also bear a bit more of the pain in a down market. And this is not a new characteristic of HDFC Top 200. Whether it was the 2008 fall or the end of a painful 2011 (holding in equities was just short of 100% in December 2011), HDFC Top 200 had far higher allocation to equities than most others.
The table below gives a half-yearly performance of the fund, along with few other comparable funds. It is evident that the fund has had a streak of falling more in down markets, as a result of being fully invested, while gaining more at the beginning of an up market. This has been the case, thus far, in the current year beginning 2013.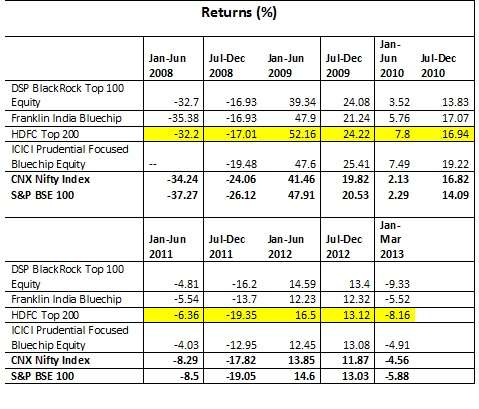 Large cap and more
HDFC Top 200's larger fall in down markets is also partly attributable to its 'other than large-cap' holdings.
While HDFC Top 200 has always been a little more than a large-cap fund, it is not as diversified as other large and mid-cap or multi-cap funds. Just to provide an example, in the latest declared portfolios (March 2013 and February 2013 in some cases) if we assume stocks with market cap of over Rs 10,000 crore as being large caps, HDFC Top 200 had about 82% exposure in such stocks. Franklin India Bluechip had 89% and ICICI Pru Focused Bluechip held 93% in such stocks.
Only DSP BR Top 100 was the closest with 84% holding in large caps. But that does not necessarily mean that HDFC Top 200 holds as many mid-cap stocks as other diversified funds. For instance, funds from the same stable such as HDFC Equity or HDFC Growth, which are also classified as large and mid-cap focused, had only anywhere between 65-68% in large-cap stocks.
Clearly, HDFC Top 200 is a little more than a pure large-cap and yet nowhere near being as diversified in other market-cap segments as most other funds. This is evident in its performance as well. The fund may not generate top returns like the more diversified Quantum Long Term Equity but beats large-cap funds in market rallies as a result of the additional nascent large-caps it holds.
High beta
Such large-cap plus holding of HDFC Top 200 also makes it a relatively high beta fund compared with other large-cap peers. Its return too therefore, has swung more across ups and downs. But over longer time frames, it has compensated well.
Another notable characteristic feature of HDFC Top 200 is its often contrarian sector/stock exposures. In 2006/07 for instance, the fund stubbornly refused to pick stocks from rallying sectors such as real estate and infrastructure, at the cost of losing out when compared with some peers. But then the decision proved right at a later date.
Similarly now, while banking and finance stocks have high weights in almost all funds, HDFC Top 200's holding at close to 30% in far higher than the 20-24% held by most peers.
The fund in fact, got bold enough to accumulate stocks such as SBI, when most others were trimming it. Now such conviction may well pay off later but does cause short-term pain. Its top holdings SBI and ICICI Bank fell 16% and 13% year to date. Many other peers shielded their portfolio with top holdings in large-cap tech companies or consumer plays like ITC. But not HDFC Top 200.
Our take
Hence, as an investor, the uncertainty with this fund, as is the case with other funds, would be for you to watch out if its bets pay off well, albeit when the market picks up.
As for its suitability, this is a fund for those who can take a little more than pure large caps in their portfolio. A risk-averse investor should stick to pure large-cap plays if their key requirement is to contain downsides at all cost. HDFC Top 200 is an alpha generator, provided you are willing to hold it over ups and downs.
[fbcomments]