If you are a salaried individual and have got your Form 16 from your employer, then its time to file your return or pay additional taxes on other income. Here are a few things you should make note of before starting your weekend project.
1. Online or offline?
If your salary income is greater than Rs 5 lakh then you will have to mandatorily go for e-filing.
People whose salary income is less than Rs 5 lakh but have other sources of income that takes the total income to over Rs 5 lakh will also have to do e-filing. In other words, if your total income for the year exceeds Rs 5 lakh (excluding savings bank interest if it is less than Rs 10,000) you will have to file online.
So when can you go for offline filing? If your salary/total income is less than Rs 5 lakh and your savings bank interest is less than Rs 10,000 then e-filing is not mandatory.
But you may still opt to file online. Remember, refund claims etc., may be processed faster when returns are filed online.
Filing online does not mean you will have to do it yourself. If you are used to filing through an auditor, he/she may well do the online process for you and take a printout for you to sign.
If you are doing it yourself, you may use any of the paid websites (do a quick online search) or do it free of cost using the Income tax website. The former, of course, is more user friendly, especially if you are a first timer.
If you are a salaried individual, you need not have a digital signature. It would suffice if you take a print out of the final copy and send it to the central processing cell in Bangalore.
2. Form ITR1 (Sahaj) or Form ITR2?
If you file online, the paid websites may guide you as to what you should do. If not, you should first understand which form to use for filing returns. Choosing the wrong form may mean an error in filing returns and require you to file again. Here we will stick to discussing about forms used by salaried individuals.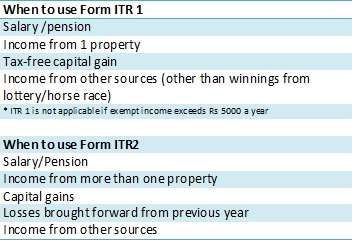 First read the instructions given in both the forms. You will find that both appear similar and are used by individuals with salary income and other sources of income (other than business income).
But the key difference is that if you have exempt income of over Rs 5000 a year, then you cannot use ITR 1. You will have to choose ITR2 instead.
What is exempt income? To know this, first take the Form 16 given by your employer and see the column – 'allowance to the extent exempt under Section 10'. This would typically have allowances such as HRA, LTA, medical or conveyance. These are part of exempt incomes. (Readers may pl. note that the opinion on whether salary exempt under Section 10 should be included in 'exempt income' is divided. You may pl. verify with an auditor or accountant). 
If the total deduction allowed on these heads of income exceeds Rs 5000 a year, then you will have file using ITR 2.
Besides, this, if you have any other exempt income, such as agricultural income or interest income or dividend income totaling Rs 5000 or more, you would have to choose ITR2.
In other words, if the sum total of all your exempt income (from employer and other income) exceeds Rs 5000 a year, you will have to go for ITR2.
Also, any taxable capital gain can be declared only in ITR2. If you have income from more than 1 property, here again, ITR 2 is your form.
Remember, you may file a refund claim in both ITR 1 and ITR 2. But it is more important that you choose the right form based on the above criteria.
3. Exempt income
There is a column provided in both ITR 1 and ITR2 for exempt income. Such income could be interest income on tax-free bonds or dividend income, agricultural income or long-term capital gain that is exempt. Hence, it may be better that you declare them for record purposes.
4. TDS deducted
Whether you are filing offline or online, you will likely have TDS deducted by various sources- your employer or bank or a company. If they all issued Form 16 (employer) or TDS certificates, you will do well to ensure that they tally with the Form 26AS credit statement.
In case you have never heard of this, go and register with the tax department or simply login to your internet banking account and you will likely see it in the menu. Click it and it will link you automatically to the Income Tax website.
This statement will show the summary of all tax deducted, including advance tax paid or any refund to be made etc. by various entities. Ensure that the individual TDS certificates or the amount mentioned in Form 16 tallies with this.
Sometimes, there could be delays in updation (for FY-13, it should be updated by now) of Form 26AS but you will do well to check with your employer or the deducting entity (bank or corporate), if there is any difference.
5. Mail physical copy
If you are filing the return online, ensure that the ITR V acknowledgement sheet is signed (in blue) and sent by ordinary or speed post (the tax dept. does not take too well to courier) within 120 days of filing your return. This is all the more important, if you have paid self-assessment tax or are expecting a refund. Ensure that you receive an e-mail acknowledging your receipt.
And do ensure you provide your personal e-mail id for the taxman to communicate. You do not want the id (office id) becoming inaccessible if you switch jobs.
[fbcomments]