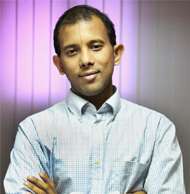 I am happy to introduce Lakshmeenarasimhan S., yet another meritable addition to our Mutual Fund Research Desk. Lakshmeenarasimhan will work with us in analysing funds, and will start writing in this space on mutual funds and personal finance. Soon, he will join Bhavana and I in providing you research recommendations.
Lakshmeenarasimhan has over eight years of experience in the financial services industry, and was earlier with Sundaram Mutual Fund, both in their portfolio management services division, as well as the mutual fund products team. He is an engineering graduate, and also has a degree in management, with a specialisation in finance.
With this addition, we hope to be able to offer you enhanced research support, and newer features in the coming months that will make your investing life easier. We will suitably update you on these developments.
Do look out for Lakshmeenarasimhan's writings, and as always, do keep the comments and queries coming on the blog for they help us engage with you in enriching discussions.
Happy investing!
[fbcomments]