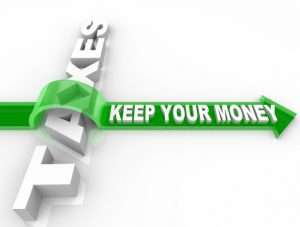 It's the beginning of the tax season. Likely that your company's accounts/tax department will start asking you to submit your 'tax-saving'  proof, if you have to escape or reduce your tax burden.
A hastily prepared rent receipt and an express visit from an insurance agent and you may think your job is done.
Folks who take the 'follow the herd' approach, miss out on smart ways to save tax and earn superior returns. Avoid falling into that groove.
First, know a few facts about the common ways of saving on taxes:
Akshaya Tritiya Offer – Get
26%
Extra Gold
Most people focus on expenses that would fetch them tax deduction. These expenses include children's education expenses, home loan repayment or payment of insurance premium. These save taxes to some extent alright but it is still money lost, not money gained.
Did you know that you can serve the dual need of saving taxes and building a portfolio with good returns, if you took your Section 80C investment options seriously?
Yes, start looking at the 'investment options' that will fetch you medium to long-term superior returns. In this category you have the traditional investment options such as Employee's provident fund (EPF), Public provident fund (PPF), NSC, 5-year tax-saving deposits and equity-linked savings scheme or ELSS.
ELSS or tax-saving mutual funds as they are called, perhaps offer you the best deal in terms of superior tax benefits and higher returns in the long term. But before that, what exactly are these funds? They are simply diversified equity funds that invest in stock markets and additionally provide a tax deduction on the principal amount you invested, in the year of investment.
Yes, agreed that these investments, like other equity investments, cannot offer guaranteed returns like your fixed income options. But read on to know how they deliver superior results for you:
Tax-saving funds have a lower lock-in period of 3 years when compared with other investment options such as the 5-year tax-saving bank FD, 5 and 10-year NSC or 15-year PPF.
That means you get to enjoy more liquidity to take your money out once the 3-year period is over compared with 5,10 and 15 year lock-in periods in other instruments.
While equity mutual funds by themselves are tax-friendly in nature (as they are exempt from capital gains tax if you hold them for more than 1 year), tax-savings funds provide double benefits. While the upfront benefit you get is the deduction on the principal amount you invest; you also don't pay taxes on the gains that accrue to you, when you decide to sell the fund anytime after 3 years. This is not the case with, say, a five-year tax saving bank deposit, where the interest income is fully taxable.
Therefore, on a post-tax basis, tax-saving funds turn out to be better options, because of their tax efficiency besides exposure to a better yielding asset class like equities.
Superior yields from tax benefit
Better yields than regular equity funds: As a result of the upfront benefit, tax-saving funds actually deliver you higher yield than regular diversified mutual funds.
Just take an example of a regular diversified equity fund delivering 12% annually over 3 years. Let us suppose there is a similar performing tax-saving fund. Now, the actual yield on this tax-saving fund would be as high as 26% annually if you are in the 30% tax bracket. It would be 20% and 16% if you are in the 20% and 10% tax bracket respectively.
Why is this so? Simply because you save taxes equal to your slab rate in the first year itself. For instance, on Rs 10,000 invested, you save Rs 3000 if your tax rate is 30%. That means your effective outgo in the year of investment is only Rs 7000, net of taxes saved!
This is why tax-saving funds make for good options if you intend to kick-start investments in equities and have  not exhausted the limit of Rs 1.5 lakh under Section 80C.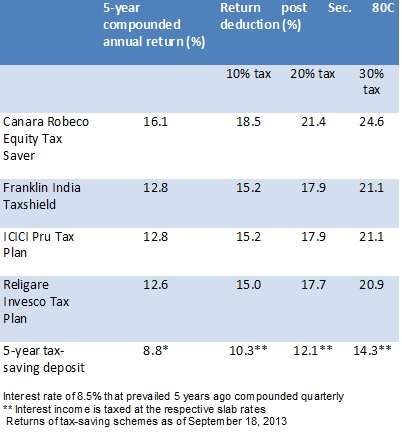 Beat FDs by a mile: The table shows the returns of FundsIndia's  tax-saving scheme recommendations. The returns are  post the deduction benefit you enjoy under Section 80C versus similar returns from a tax-saving deposit from a bank.
Although tax-saving mutual funds have only a 3-year lock in, post which you may choose to hold them, we have compared them over a 5-year period as tax-saving FDs have a 5-year lock-in.
The data amply demonstrates how equity tax-saving funds outdid tax-saving deposits in the last 5 years.
While this is not to suggest that you should put all your eggs in one basket, you should consider using the additional tax advantage that comes with ELSS (besides the capital gains tax in all equity schemes) to make the best of your tax-saving investments.
A judicious mix of your company contributed EPF, traditional fixed income instruments and ELSS can form a balanced allocation to deliver optimal returns.
Akshaya Tritiya Offer – Get
26%
Extra Gold
[fbcomments]