A Balanced Approach to Equities
If you are starting out on a long-term portfolio or looking for participation in equity, albeit with less volatility, you can consider Tata Balanced Fund. This equity-oriented fund, with about three fourth of its assets in equities and the rest in debt, has a track record of delivering 12.4% annually in the last 5 years. That's not only a good 4 percentage points higher than the balanced fund category average, but it is also superior to the average returns of diversified equity funds by a similar margin.
Suitability
Tata Balanced has a long track record, having been launched in the last quarter of 1995 and a witness to several market ups and downs.
The fund invests about 70-75% of its assets in equities on most occasions. While peers such as ICICI Pru Balanced reduce their equity holding to 65% levels, Tata Balanced seldom reduced its holding below the 70%-mark in recent years.  The benefit of such holding is that the fund outperforms its index and peer groups by a significant margin in up-markets.
In 2007 and 2009, for instance, the fund beat established peers such as HDFC Balanced and ICICI Pru Balanced by a massive 20-30 percentage points. On the flip side though, the fund does fall more than its peers in down markets. Hence, while you can expect this fund to contain declines better than diversified equity funds, if you are more conservative, you will do well to hold the above-mentioned peer funds over Tata Balanced.
Dividend Payout Option: Tata Balanced has a unique option that may help even relatively conservative investors looking for regular payouts. The fund has a monthly dividend payout option. Started in August 2010, this option has been paying dividends every single month since it was launched, although the quantum of dividends varied based on market conditions. Between January and August 2013, for instance, it declared dividend of 3.5% every month (2.5% in September).
Hence, for a retired investor with investments diversified across other fixed income products, this fund could be a good option to take exposure to the equity class.
Performance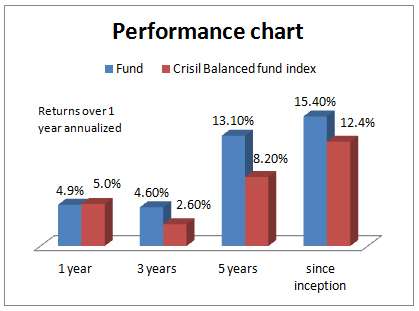 Had you started a Rs. 10,000-a-month SIP in Tata Balanced 15 years ago, you would have a handsome Rs. 74 lakh today. That's an annual yield of 17%. The benchmark Crisil Balanced Fund Index, on the other hand, would have fetched just Rs. 42.5 lakh; that's an IRR of 10.7% annually.
The fund also consistently beat its benchmark. On a rolling one-year return basis for the last 3 years, the fund beat its benchmark 86% of the times. Its record would have been better save for the fund underperforming marginally this year. It is noteworthy that the Crisil Balanced Fund Index has a 65% equity (Nifty) allocation and the rest in debt (Crisil Composite Bond). Tata Balanced, on the other hand, holds about 75% in equities. Higher exposure to equities and a relatively higher midcap holding, when compared with the benchmark, are the reasons for such underperformance. Such blips are usually more than made up in a rally.
Portfolio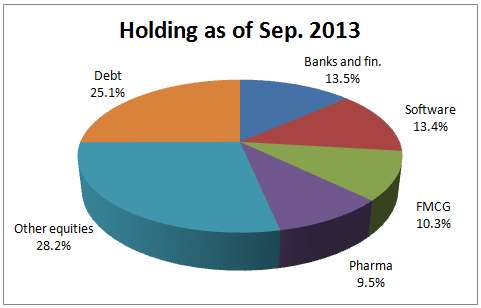 As mentioned earlier, Tata Balanced has mostly sought to hold equities above the 70%-mark, even in down markets such as 2008 and 2011, although its peers reduced their holdings to around 65%. This higher exposure though, delivered handsomely when markets moved to the green. In 2009, for instance, the fund managed a whopping 72% return, a feat achieved only by just a couple of peers which held higher mid-cap stocks.
As of August, close to three-fourth of the fund's total equity holdings were in large-cap stocks with a market cap of over Rs. 10,000 crore. The rest were in mid and small-cap stocks. Blue Dart Express, WABCO India, Balkrishna Industries, Fag Bearings and Emami were some of the offbeat picks in the mid- and small-cap space.
In the course of the last 8 months, since December, the fund cut back its exposure to the banking and finance space and instead, significantly increased holdings in software.
In its debt portfolio, the fund held a good 11% in gilt instruments (lower than a year ago holding), evidently to keep credit risk of the portfolio at bay. It held about 5.7% in debentures and the rest in money market instruments. But the gilt exposure may have caused some dip in the fund in July.
[fbcomments]