The Blue Brigade for Your Portfolio
Investors looking to hold blue chip stocks in the Indian equity universe may find Canara Robeco Large Cap+ to be a conservative choice for their portfolio. With single-digit returns over 1- and 3-year periods, this fund, of course cannot boast of a splendid returns record, courtesy the poor market condition almost since the fund's inception.
That said, the fund has performed in line with more established peers such as Franklin India Bluechip and ICICI Pru Focused Bluechip over 1-, 2- and 3-year periods, suggesting that it may be on course to chart itself a good track record. Investors with a long-term perspective can consider small exposure to this fund, if they already hold other established peers.  Have a minimum 5-year time frame to hold the fund.
Suitability
Canara Robeco Large Cap+ does not have a sufficient record of experiencing a full market cycle – of bull and bear phases. However, it has proved its mettle in one of the toughest phases – volatile market conditions.  Containing volatility should therefore be the key reason if you wish to hold this fund.
Unlike some of the other emerging top peers such as Axis Equity, which takes some exposure to mid-cap stocks as well, Canara Robeco Large Cap+ is exposed entirely to large caps. That means its return potential may be capped in a more broad-based market rally. That said, in uncertain economic conditions such as the present one, its large-cap holding can contain downsides much better and also offer decent returns in an upturn.
The present market volatility has also ensured that some of the large-cap stocks are available at attractive valuations as a result of either a broad correction, or a specific sector remaining out of favour. Seen from this perspective, this fund is more suitable for the current market conditions.
Its higher exposure to tech stocks, unlike most fund portfolios that sport banking and finance sector as their top holding, is also one reason why the fund's portfolio may suit the current volatile interest rate and currency environment.
Performance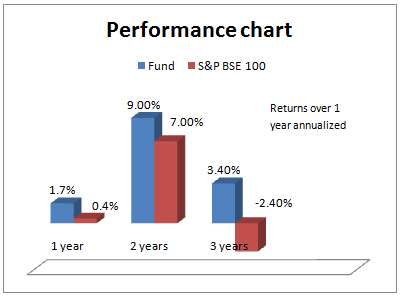 Canara Robeco Large Cap+ managed 3.7% compounded annual return in the last 3 years, marginally higher than ICICI Pru Focused Bluechip's return of 3.2% annually and Birla Sun Life Front Line Equity's performance of 1.5%. The fund also scored well when compared with the -3.5% annual performance of its benchmark index S&P BSE 100.
That the fund is adept at containing declines came to light in 2011 when it lost 12.8% of its NAV that year; while established peers such as Franklin India Bluechip lost 18.2%. Slightly more diversified and flashy peers such as Axis Equity lost as much as 22.6%. But in rallying markets such as 2012, the fund's return was capped at 28.2% even as peers managed 3-4 percentage points more.
Overall, on a rolling 1-year return basis, the fund beat its benchmark 83% of the times. This record could go down in extended rallies as a pure large-cap fund like Canara Robeco Large Cap+ may not find it easy to beat a slightly broader benchmark like BSE 100. The Nifty appears to be a better benchmark for this fund, given its current strategy.
Portfolio
Canara Robeco Large Cap+ had a compact portfolio of 36 stocks as of August 2013.  Despite its large-cap nature, the fund has been rejigging its portfolio continuously, either tweaking individual stock holdings or occasionally shedding stocks. FMCG stocks such as Nestle India and ITC were all pruned by May, although the fund continued to hold them.
Unlike most fund portfolios that hold maximum exposure to the banking and finance space, the fund has provided top weight to the IT space. While the fund too held over 20% exposure to the banking and finance space at the beginning of the year, it significantly pruned exposure soon as the troubles of the banking space came to light.
Among other stocks, Power Grid Corporation of India and Oil India appear to be stocks that may have been picked for their 'value' at depressed price levels.
It is noteworthy that Canara Robeco Equity Diversified, a sister fund also has a large-cap bias but has select mid-cap holdings, as against the strict large-cap holding in Canara Robeco Large Cap+.
The fund does not also shy away from holding cash even up to 15% when market conditions warrant. This is perhaps one reason why it contains declines better than peers.
The fund is managed by Ravi Gopalakrishnan.
[fbcomments]