With jewelers and banks once again opening up their gold coin sales counter (after they had reduced sales to help curb gold imports), you may be tempted to buy a piece of the yellow metal on the auspicious occasion of Dhanteras.
Else, you may be enthralled with the gold scheme now offered by many jewelers, which may well come with a tag of risk unknown to most (please be aware that these gold schemes do not come directly under the purview of any regulator).
But why not go for cheaper, safer, tax efficient and non-physical option if you intend to make this as an investment? Yes, we are talking of gold Exchange traded funds (ETFs) and gold fund-of funds (gold funds) offered by mutual funds.
Akshaya Tritiya Offer – Get
26%
Extra Gold
Gold funds have significant advantage over physical gold if you are looking at it as an asset class. Here's what makes gold funds a superior option.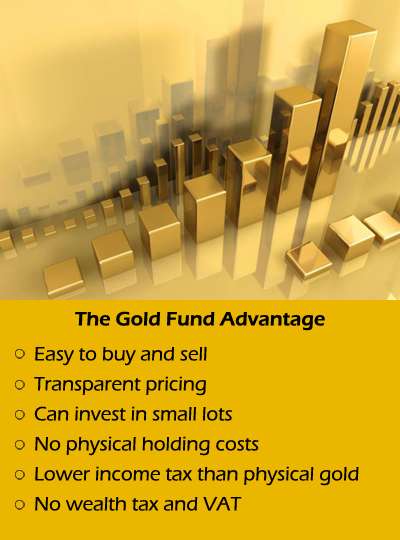 Liquidity and cost
Physical gold, especially in the form of jewellery, entails high wastage and making charges, as much as 20%, and is also low on purity, usually 91.67% (22 karat) or less.
Also, often times, jewellery especially when studded with precious stones, is charged for the price of 24 karat, even if the purity is lower.
However, when it comes to selling the same jewellery, customers cannot sell it for the 'high purity' rates. Purity issues eat up into the gold price. Also most jewelers only allow only exchange of jewellery and won't pay cash.
Gold ETFs can be bought and sold easily as they are traded in the stock exchanges at the prevailing market price. They can also be bought without a demat account (gold ETFs require demat) using gold fund of funds. Both gold ETFs and gold fund of funds are highly liquid and can be bought and sold anytime.
As one unit of ETF represents a gram of gold, you can buy small quantities with purity assured at 99.5 per cent. Fund houses allow you to invest as low as Rs 500 through a systematic investment plan in gold funds.
Besides the brokerage charges (for ETFs) and a nominal expense ratio, gold bought through the fund route do not suffer from exorbitant direct and hidden charges, like physical gold.
Akshaya Tritiya Offer – Get
26%
Extra Gold
Lower tax with gold funds
Gold ETFs do not suffer value added tax (VAT) or wealth tax while all forms of physical gold do. Also, any sale after one year is treated as a long-term capital gain and indexation benefits can be claimed for gold ETFs and gold fund of funds.
In any form of physical gold, only a three-year holding would qualify for long-term capital gain benefits.
More importantly, unlike other transactions in the stock exchanges, gold ETFs do not suffer securities transaction tax (STT) as they are classified as mutual funds. You incur only brokerage charges (lower than trading in equities) besides a nominal expense ratio.
What to go for?
Among gold ETFs, look for those with high liquidity. Currently, ETFs from Goldman Sachs (Gold BEES), SBI, Kotak and Reliance enjoy high liquidity.
Among funds, Kotak Gold fund, Reliance Gold Savings, Birla Sun Life Gold and Quantum Gold Savings have delivered superior returns.
To read more about gold funds' performance, see our post on 'How have your gold funds fared?'
Gain from the advantages of gold funds by investing in them as part of your asset allocation, this festive season. Happy Diwali!
Akshaya Tritiya Offer – Get
26%
Extra Gold
[fbcomments]