Gilt funds require the kind of skills equity theme funds would need – know when to play them and know when to walk away.
Another repo rate cut of 25 basis points by the RBI on Friday and you begin to wonder if the rate cuts can give you a cool ride in gilt funds.
Many of you have evinced interest investing in long-term gilt funds in recent months and have written to us. Returns as high as 16% showcased by top funds in this category in the last one year, together with a downward interest rate movement (which typically triggers a bond price rally), does coax you to conclude that this class of funds can return well.
Tactical play
But we have maintained that gilt funds are high risk and are meant only as a tactical play for investors who can track them and book profits at the right time. We have, instead, more actively advocated short-term debt funds/income funds for medium to long-term portfolios.
Read on to know why we say that. I am not going to deal with complicated yield curve theories. Let us simply look at past performance to make out how these funds behave.
Before we move to returns, a quick recap on what gilt funds are. Gilt funds seek to invest in government securities (gilts). While these can be short-term securities, a good number are long-term gilts. Income fund, on the other hand, is a broad category that represents funds that invest in a combination of bonds, certificates of deposits, commercial paper as well as gilts.
These can be short term or long term and can be low on credit risk or hold high risks. These funds look for interest income from holding debt instruments till maturity and also look for capital appreciation coming from price rallies in the instruments.
Given below is a table of average returns of the above-discussed category. Here, by gilt funds, we mean medium and long-term gilt funds.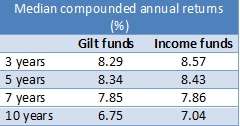 The table amply illustrates that the spurts seen in gilt funds over the short term (of 1 year) are clearly absent in the long term and they tend to behave like a regular bond fund.
For an investor with a long-term time frame, this means that you are not better off holding a gilt fund. While what we have in the table is the median returns, established income funds have, in fact, beaten gilt funds by a decent margin. Moreover, the volatility faced by income funds is much lower than gilt funds.
Just to provide an illustration, take one of the top performing gilt funds – IDFC GSF PF. In early 2009, when there was an unexpected yield move, causing gilt prices to fall, the fund actually returned negatively. It fell 8.1% that year after an astounding 33% return the previous year. It may well be that many investors joined the bandwagon after seeing the 2008 returns only to lose money in 2009.
On the contrary, another income fund from the same fund house IDFC SSI Medium Term managed a decent 6% in 2009, after a 16% rally in 2008. The recovery was even better in 2010 with the income fund while this was not the case with the gilt fund.
Negative returns
This trait of negative returns in gilt funds becomes more evident if we look at the rolling one year return of Crisil 10-year gilt index (representing long-term gilt). If we take the period between April 2008-2013, there was a 10% chance that your one-year return would have been negative for investments made on any day.


If we roll this over a longer period between 2003-13, the chances of negative returns goes up to 15%. This is not the case if you take the Crisil Composite Bond index, which is the benchmark for most income funds.
If you are an equity investor, here's a simplistic (although not equivalent) comparison of gilt funds: gilt funds require the kind of skills equity theme funds would need – know when to play them and know when to walk away.
Short-term and income funds are like diversified equity – they have varying risks too but are diversified. Just as a diversified equity fund may go marginally overweight on certain sectors, an income fund may up its stake on gilt at times and corporate bonds in other times based on opportunities. That means you get the best of various options.
If you are a long-term investor, you are better off with tested income funds or short-term debt funds based on your requirement. What you see as returns in gilt today may well not be what you will eventually get.
Outlook
All that said, if you are asking what the debt market holds from here for those looking for opportunistic returns, this is my take: unlike late 2008 when yields crashed leading to a rally, the gilt yields have gradually moved down with repo rate cuts.
A combination of rates cuts (that started in April 2012) and lowering of cash reserve ratio (from January 2012) have led to a falling yield, thus triggering a price rally. The result is what you are seeing in term of high 1-year returns of gilt funds. 10-year gilts have moved from 8.6% to 7.7% currently.
Experts feel that while there would be some scope for yields to soften, the room is limited. That means you cannot expect any extraordinary rally in gilt funds. But there still appears enough scope for returns from corporate bonds (currently 8.6) as spreads narrow between corporate bonds and gilt over the course of the next 12 months at least.
That means funds that hold slightly long-dated corporate bonds and even state development loans, besides some gilt may actually benefit more than pure gilt funds.
Simply put, you may have to sift through the income fund category to look for specific opportunities.
We shall also do the sifting and present such funds in our future weekly fund reviews.
[fbcomments]