For a slice of the US market
Mutual funds have been coming up with new products and strategies to combat the domestic economic slowdown. One such idea cultivated in the last two years is investing in US equities.
Thanks to the robust U.S market over the above period and the dollar's gain against the rupee, domestic funds that invested in U.S stocks/ETFs have made a colourful start. For instance, the Motilal Oswal's MOSt Shares NASDAQ 100 ETF (MOSt NASDAQ 100) delivered 22 per cent since its launch in March 2011. That is far superior to the 6 per cent average return of diversified domestic funds over the same period. In fact, only one diversified fund Magnum Emerging Businesses bettered MOST Nasdaq ETF's return.
FT India Feeder Franklin U.S Opportunities, a fund that invests Indian assets in its parent U.S fund, and ICICI Prudential U.S Bluechip Equity were the two others that joined the bandwagon in 2012.
All of these three invest in US equities but through different routes. MOSt ETF simply invests in the stocks of Nasdaq-100 a tech-heavy US index. It is therefore a passive fund. FT India Feeder invests in its parent's US fund that has been in existence since 2000. This fund, benchmarked against the Russell 3000 Growth index, has a growth orientation. ICICI Pru, on the other hand, invests directly in U.S equities and is benchmarked against the S&P 500.
Should you invest in these funds? Read on to decide.
What the US can offer
While Indian and other emerging markets are likely to deliver superior returns in the long term, there are advantages of investing in markets such as the U.S. For one, the US offers a wider gamut of stocks and sectors that are not too often available in the Indian markets.
Stocks in sectors such as commodity, agriculture, chemicals, industrials and true-blue technology are limited in the Indian context. It is unlikely that you will get to invest in a technology company like Apple Inc. or a financial play such as Berkshire Hathaway.
Two, with limited liquidity in domestic small and mid-cap stocks, funds are often constrained from taking bets to make big gains, for fear of getting trapped. The depth and liquidity in the US markets allow funds to do this without much constraint.
Three, quite a few multinational companies listed in India trade at premium valuations. The same company's parent can be found in the US market, often trading at more reasonable valuations, although factoring earnings from emerging markets such as India or China.
With companies in the S&P 500 index said to derive almost one-half of their revenue outside the US, their earnings stream also appear far more diversified.
Four, the last five years have proved that even developed markets can rally at a fast pace and are in fact more resilient in a phase of prolonged volatility. The Nasdaq 100 returned 4.7 per cent compounded annually in the last five years, as against the flat or negative returns in key Indian benchmark indices.
Limitations
That said there are a few flip sides to investing in foreign markets. One, it is impacted by currency movements. The rupee's depreciation against the dollar helped the performance of many international funds in the last 1-2 years. For instance, the MOSt Nasdaq 100 ETF delivered 22 per cent in the last one year, at least 3 percentage points more than the index itself. But a gain in the rupee against the dollar can also hurt returns.
Two, currently, US stocks are themselves not particularly cheap. For instance, the Russell 3000 Growth index, an index of growth stocks in the US, has a trailing price earnings ratio of 18 times. That's about the valuation of BSE 500 index.
Three, investors need to choose the right fund in India to invest in. Actively managed funds have a higher expense ratio than passive ETFs or feeder funds. Also, international funds are treated like debt funds for tax purpose and hence subject to capital gains tax.
Four, investors need to be savvy enough to identify funds that will fill the gap in the Indian market. For instance, cyclical sectors such as banking may provide high returns in the Indian context than abroad, while technology companies may be a better bet outside India.
If you are game for this, then you can expose a small part of your portfolio in US funds, just for the sake of diversification. Active profit booking strategy must be part of such a strategy.
For the rest, Indian markets do offer sufficient opportunities if you are invested for the long term.
Currently, the three US funds are loaded with stocks in technology, industrials, financial services and consumer discretionary sectors. See table for these fund's returns in their limited track record.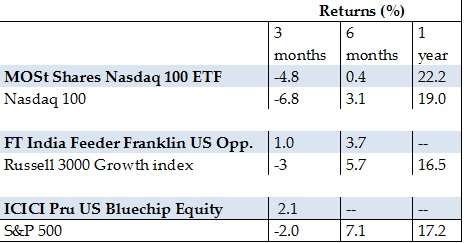 [fbcomments]