As 2012 draws to a close, it is only customary to take stock of the year that was, in the stock markets. This year, the markets threw plenty of surprises in the form of heightened FII flows, and sectors that made quick gains.
The key benchmark indices Sensex and S&P Nifty rallied 24 per cent and 26 per cent respectively year to date (as of December 21, 2012). Sound FII inflows, a slew of reform announcement in various sectors besides signs of a slow revival in some of the key economic indicators such as the industrial production could have been some reasons that drove the market.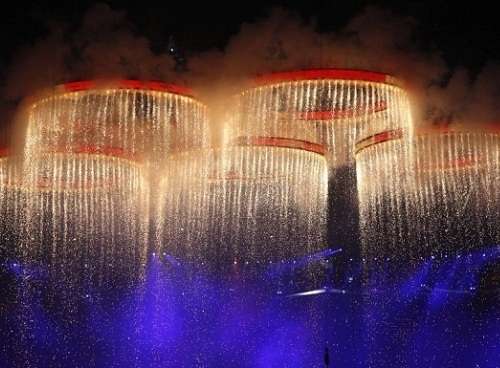 And yet, when it comes to stock-specific rallies and the gains made by certain sectors, it is obvious that these stocks were picked simply because investors saw value in them or the stocks were simply cheap, after the beating in 2011.
FII flow strong
Before we move on to the winners and losers, it is important to take note of the revival in institutional flows in the stock market. FIIs were net investors in the Indian market, investing Rs 1.03 lakh crore between January and November 2012, net of redemptions. In 2011, there was net outflow of FII money to the tune of Rs 2714 crore.
That said, markets continued to see outflow from mutual fund investments, despite sound performance by funds. Much of the money through the mutual fund route flowed to the debt market this year.
And the winners are….
You may well have guessed that banking stocks made it big in 2012. Well, you were close! But if all the sector indices of the BSE and NSE are put together, the surprise comes from the CNX Media index. With a gain of a whopping 57 per cent year to date, the sector is clearly the winner.
Small-cap stocks Hathway Cable & Datacom (148% gain) and Den Networks (293%) rose from their beaten down levels a year ago, in 2011. Stocks of these cable operators touched their 52-week high, hoping that the ongoing digitization of cable networks in cities will help boost revenues. The others to gain included Sun TV Network and ZEE Entertainment Enterprises.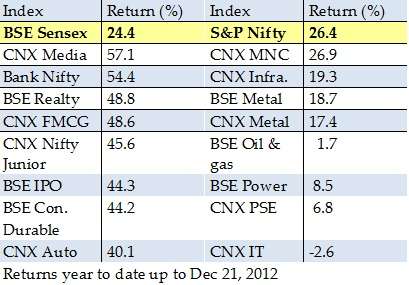 But both the BSE Bankex and Bank Nifty, followed the media index close behind, with a 54.4 per cent gain. With public sector banks viewed with caution on slippage in asset performance, it was private banks that stole the limelight this year.
Stocks of Yes Bank and IndusInd Bank would have delivered over 70 per cent returns had you held them this year. Large-cap plays ICICI Bank and HDFC Bank, besides Axis Bank were not to be left behind. They managed to rally over 50 per cent.
The next sector to throw a surprise after media was realty. It was evident that low valuations after the 2011 rout tempted investors to go for these stocks. DB Realty and Unitech, two of the stocks that were embroiled in an alleged telecom scam both made handsome gains of 233 per cent and 63 per cent respectively. These stocks did not particularly see any improvement in their earnings performance.
Others such as Anant Raj Industries, Sobha Developers and HDIL, though, were picked up on improving fundamentals and low valuations.
Interestingly, the defensive sector FMCG continued its stellar performance even in a cyclical- sector-driven rally. While the flag bearers such as Hindustan Unilever, ITC and Dabur India delivered returns of 30-40 per cent, the Kingfisher group companies – United Breweries and United Spirits made triple-digit returns.
Disappointment
Defensive sector IT was the too loser till date in 2012. It was also the only sector index to fall in the red with negative returns of 2.2 per cent. The stock of Infosys disappointed with a 14 per cent fall while Wipro contained declines to 4 per cent.
HCL Technologies gained over 60 per cent while TCS saw a modest 10 per cent return. In the mid-cap space MindTree and Oracle Financial Services Software rallied well while KPIT Cummins Infosystems fell over 20 per cent.
What to expect
Stocks from sectors such as capital goods, infrastructure, public sector banks and pharma all remained middle-of-the-road performers in 2012. With a good number of these sectors' fortunes pegged to overall economic performance, they may well see some action, if 2013 see green shoots in the economy.
Similarly the widening gap in valuations within segments such as banking (public sector versus private banks) or the narrowing gap between large and mid-cap IT may also see some of the under-valued ones catch up if there is a rally. Overall, it appears that cyclical sectors are yet to play out fully in 2012 and may therefore hold some potential in 2013.
[fbcomments]