Now small is beautiful
Which are the most shunned market-cap segments in the stock market over the last 5 years? It's an easy answer – mid and small-cap market segments. At valuations far below average and much lower than large-cap stocks, many companies in the space have been ignored/sold off for reasons known: poor earnings growth, lack of pricing power, high debt and corporate governance issues.
But then, the performance within this segment has also seen a significant divergence, thus offering good opportunities for the discerning investor. Hence, funds have now decided to take the less trodden path for returns; returns that otherwise seem so hard to come by.
Following the NFO of ICICI Pru Value Fund, a fund with a value focus and a bias for mid and small-cap stocks, both Axis Mutual Fund and Pramerica Mutual Fund have come up with their versions of funds in the small and mid-cap segments respectively.
Before we move on to the features of these funds, here are some not so conspicuous facts about the largely ignored small and mid-cap space:
Low Valuation Reduces Risk: At a Price Earnings Ratio of 13.2 times at present, the CNX Midcap is at a close to 17% discount to long-term averages (from 2003 till date) of 15.9 times. The table below shows that investing in mid and small-cap stocks at low P/E significantly reduces the probability of loss.
Pockets of Low Volatility: Let us take the universe of stocks outside the top 100 stocks as a representative of mid and small-cap stocks. The beta of the top one-fourth of such a universe (by market cap) is just 0.89 in the last 3 years, ending September 2013. A beta of less than 1 suggests that these stocks are less volatile than broad markets. As against this, stocks in this segment that fall in the bottom quartile in term of market cap have a beta of 1.38. This brings out the clear divergence in the risk profile of stocks within the mid and small-cap space. This means that mid and small-cap stocks can be less volatile than the market, provided quality stocks are chosen.
 Performance in a Bull Market: While the last few years of poor earnings growth in mid and small-cap companies have meant that the stock prices have gone nowhere, data suggests that the outperformance of these companies in a bull rally is far higher than larger index stocks.  The data below shows the difference in performance between January 2008 and now, and five years preceding January 2008.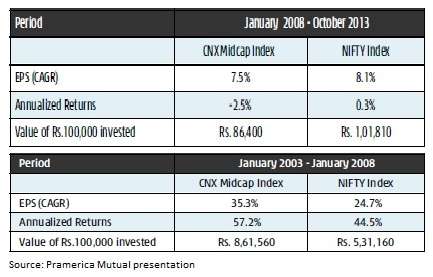 Diversification: The mid and small-cap segment is much more diversified in terms of sector exposure than the CNX Nifty. For instance, the CNX Midcap has exposure to about 30 industries while the Nifty accommodates about 17 of them. While it is true that a good number of sectors could be out of market favour, the mid-cap segment per se, offers more scope for diversification.
 Defensives: Contrary to popular belief that the mid-cap segment has more exposure only to cyclical/growth segments, the CNX Midcap has about a fourth of its allocation to defensive sectors such as pharma and consumer goods (the Nifty's exposure is just 10%).
Case for Mid-cap Investing
Seen from a valuation perspective and pockets of opportunities within the space, there appears a good case for mid-cap investing with a long-term view of over five years.
That said, picking stocks with sound business fundamentals and cash flows could be key to building wealth when it comes to mid-cap investing. Stocks such as Amara Raja Batteries, IPCA Laboratories, Eicher Motors and Castrol India are examples of smaller stocks that delivered returns manifold times, between January 2008 and now.
At the same time, others such as Unitech, Suzlon Energy, India Cements or Financial Technologies have also destructed wealth. Hence, astute stock picking and timely profit booking would hold the key for success.
Axis Small Cap is a 5-year close-ended equity fund that will focus on investing at least 80% of its assets in small-cap stocks (stocks that are in market-cap range of the CNX Smallcap Index). The fund will automatically become an open-ended fund at the end of 5 years.
As even quality picks in the small-cap space would require a buy and hold approach, the fund's close-ended nature is likely to help implement this without pressure of redemptions. Axis Mutual has, in the last few years, seen many of its funds climb up the performance chart and has demonstrated consistency. The fund already has a mid-cap fund – Axis Midcap, focused on nascent large-caps as well as some large-caps.  The new fund is likely to focus on a market-cap segment not too explored by the midcap fund.
Axis Small Cap will be managed by Pankaj Muraka, who also manages Axis Equity and Axis Midcap. The NFO closes on November 25.
Pramerica Midcap Opportunities
Pramerica Midcap Opportunities is an open-ended mid-cap equity fund that will seek to invest in mid-sized companies. In a presentation, the fund states that a good 60% of companies in the mid-cap space are still expected to face challenges. The fund would therefore focus on a narrower 40% of the universe to pick quality stocks from this space.
Staying away from very small companies or risky bets will perhaps allow the fund to manage the scheme, despite its open-ended nature. The fund though, will have an exit load for redemptions made within a year.  The fund will be managed by Brahmaprakash Singh. The NFO closes on November 25 and the scheme reopens on December 3.
Investing in NFO is made simple with FundsIndia. Open a free FundsIndia account in less than 20 minutes for NFO investing.
[fbcomments]