With a little more than a month left for the curtains to come down on 2015, your faith in large-cap and diversified funds may have been shaken a bit, if you went by their 1-year returns. Sporting low single-digit or even negative 1-year returns, they do not paint a pretty picture right now. On the other hand, mid-cap funds sport far higher returns.
We often tell you not to go by 1-year returns. True – especially, when you are chasing 1-year chart busters. But perhaps the 1-year returns tell you something else. This year, the 1-year returns simply tell you that large-cap stocks have corrected more steeply, even as mid-cap stocks saw limited correction. While this was a result of Foreign Institutional Investor (FII) activity, especially since the Chinese market turbulence, what it tells you is that large-caps are cheaper.
Take a look at the trailing price earnings ratio of the S&P BSE 100 Index and the S&P BSE Midcap. The BSE 100 is at a trailing 20.7 times as against 25.7 times for the BSE Midcap. The correction in large-cap stocks has brought down their valuations, and it can only be termed as an 'anomaly' that mid-caps trade at higher valuations than large-caps. In such times, there arises a buying opportunity.
The fund and its suitability
For those of you looking for large-cap fund additions to your portfolio, SBI Bluechip is a good one to add. With a sound track record of delivering 22 per cent annually over the last 3 years, the fund beat its benchmark, S&P BSE 100, by a good 10 percentage points. SBI Bluechip is one of those funds that has shown improved performance in more recent years.
Hence, while it may not yet qualify as the core large-cap fund in your portfolio, it can be a good addition to an existing portfolio that already has a mix of large and diversified funds. Also, do not expect this fund to contain declines as well as funds such as Franklin India Bluechip. This is because SBI Bluechip has marginally higher exposure to mid-cap stocks, when compared with pure large-cap funds such as Franklin India Bluechip.
Performance
SBI Bluechip has demonstrated consistency in beating its benchmark on a rolling 1-year return basis, rolled daily for the past 3 years. It beat the benchmark 98 per cent of the times on the above occasions. On a risk-adjusted return basis (Sharpe ratio), the fund beat most of the funds that have a similar average market cap.
However, SBI Bluechip cannot be said to be a low volatile fund in its category. Others such as Axis Equity and BNP Paribas Equity have demonstrated lower volatility than the fund, and contained declines better as well. Still, since the fund has gotten over such ups and downs to deliver well over longer periods, it makes an investment case for itself.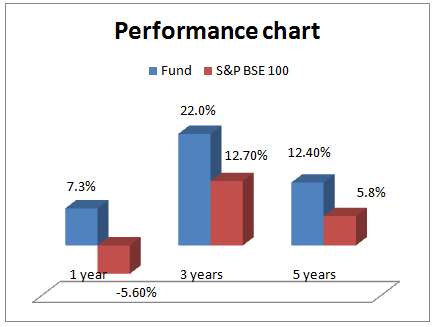 That SBI Bluechip does not sport a sound longer track record becomes evident when one looks at the rolling 3-year returns over the last 5 years. Its 3-year returns ending 2011 and 2012 showed that it struggled to beat its benchmark.
However, choice stock and sector choices have been helping the fund since.
Portfolio
SBI Bluechip made some tweaks to its sector holding in the past one year. It reduced its exposure to banking and financial services from 25 per cent a year ago to 20.7 per cent now, exiting stocks such as Federal Bank, Kotak Mahindra Bank and even pruning exposure to ICICI Bank. Interestingly, pharma became the second largest sector holding from automobile a year ago. With automobile stocks seeing a sharp run up in the past year, the fund appears to have seen a case for exiting or booking profits in some of them.
Among its larger holdings, stocks such as Britannia Industries and HDFC Bank delivered outlandish returns at a time when large caps remained weak, and this helped the fund showcase better returns over the last year.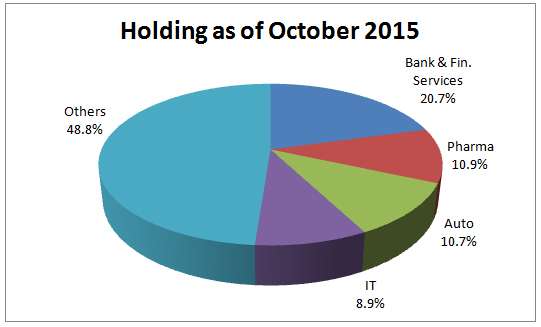 Among mid-caps, Cholamandalam Investment & Finance Company, Strides Arcolab, Thermax, and DB Corp are interesting picks. The fund has close to 12 per cent in mid-cap stocks (of less than Rs. 12,000 crore market cap).
The fund does not shy away from holding cash, and at present, holds close to 11 per cent in cash and equivalents. While this strategy has helped it combat volatility, not staying fully invested may hurt for a short while when a strong bounce back happens in the market. We hope the fund will be cognizant to ripe opportunities in the next couple of months, to deploy such cash.
The fund is managed by Sohini Andani.
FundsIndia's Research team has, to the best of its ability, taken into account various factors – both quantitative measures and qualitative assessments, in an unbiased manner, while choosing the fund(s) mentioned above. However, they carry unknown risks and uncertainties linked to broad markets, as well as analysts' expectations about future events. They should not, therefore, be the sole basis of investment decisions. To know how to read our weekly fund reviews, please click here.
[fbcomments]