If you are looking for mid-cap exposure but with limited volatility, you can consider phased investments in units of HDFC Mid-Cap Opportunities. The fund takes adequate exposure to companies in the mid-cap space and has exposure to sectors that could sail fast in an upturn. Some of the mid and small companies that were hit by the downturn, but still managed to keep themselves well afloat in tough years, may be amongst the best placed to use a recovery to capture the fortunes.
With a return of 24 per cent compounded annually in the last five years, the fund's performance is a good 12 percentage points higher than its benchmark, CNX Midcap, and 5 percentage points higher than the mid-cap fund category's average returns.
The fund completed seven years in mid-2014 and has now seen a full market cycle. Its ability to contain downsides and provide superior risk-adjusted returns makes it a good candidate for investors who are not too adventurous.
Suitability
HDFC Mid-Cap Opportunities can be labelled as a less risky fund among the universe of mid-cap schemes. This is because its exposure to small or micro-cap stocks is not as high as certain other peers.
That said, the fund still remains riskier than regular diversified equity schemes, and will fit only a long-term wealth-building portfolio. You can consider investing in it through the Systematic Investment Plan (SIP) option spread over not less than three years. Avoid stopping SIPs in a down market because that is the time you can average your cost. Review your SIPs only when the fund underperforms peers for a period of six months to a year.
Performance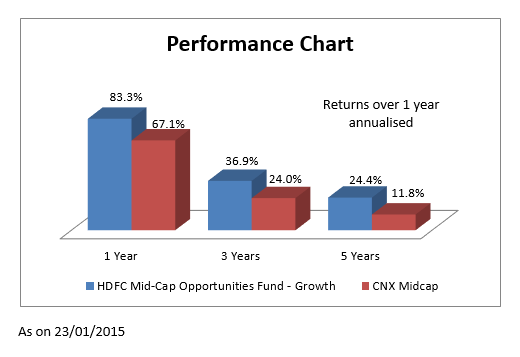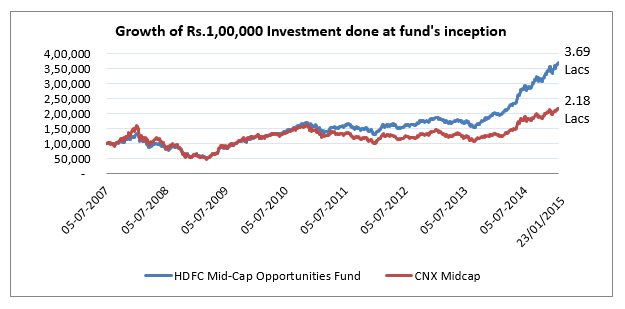 HDFC Mid-Cap Opportunities beat its benchmark, CNX Midcap, 94 per cent of the times, on a one-year rolling return basis in the last five years. That is an above-average performance, considering this mid-cap index is a tough benchmark to beat.
The fund has generated about 31 per cent SIP returns in the last five years, which is 13 percentage points higher than its CNX midcap index. Point-to-point returns of the fund is 24 per cent annualised in the last five years, which is 12 percentage points higher than its CNX midcap index.
The fund has the ability to generate consistent returns even in choppy markets as was seen in 2011 and 2013. These qualities were displayed to best effect in 2011. When the index fell by 31 per cent, this fund contained losses to 18.3 per cent. In 2013, the fund rose by 9.6 per cent, while its benchmark was in the red.
Portfolio
HDFC Mid-Cap Opportunities was a closed-end fund until mid 2010. Therefore, it was easier for the fund to combat the market meltdown in 2008 and bounce back in 2009, as it comfortably stayed almost fully invested in equities. But even after it became open-ended, the fund continued to stay over 90-percent invested in equities, irrespective of market volatility. This feature is true of most other funds from the HDFC stable.
It has also stayed cautious on volatile small caps. This fund is growth oriented and focuses on identifying companies that can grow at higher-than-industry rates. Size, however, has forced this fund to own a rather large number of stocks (67 as on December end) with small weights in each. The top ten stocks accounts for just 24 per cent of the portfolio.
HDFC Mid-Cap Opportunities currently sports an interesting portfolio with high exposure to banks, pharma and interestingly, industrial products. The top two picks in the portfolio are in pharma stocks – Aurobindo Pharma and Torrent Pharma – accounting for 5.5 per cent of the portfolio. Overall allocation in the pharma sector was 11.5 per cent.
The fund holds around 6.6 per cent of the portfolio in PSU banks such as Bank of Baroda, Union bank of India and Allahabad bank. It also holds private sector banks such as Axis bank, Federal Bank and ING Vysya Bank.
The fund is managed by Chirag Setalvad since inception.
*Mutual Fund investments are subject to market risks, read all scheme related documents carefully. Past performance is not indicative of future results. To know how to read our weekly fund reviews, please click here.
[fbcomments]