Through Good Times and Bad Times
Come December, Franklin India Prima, one among the handful of funds to have been launched in the 90s, would complete two decades of investing in the Indian stock markets. While the fund ruled the mutual fund charts for many years (until the mid 2000s), it did see a fall from grace since and was languishing well after the 2008 market fall. But this mid-cap fund appears to be on a comeback trail, this time, seemingly less flashy and more resilient.
With a return of 25% compounded annually in the last 5 years, the fund trails top mid-cap peers such as IDFC Premier Equity and HDFC Mid-Cap Opportunities by just 1-2 percentage points. In the last 2 years, it actually improved, overtaking these peers by a good 3 percentage points.
Investors can use this mid-cap focused fund as a diversifier in their portfolio. The fund's current portfolio of stocks, given the exposure to many beaten sectors such as engineering, may provide sufficient returns when markets witness a more steady rally (unlike the short spurts seen now), backed by a revival in the economy. As such, our recommendation stems more on the prospects arising from the fund's current portfolio, rather than based on the last few years' performance.
Suitability
Franklin India Prima has done a good job of containing declines in the volatility of the past couple of years. Still, our belief about its comeback will be fully vindicated only if the fund outperforms in the next rally. Until then, use this fund as an add-on rather than for the core of your portfolio.
In terms of mid-cap holding, the portfolio's average market capitalization is higher than HDFC Mid-Cap Opportunities but lower than IDFC Premier Equity. That means its mid-cap exposure is higher than IDFC Premier Equity; the latter is known to hold a generous holding of large-cap stocks. Hence, its risk profile would also be higher than IDFC Premier Equity.
Performance
Franklin India Prima's performance had become lack-lustre by 2006; and in 2007, it severely underperformed peers and benchmark, refusing to take exposure to the then fancy sectors such as infrastructure and real estate. But underperformance continued even after the 2008 fall and the fund was losing assets as well.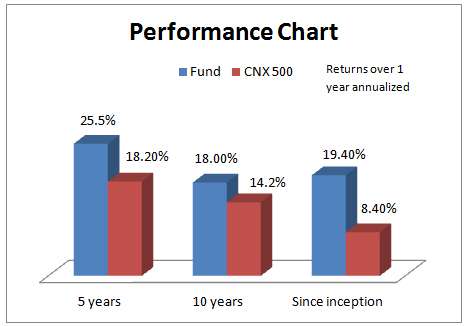 But by 2011, the fund had found its feet, slowly accumulating a sound portfolio, as the 2011 market fall offered ample opportunities for stock picking. Its comeback performance in 2012, comfortably beating established peers, as well as beating the benchmark CNX 500 by a good 13 percentage points, helped it re-establish presence in the top quartile charts.
Interestingly, the fund's SIP return in the last 1 year, at 11.1%, is superior to peers. The CNX 500 delivered just 3.2% through an SIP, while the CNX Midcap index managed a negative -3.4%. The fund's SIP return (lump sum investment would have delivered 9%) is also evidence to the fact that SIPs are a better way to invest, especially in a volatile market.
Portfolio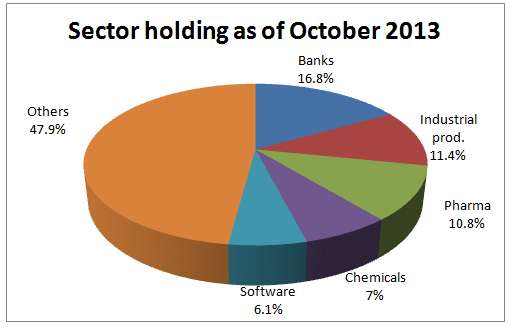 Franklin India Prima continues to place high weight on the banking and financial space, although pruning exposures compared with a year ago. Interestingly, it has cut back on exposure to pharma stocks over the last 1 year and instead, added industrial products and engineering stocks. Chemicals and fertilizer sector is among the top 5 sector choices, once again suggesting that the fund has offbeat choices.
At Rs 769 crore, the fund's asset size is compact for a mid-cap fund; providing enough room for maneuverability, especially in entering and exiting mid-cap stocks. Pidilite Industries, Amara Raja Batteries and Torrent Pharmaceuticals are among its top holdings. Finolex Cables, Thermax, Greaves Cotton and Gujarat Pipavav Port are some of its other stocks that may hold vast potential to gain with an economic upturn, given their beaten down status.
The fund is managed by K N Sivasubramanian and R Janakiraman.
[fbcomments]