It's hard to classify Franklin India Prima Plus as an aggressive equity fund; however, it is not a conservative one either. You may not find this fund in the chart buster list, nor did it figure in our top funds using quantitative parameters. But you will not see it languishing at the bottom either.
The Fund
So what am I saying? Is Franklin India Prima Plus neither here, nor there, or anywhere? No. Rather Franklin India Prima Plus is one of those diversified equity funds that will invest across market caps, but not too much in the extremes. Remember, when this fund was launched (in end-1994), there weren't too many exotic fund categories. You just had funds to participate in the broad market.
In terms of performance, Franklin India Prima Plus is one of those funds that cannot slip too much (for it is seldom at the very top) from where it stands. It is one of those funds that delivers optimal returns over the long term by staying invested in equities at all times and yet, containing downsides well.
It is a fund that is right up your alley if you do not wish to track performance, stay on top of fund charts, nor constantly compare it with peers. It is a fund for those who wish to invest in actively managed equity funds, forget what they hold, and build wealth for the long term. Yes, the fund has demonstrated its ability to deliver for all those buy-forget-hold investors.
Had you invested Rs. 10,000 a month since its inception in end-1994, you will have Rs. 4.4 crore now! That is a 24 per cent annualised yield (Internal Rate of Return – IRR), as against just 14.3 per cent annually, or Rs. 1.3 crore invested in its benchmark – CNX 500 Index. Franklin India Prima Plus is a classic example of how the power of compounding and disciplined investing can work wonders in a well-managed fund; not withstanding that it did not always figure in the top performers' list.
Suitability
Franklin India Prima Plus is suitable if you are looking for a diversified equity fund to invest in, and are not too worried about short-term blips in performance compared with peers. If you are looking for a fund that will adequately deliver while containing downsides well, the fund will fit your portfolio. You also need to be a very long-term investor to invest in this fund as its deviation reduces and generates superior risk-adjusted returns only over the long term.
If you are relatively conservative, then you should prefer funds such as UTI Opportunities to this fund. Franklin India Prima Plus has demonstrated that it delivers better through Systematic Investment Plans (or SIPs, suggesting that it does swing quite a bit). The SIP mode, therefore, remains the preferred mode to invest in this fund.
Performance
Franklin India Prima Plus stands out for its quality to contain downsides well in most market downturns. Except in the calendar year 2000, where it fell more than its benchmark CNX 500, in all other calendar years of fall, i.e., in 1998, 2001, 2008 and 2011, the fund curtailed declines far better than peers, as well as its benchmark.
However, while the fund contains downsides (compared with the benchmark) by a good margin, its ability to outperform its benchmark by a wide margin, consistently, is average. This is partly attributable to the fact that the CNX 500 Index does not have just blue chip stocks, but a good chunk of mid-cap stocks. Franklin India Prima Plus does not have high exposure to the mid-cap space.
So how does it beat the benchmark well over the long term? It does so simply because of its ability to contain downsides better.

In more recent years, while the fund may not have beaten many peers over a 5-year point-to-point return basis, its SIP returns, at a good 23.4 per cent annually, is superior to funds such as BNP Paribas Equity, Mirae Asset India Opportunities, HDFC Top 200, UTI Opportunities, or a closer peer such as HDFC Equity. Of course, this also goes to show that the fund has been a bit more volatile than its peers.
Portfolio
Franklin India Prima Plus has done a commendable job of beating the benchmark and category average since the market upturn in late 2013, considering that (aside of the banking space) it mostly invested, and continues to invest in defensive sectors such as IT and pharma, and took cautious exposure to cyclical sectors such as auto, auto ancillaries, or industrial products.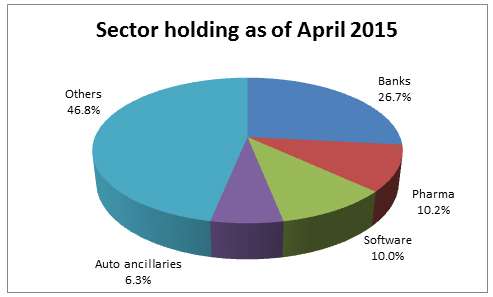 Currently, banking, pharma and IT together account for close to one half of the assets. About 77 per cent of the assets are in large-cap stocks (with a market cap of over Rs 10,000 crore). That is still lower than funds with over 90 per cent large-cap exposure such as UTI Opportunities, or those with over 80 per cent exposure such as Mirae Asset India Opportunities.
Given the dream run witnessed in the market in 2014, Franklin India Prima Plus too had stocks that generated over 100 per cent returns in the past 1 year. Torrent Pharmaceuticals, Gujarat Pipavav Port, Bosch, and Eicher Motors were some of them. In these cases, the fund had booked profits, reducing (though not exiting) stakes in these stocks. Others such as Credit Analysis and Research (CARE), Marico, Amara Raja Batteries, and Yes Bank too delivered close to this mark, although the fund has been accumulating many of these stocks.
The fund is managed by Anand Radhakrishnan and R. Janakiraman.
FundsIndia's Research team has, to the best of its ability, taken into account various factors – both quantitative measures and qualitative assessments, in an unbiased manner, while choosing the fund(s) mentioned above. However, they carry unknown risks and uncertainties linked to broad markets, as well as analysts' expectations about future events. They should not, therefore, be the sole basis of investment decisions. To know how to read our weekly fund reviews, please click here.
[fbcomments]