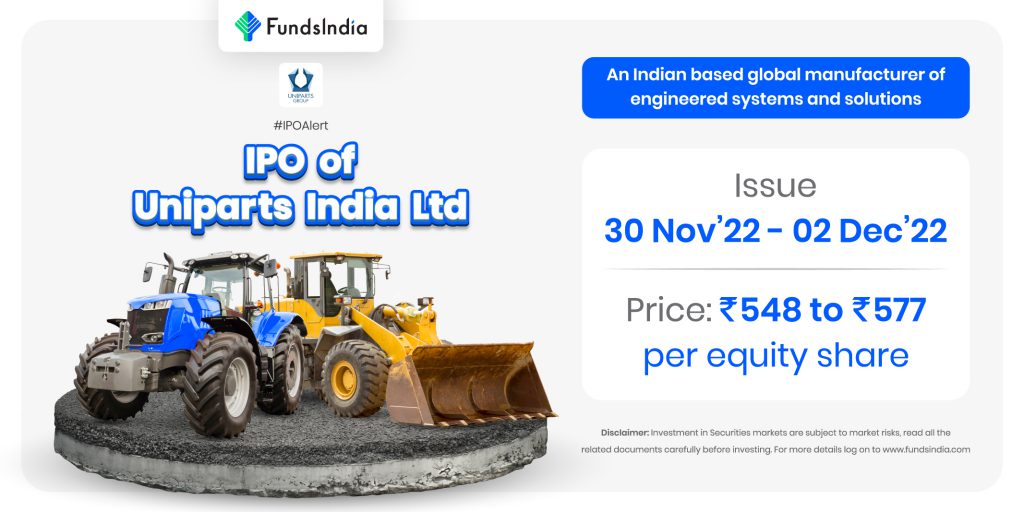 Company Overview:
Uniparts India is a global manufacturer of engineering systems and solutions. It is one of the leading suppliers of systems and components for the off-highway market in agriculture and Construction, Forestry & Mining (CFM), and aftermarket sectors on account of its presence across 25 countries. The company's product portfolio includes precision products for off-highway vehicles (OHV) core product verticals of 3-point linkage systems (3PL) and precision machined parts (PMP) as well as adjacent product verticals of power take-off (PTO), fabrications, and hydraulic cylinders or components thereof. The company has five manufacturing facilities in India in the states including Punjab, Andhra Pradesh, and Uttar Pradesh. In the United States, it has a manufacturing, warehousing, and distribution facility in Eldridge, Iowa, and a warehousing and distribution facility in Augusta, Georgia. It also has set up a warehousing and distribution facility in Hennef, Germany, which serves as a base for serving its key European customers.
Objects of the Offer:
To carry out the Offer for Sale of up to 1,44,81,942 Equity Shares by the Selling Shareholders
Achieve the benefits of listing Equity Shares on the Stock Exchanges
Investment Rationale:
Market Leading Positions: The company has a leading position in the markets, globally. It had an estimated 16.7% market share of the global 3PL market, and an estimated 5.9% market share in the global PMP market in the CFM sector in FY22, in terms of value. It also has long-term relationships with key customers including major original equipment manufacturers, resulting in a well-diversified revenue base. It is in business with Bobcat, TAFE, and Kramp for more than 15 years and with Yanmar for more than 10 years. The company recently added two customers named TSC and Kobelco Construction Equipment India Private Limited.
Financial Track Record: The Revenue from operations has remained stable despite the impact of the COVID-19 pandemic on business operations. The company reported revenue of Rs.1,227 crs in the financial year 2021-22, registering a growth of 35.9% over the previous year with exports accounting for nearly 80% of overall revenue. Between the financial years, 2020 to 2022, the company's revenue grew at a compounded annual growth rate (CAGR) of 5%. For the same period, the PAT grew at a CAGR of 34%. The company has a strong balance sheet with a debt/equity ratio of 0.20. The RoE and RoCE of the company for FY22 stand at 25% and 27%.
Business Model: The company's global business model serves as an effective solution for customers seeking to rationalize their global sourcing and supply chain by providing them with multiple choices in the form of Local Deliveries, Direct Exports, and Warehouse Sales, while at the same time helping the company to manage its costs. Its significant backward and forward integration reduces its dependence on external supply and support services and enables the maintenance of quality controls required to service global OEMs and aftermarket players. It has evolved from being a component supplier to being a provider of an end-to-end solution for various engineering needs. Its wide portfolio allows it to move across the various levels of the value chain.
Key Risks:
OFS – The IPO is a complete offer for sale (OFS) which will provide nothing but the listing benefits for the company. In the offer for sale (OFS), existing promoters and shareholders will offload up to 1,44,81,942 equity shares. Promoters named The Karan Soni 2018 CG-NG Nevada Trust, The Meher Soni 2018 CG-NG Nevada Trust, and Pamela Soni, and Investors named Ashoka Investment
Holdings Limited and Ambadevi Mauritius Holding Limited are participating in the OFS.
Client Concentration Risk – Uniparts is heavily dependent on its key customers. In FY22, for the 3PL business, 75.7% of the total business came from its top ten customers. Similarly, for the same period, the top ten customers of PMP, PTO, hydraulic cylinders, and fabrication businesses from 89.5%, 100%, 100%, and 100% of the segment's business respectively.
Outlook:
There are several producers of varying sizes serving certain segments or sub-segments of the company's customer base, across agriculture and CFM. But it does not have peers in India that operate in the full spectrum of its customer base, geographical market, product range, and price points. Though it doesn't have any directly listed peers, the listed peers (the companies which have similar exposure to certain segments) according to the company's RHP (Red Herring Prospectus) are Balkrishna Industries, Bharat Forge, Ramkrishna Forgings, etc. At a higher price band, the listing market cap will be around ~Rs.2600 crs and Uniparts is demanding a P/E multiple of 15x based on FY22 EPS which is less than the average Industry P/E of ~27x. Based on the above views, we provide a 'Subscribe' rating for this IPO.
If you are new to FundsIndia, open your FREE investment account with us and enjoy lifelong research-backed investment guidance.
[fbcomments]