Company Overview:
Harsha Engineers International Limited ("HEIL") was incorporated on December 11, 2010. A part of Harsha Group, HEIL is a leading engineering company that offers a diversified suite of products across geographies and end-user industries. It manufactures brass, steel, and polyamide cages and stamped components with production facilities located in Asia (India & China) and Europe (Romania). They offer a wide range of bearing cages starting from 20 mm to 2,000 mm in diameter and their bearing cages find their application in the automotive, railways, aviation & aerospace, construction, mining, agriculture, electrical and electronics, renewables sectors, etc. HEIL has also been providing comprehensive turnkey solutions to all Solar Photovoltaic requirements.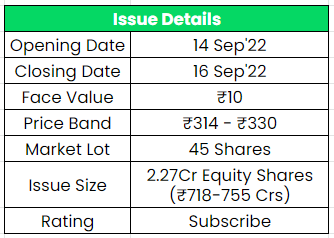 Investment Rationale:
Diversified Portfolio: The company has a diversified product portfolio in terms of the materials used as well as the dimensions and end-use of the finished products. The company has approximately 50-60% of the market share in the organised segment of the Indian bearing cages market. Since incorporation, they have manufactured more than 7,500 types of products in the automotive and industrial segments. They have recently expanded their product portfolio to introduce sand-casting, value-added stamping components, bronze bushings, etc. to cater to more end-user industries such as wind, mining, and shipping sectors. The company supplies products to customers in over 25 countries covering five continents i.e., North America, Europe, Asia, South America, and Africa. Given the wide presence, their revenue stream is diversified both geographically as well as across customers.
Financial Track Record: The Company has generated good revenue growth in the last 3 years. The company's two-year revenue CAGR (FY20-22) stands at 22% and PAT CAGR stands at 104%. The company believes that its strong financial performance reflects the efficacy of the manufacturing and supply-chain management protocols that they have implemented while the steady operating cash flows enable them to meet the present and future needs of its customers and develop new value-added products.
Strong Clientele: HEIL supplies bearing cages to leading global bearing manufacturers like Timken, Schaeffler (including FAG), and SKF at their various worldwide locations (including India). As of March 31, 2022, the company supplies to each of the top six global bearing manufacturers. The average age of their relationship with the top five customer groups spans more than a decade. The long-term relationship with customers allows the company to understand and cater to their diverse requirements, including developing new products.
Key Risks:
Raw Material Risk – The company depends on third parties for the supply of raw materials and delivery of products. A disruption in the supply of raw materials or failure of the suppliers to meet their obligations could impact the company's production and increase costs.
Forex Risk – The company is exposed to foreign currency exchange rate fluctuations, which may adversely affect their results of operations and cause their quarterly results to fluctuate significantly.
Outlook:
The IPO is a mix of fresh issue (Rs.455 crs) and OFS (Rs.300 crs), issued for the purpose of repayment of certain borrowings, Capex for machinery, and Infrastructure repairs. The company's listed peers in India according to its DRHP are Timken India, SKF, Rolex Rings, and Sundaram Fasteners. The company's PE ratio at the upper price band, based on the EPS for FY22 will be around 28x which places the company between an Undervalued to Fairly Valued position when compared with the industry peers. Hence, we provide a 'Subscribe' rating for this IPO.
[fbcomments]