An article a couple of weeks ago, in a leading business newspaper, may have come as a rude shock to some of you. Over the past ten years, it claimed, large-cap equity funds delivered returns on par with bank fixed deposits.
Equity large-cap funds delivered an annual average return of 9.8 per cent from March 2006 to now. A bank deposit taken at the same time would have delivered 8.8 per cent. So is there no use in equity investment? No. A look past the simple return numbers will help restore your faith in equities.
High risk, high returns
One, the return on the bank deposit works out to the figure of 8.8% only when considering the highest rate, as per RBI data. On a similar note, the highest return a large-cap fund delivered in the past ten years is actually an annual 14.5 per cent. That is perfectly satisfactory. In fact, over 60 per cent of the large-cap funds beat the category's 9.8 per cent average return, ranging between 10 and 12 per cent. Choosing a fund that has consistently beaten the market and its category, therefore, is of immense importance when deciding to invest in a mutual fund.
Two, interest on fixed deposit is taxed at slab rates and this cuts into the return. At the 10,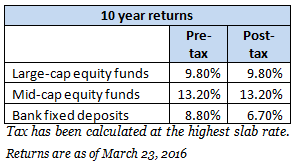 20 and 30 per cent tax brackets, the return on the fixed deposit drops to 8.1%, 7.4%, and 6.7% respectively. Gains on equity funds, when held for more than one year, are not taxed. The one percentage point differential between fixed deposits and large-cap funds, therefore, widens to two to three percentage points.
Three, using the SIP method to invest over the past ten years would have higher yields at an average of 10.5 per cent for large-cap funds. Recurring deposits pay lower interest than fixed deposits, widening the gap between equity and debt. The average SIP return for large-cap equity funds is also higher than the Nifty 50 or the Sensex which delivered yields of 8.2 and 7.9 per cent in the past ten years.
Four, for long-term horizons such as 10 years, large-cap equity must be mixed with mid-cap funds as well. Mid-cap funds in the last ten years delivered an annual average return of 13.2 per cent. The best fund returned a good 18.8 per cent. A monthly SIP would have yielded 16.7 per cent on an average. So, including mid-caps to the extent of 20 per cent of a portfolio will yield, on an average, a return of 12 per cent.
Keeping it realistic
Equity does deliver returns superior to debt, as we have seen. But it's also important to have realistic expectations while investing in equities. For one thing, while in one year, the market can soar (as it happened in 2007 and 2009, when the Nifty 50 moved up by over 50 per cent), over the long term, the returns even out. Market lows inevitably follow such booms.
For another, an equity mutual fund invests in a basket of fundamentally sound stocks, to keep risk diffused and bring in a balance of risk and return. Most individuals invest in mutual funds because they do not have the time or expertise to identify stocks that will multiply several times. Nor do they have the risk appetite that is required for direct stock investments. Therefore, even if a stock happens to be a multi-bagger in a ten or fifteen year period, a fund is not going to have its entire portfolio in that stock. The fund's returns will thus be lower than those star stocks.
In any case, stocks that are fundamentally sound with good corporate governance that jump multi-fold are not common. In the past 20 years, the Sensex has returned an average of 13.8 per cent in any ten-year period. It would be unrealistic, then, to expect annual returns of 30 or 40 per cent from equity over the long term. While building portfolios and estimating returns equity will bring in over the long term, an average of 12 to 15 per cent is appropriate and an acceptable figure.
Therefore, take heart that equities have not, and will not, let you down as long as you hold for the long-term and keep your expectations realistic.
[fbcomments]