We often talk of the virtues of investing through the systematic investment route (SIP). When you invest a monthly sum, how much can you expect at different rate of returns, over different time frames?
Here's a ready reckoner that will help you quickly know if you are investing adequately and where you are likely to be over different time frames.
Please note that this is not a forecast on returns. Based on your own return assumptions (for the asset allocation you have chosen), you may refer this for your investment time frame to know where you will be.
Clearly, you will see the significance of investing a sizeable sum if you want to save for large goals or build sufficient wealth.
Also, it also tells you the need to invest a reasonable sum in equity, if you want your money to work for you. Just take the case of an 8% IRR (a return you might typically get in bank FDs). An investment of Rs 30,000 a month leaves you with a corpus of just Rs 4.5 crore in 30 years.
However, a 12% IRR (which you can achieve with even a 40-50% equity allocation) leaves you with a substantially higher sum of Rs 10.6 crore! That is the kind of returns that you can achieve even with some amount of equity exposure.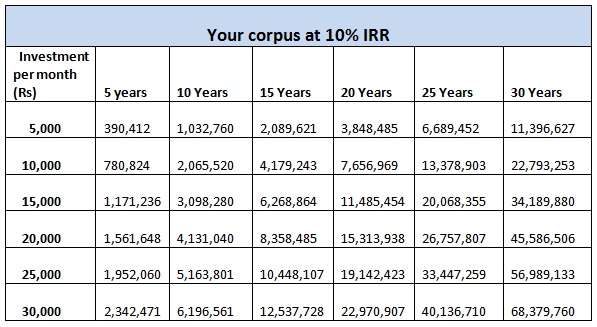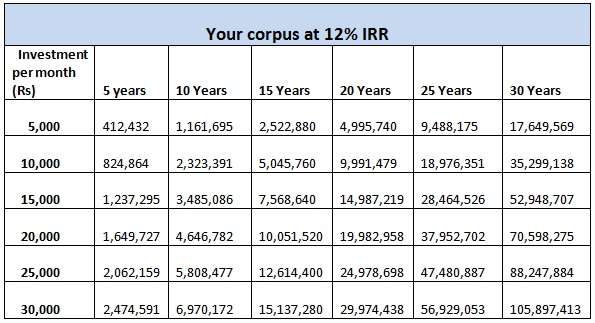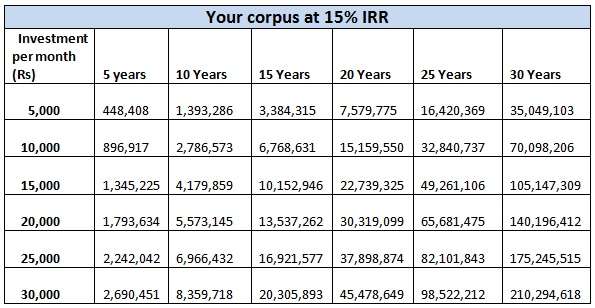 Internal rate of return or IRR is the annualised returns for investments made over regular frequencies.
If you notice beyond the 12% IRR, your money almost doubles every five years and with returns beyond that, it more than doubles.
What returns to expect
What returns to expect would depend on two factors: one, your asset allocation ratio and two, the past returns and potential of such asset classes. The higher the equity, the better the chances of your earning double digit returns over 5 years or more.
Historically if you look at the past 20 years that is since 1996, it can be noticed that the broad indices have delivered around 12% to 13% IRR.
But at the same time, if we look at some of the good, steady funds that have existed since then, they give a very promising picture. For example: Franklin India Bluechip, Franklin India Prima and HDFC Equity fund have all delivered in excess of 20% IRR over the last 20 years.
Disclaimer: Returns given here are based are calculations based on said time frame, amount and returns. They should not be construed as being forecasts. Mutual funds are subject to market risks. Please read the scheme information and other documents carefully.

[fbcomments]