Striking the Right Note
Investors looking to add a dose of mid-cap stocks to their portfolio, but with some cushion from reasonably large-sized stocks, can consider including Mirae Asset Emerging Bluechip to their portfolio.
The fund has completed a little over three years. Over this period, its performance is comparable to top mid-cap funds such as IDFC Premier Equity, HDFC Mid-Cap Opportunities, as well as more aggressive funds in this space such as SBI Emerging Businesses. The fund delivered 12.2% annually in the last 2 years, as against the 2.5% annual returns of the CNX Midcap Index.
Suitability
Mirae Asset Emerging Bluechip seeks to invest in mid-cap stocks and stocks that are nascent large-caps or emerging large-caps, outside the top 100 stocks in terms of market cap. Hence, its exposure to pure mid and small-cap companies may not be as high as typical mid-cap funds.
For instance, it held about 40% of its assets in stocks with a market capitalization of over Rs 10,000 crore, while funds such as IDFC Premier Equity or HDFC Mid-Cap Opportunities held a little under 30%.  The fund, therefore sports lower volatility (as evidenced by the standard deviation measure). But this may also mean that in a fast rally led by mid and small caps, the fund's return may not be top notch. Hence, this fund will not fit your bill if you are looking for very aggressive plays.
The fund may be used as a diversifier to your core portfolio. Given that it does not have a very long track record, small exposure to the fund and an annual review of performance may be warranted.
Performance
Mirae Asset Emerging Bluechip has a couple of aces up its sleeve. For one, on a rolling 1-year return basis since inception, the fund has beaten its benchmark, CNX Midcap, 100% of the times, showcasing tremendous consistency.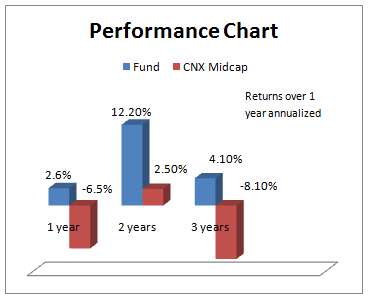 Two, the fund lost the least in the 2011 fall, even as most peers fell between 18-25%. This, the fund managed with full exposure to equities, even as aggressive players such as SBI Emerging Businesses held less than 90% and others such as IDFC Premier Equity reduced equity stakes to as low as 76% that year.
Three, although the fund's risk-adjusted returns in the last 3 years is slightly lower than peers from IDFC and HDFC, the last 2 years' record suggests that it has reversed this situation and actually delivered higher.
Portfolio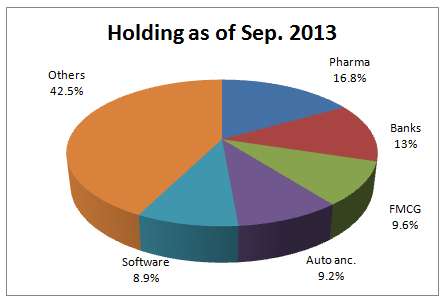 Mirae Asset Emerging Bluechip has an interesting portfolio. Even while it has large-sized stocks, these cannot be termed the typical blue chips found in most portfolios. For instance, Aditya Birla Nuvo, Motherson Sumi Systems or Cummins India are not the typical large-cap holdings you will see in mid-sized funds.  Among its sector holdings, although the fund is high on pharma like most peers now, it does not hold too much of IT stocks. It still prefers the banking  and finance space, albeit with some mid-cap plays.
Gulf Oil Corporation, Himatsingka Seide and Vinati Organics are also some of the offbeat mid and small-cap picks. Clearly, its contrarian holding is a key behind its portfolio not taking a big hit in market falls.
The fund is managed by Neelesh Surana.
[fbcomments]