If you are starting out on a long-term portfolio or are looking for participation in equity, albeit with less volatility, you can consider investing in ICICI Pru Balanced Fund. This equity-oriented fund, with about two thirds of its assets in equities and the rest in debt, has a track record of delivering 19 per cent annually in the last 5 years. That's not only a good 5 percentage points higher than the balanced fund category average, but it is also superior to the average returns of diversified equity funds by a similar margin.
Suitability
ICICI Pru Balanced has a long track record, having been launched in the last quarter of 1999 and witnessing several market ups and downs.
Over the same period, the average equity exposure ranged between 65 per cent and 75 per cent. Equity levels in the portfolio are determined using an in-house Price to Book Value (P/BV) model in which current market levels are compared to the fair value range to determine under or over valuation of the market. A lower Price to Book Value than the fair value range triggers an increase in equity levels and vice versa. The rebalancing of the equity portion is reviewed on a weekly basis.
You can expect this fund to contain declines better than diversified equity funds. It is also managed conservatively compared to the other balanced funds.
Dividend Payout Option: ICICI Pru Balanced has a unique option that may help even relatively conservative investors looking for regular payouts. The fund has a half-yearly dividend payout option. Started in September 2014, the first dividend is yet to be announced (expected by March 2015). Hence, for a retired investor with investments diversified across other fixed income products, this fund could be a good option to take little exposure to the equity class.
Performance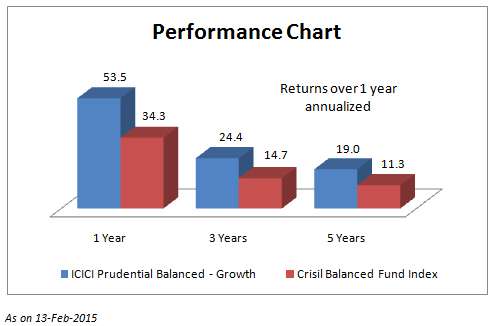 Had you started a Rs. 10,000-a-month Systematic Investment Plan (SIP) in ICICI Pru Balanced 15 years ago, you would have a handsome Rs. 81.2 lakh today. That's an annual yield of 18 per cent. The benchmark Crisil Balanced Fund Index, on the other hand, would have fetched just Rs. 52 lakh; that's an Internal Rate of Return (IRR) of 13 per cent annually.
The fund also consistently beat its benchmark. On a rolling one-year return basis for the last 3 years, the fund beat its benchmark 98 per cent of the times.
The fund has the ability to generate consistent returns even in choppy markets as was seen in 2011 and 2013. These qualities were displayed to the best effect in 2011. When the index fell by 14 per cent, this fund contained losses to 9 per cent. In 2013, the fund rose by 11 per cent, while its benchmark had delivered just 6 per cent returns.
Portfolio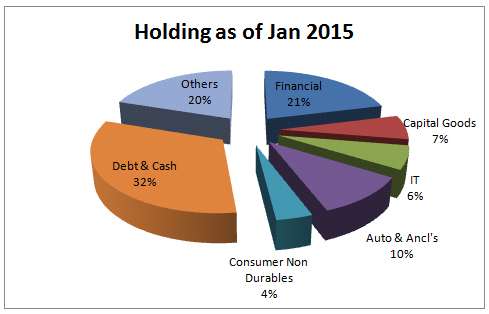 ICICI Pru Balanced Fund looks at a blend of large and mid-cap stocks. While large cap stocks represent established enterprises with a track record, the mid-caps are smaller businesses with a long-term growth potential. The fund maintained the average equity exposure of 70 per cent in the last 5 years. Large cap stocks averaged at 50 per cent of the equity exposure (i.e., 35 per cent of the overall portfolio).
ICICI Pru Balanced Fund also invests in fixed income securities, which offer reasonable accrual with a credit rating of 'AA' and above, and tactical allocation to longer maturity papers. The fund seeks to manage actively the debt portion and currently aims to gain from duration play, as the view on interest rates are positive.
As of January 2015, close to half of the fund's total equity holdings were in large-cap stocks with a market cap of over Rs. 10,000 crore. The rest were in mid and small-cap stocks.
The fund has adequately diversified its portfolio by holding 51 stocks from 19 different sectors. Its top 10 holdings account for 24 per cent of its portfolio.
Infosys, HDFC Bank, Dr. Reddy's Lab, L&T and Maruti Suzuki India Motors were some of the top picks in the large cap space. Balkrishna Industries Ltd., Amara Raja Batteries Ltd., Repco Home Finance, and TVS Motors were some of the top picks in the mid & small-cap space. Yogesh Bhatt and Manish Banthia manage the fund.
Stock strategies
The fund invested in ING Vysya Bank (in May 2014), much before the announcement of acquisition by Kotak Mahindra Bank. The merger would likely have delivered handsome returns. The fund exited ING Vysya Bank in January 2015.
Similarly, it invested in Raymond in May 2014 and exited in August 2014 by booking handsome profits in 3 months, suggesting that it takes short-term calls actively as well.
The fund also has a sound exit strategy. It exited Sun TV in July 2014, much before the steep fall on October 2014 by cutting losses on time.
In the last 3 months, the fund has taken many short-term calls in stocks such as SKF, Pfizer and United Breweries. For instance, it took some minor exposure to United Breweries on December 2014 and exited the very next month by booking short term profits. Of course the fund has a long-term strategy in place for majority go stocks and the above simply provide some kicker returns.
*Mutual Fund investments are subject to market risks, read all scheme related documents carefully. Past performance is not indicative of future results. To know how to read our weekly fund reviews, please click here.
[fbcomments]