If you are looking to add some debt to your equity-laden long-term portfolio, then Birla Sun Life Dynamic Bond Fund is a good choice. With a return of 9.6 per cent annually in the last five years, the fund holds potential to deliver inflation-beating returns in the long term. The above return is a good 3.5 percentage points higher than its index, NSE G sec Composite Index.
Suitability
The risk-reward ratio is currently more favourable for medium and long-term bond funds as interest rates can be expected to ease over the next 18 months. Birla Sun Life Dynamic Bond seeks to play the credit spread – which is the difference between the government bond (called gilt) and corporate bond rates. It may also take higher exposure in government securities, if the interest environment is conducive. Currently, it holds higher exposure (about 75 per cent) in government securities.
Fixed deposits of banks seldom offer attractive rates on long-term deposits of say 5, 7 or 10 years, even in peak interest rate cycles. With interest rates already easing, it may be a good time for you to diversify your debt holdings from just Fixed Deposits to debt funds as well.
Dynamic bond funds tend to increase exposure to long-term bonds to gain from any fall in interest rates. An inverse correlation between interest rate movements and bond price ensures that if the interest rate falls in the economy, long-term bond yields fall, and bond prices increase and generate capital gains for you.
But the converse is also true in a rising rate scenario. That means in a long duration bond, a wrong move can hurt in the short to medium term.
Hence, to reduce risks related to such short-term volatility, consider staying invested in Birla Sun Life Dynamic Bond Fund for not less than 2 years. To enjoy long-term capital gains indexation benefit, you will need to hold it for at least 3 years.
Performance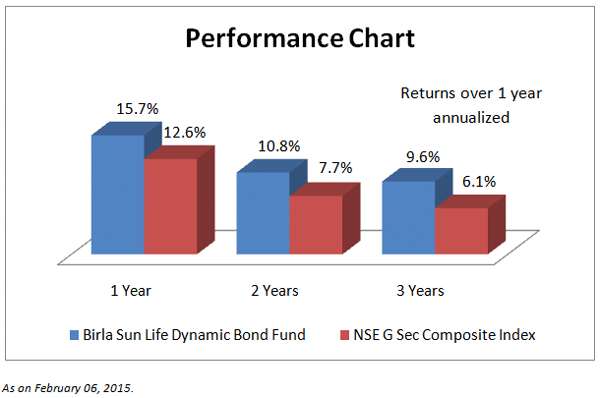 Birla Sun Life Dynamic Bond's three-year return is much better when invested through Systematic Investment Plans (SIPs). It delivered 12 per cent annually through the systematic route of investing. The fund's point-to-point performance over the last three years is around 10 per cent.
Birla Sun Life Dynamic Bond's consistency is proven by its rolling returns. On an one-year rolling returns basis (over the last three years), the fund has generated 9.6 per cent returns (average) compared with the 6.5 per cent average returns generated by its index (NSE G-sec Composite Index).
The fund's consistency is proven by its rolling returns. Had you invested anytime since the fund's inception in 2004, your three-year returns would have beaten the NSE G-sec Composite Index 95 per cent of the time and also beaten Crisil Composite Bond Index 97 per cent of the time. Its average rolling two-year return of 8.8 per cent suggests that the fund can deliver this return irrespective of when you invested.
Since April 2014, the fund has been holding more than 50 per cent in government securities (gilt). It increased its exposure gradually over the last 10 months. It has immensely benefited from the gilt rally that happened from August 2014, delivering handsome returns over the last 6 months.
Portfolio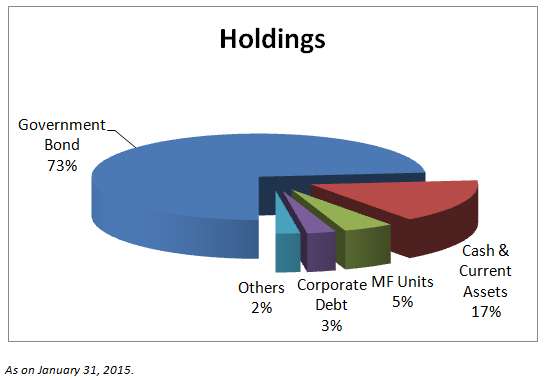 While the fund seeks to actively manage duration, it is a conservatively managed dynamic bond fund when compared with peers, typically keeping the average maturity lower than most of them.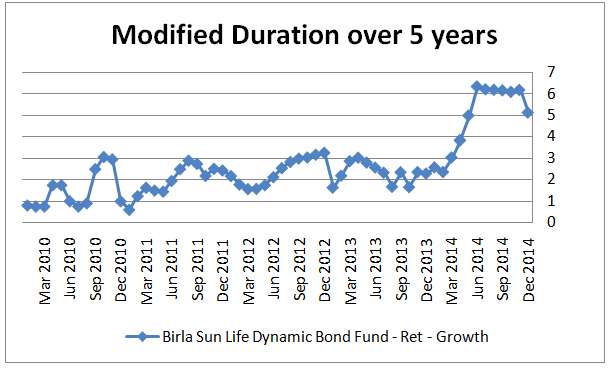 Barring the last seven months and December 2007, the modified duration of the fund was well below 5 years. This has helped it contain volatility in the debt market turbulence, but still allows it to adequately participate in debt rallies in the event of a rate cut.
More than 75 per cent of the portfolio was last invested in securities with a residual maturity of 5 years and above. The fund may be expected to continue its bias towards longer duration. However, the fund has tactically pared duration in the last two months, to take advantage of the sharp correction witnessed in gilt yields during the last 6 months. The fund had a modified duration of 4.42 years as of January 2015.
Apart from gilts, corporate bonds from Reliance Jio Infocomm, Power Finance Corporation, Reliance Gas Transportation Infrastructure and Shriram Transport Finance Company were some of its prominent holdings.
Maneesh Dangi manages the fund.
*Mutual Fund investments are subject to market risks, read all scheme related documents carefully. Past performance is not indicative of future results. To know how to read our weekly fund reviews, please click here.
[fbcomments]