With market mood turning somber and a potential slide in the offing, it's a good time to discuss how your fund manages bearish markets. How well a fund contains losses in a market downturn is rather more important than how well it does when markets climb. Why? Because it takes a lot of effort to just recover the losses. And it's only after this that gains can be made.
Take a look at the table alongside.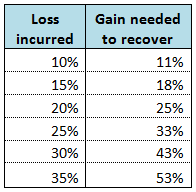 Say you invested Rs 50,000 in Fund A. But as markets bled, it lost 20 per cent. The fund then bounced back with a 35 per cent gain when sentiments turned, doing much better than the broad market. But 25 per cent would be needed to just recover what you lost. Only gains beyond this would help you make money on your investment. In this case, the 35 per cent rise will bring your investment to Rs 54,000. The gain you will actually be sitting on after the market rise works out to 8 per cent.
That puts a Fund B that lost 10 per cent in a better position, as it has a smaller loss to recoup. Fund B can thus quickly recover and deliver returns even if its performance in the market uptick doesn't quite match up to Fund A. Assume Fund B gains 25 per cent. Your returns at the end would be at 12.5 per cent.
To consider a real-time example, in the mid-cap fuelled 2012 rally, funds such as HSBC Midcap Equity or Principal Emerging Bluechip comfortably beat their category averages by 3-4 percentage points. But in the 2011 market downturn, they had had steeper losses than their category to the tune of 9-20 percentage points. Overall gains across the two cycles were thus lower by 16-37 percentage points than peers such as SBI Magnum Global or Canara Robeco Emerging Equities, which didn't gain as much but then, didn't lose as much either.
Look for protection
Therefore, a fund that tops the charts in bull markets will not be of much use if it is at the bottom of the heap during bearish phases. For one, it will cap the overall return you make as the recovery from losses swallows a good chunk of the gain. Besides, in order to deliver the high returns needed, the fund may take riskier bets. This feeds back into the problem, since the tendency would be to pick stocks that are the flavor of the market. Such stocks can sink quickly when they aren't fancied anymore. Two, the effect of compounding of returns reduces when losses are steep. And three, swift rises and sharp falls increase a fund's volatility and risk. It's low volatile strategies that work best over the long term.
[fbcomments]