In the latest episode of Bloomberg TV's show, 'Wealth Manager', Srikanth Meenakshi, co-founder and COO, FundsIndia.com, discusses the future of JP Morgan Mutual Fund's debt schemes (Short Term Income Funds and India Treasury Fund), which have taken a hit due to a downgrade in the credit rating of one of its investments, Amtek Auto Ltd.
JP Morgan AMC issued a notice restricting redemptions from each of the two schemes to 1 per cent of the total number of units outstanding on any business day. Currently, the fund is facing a mark-to-market loss, which is a notional loss at this point in time. However, in case of a default, the fund is likely to see a sharper fall. Investors can be hopeful that this restriction ends by September 28. However, the discretion lies with the AMC.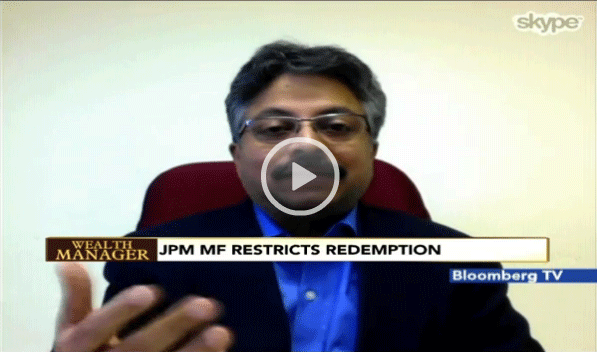 Watch the video to know Srikanth Meenakshi's recommended course of action for investors in the funds, the probability of such scenarious arising in the future, and the current investment opportunities in the debt space.
Wealth Manager is a show for the new age investor – one who is informed, aware and aspired to make informed investing decisions with the money he makes. Do watch these videos and share the message. You can watch more videos of Srikanth Meenakshi on the Wealth Manager by clicking here.
[fbcomments]