In what seems to be an ongoing bout of global risk aversion following the yuan's devaluation, equities and emerging market currencies have seen a significant correction. While one can argue that the global concerns are not without reason, what is clear is that there has been a rather indiscriminate correction in the stock market across sectors.
In our mail to you in end August, we had reiterated the need to stay invested, and to also invest more if you have surplus.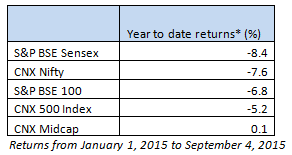 Now, after a 10 per cent correction in the Sensex in the past month alone (as of September 4, 2015) the year-to-date fall was about 8.4 per cent. We believe that this is a good time to dip into the falling market. While you might have a tough time wondering what individual stocks to buy (if you are an equity investor), it may be less of a hassle to buy a portfolio of stocks (read mutual funds) that are already managed by experts. We hope the following simple-to-plan-and-implement strategies can help you average well in this market.
Before, we move any further, a few disclaimers:
One, you should be willing to take a longer bout of volatility i.e., at least until the end of 2015, and perhaps slipping into a quarter of 2016 as well.
Two, you should not require the surplus you use for this in the near future, and also not expect it to generate overnight results.
Three, the result of the strategies will show itself up only after a strong, undisturbed market rally takes over the volatile market we have seen this year. Hence, these strategies are not for short-, or medium-term investors.
Your holding period from this point should not be less than five years.
Strategy 1: Average your SIPs further
If you are an existing investor through Systematic Investment Plans (SIPs), and have a lump sum of less than Rs. 1 lakh, then consider adding an additional investment (one time) to your current fund holdings. The year-to-date returns of most large and diversified equity funds are flat to negative. That means you will be buying into your funds at Net Asset Values (NAVs) close to, or mostly lower than their NAVs as of January 2015. That's how you will average well.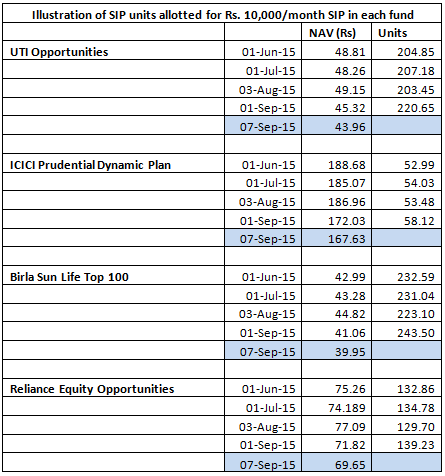 (The funds in the accompanying table are given for illustrative purposes only. The NAVs and units have been rounded off.)
As to which funds in your holding you should choose, we would prefer large-cap funds, or diversified funds at this point in time for the simple reason that they have given off more gains as a result of heavy Foreign Institutional Investor (FII) selling in larger stocks.
If you do not have any SIPs running, then you may consider this approach (of investing in the existing fund) if you have made lump sum investments in the past one year. Do not expect averaging to work if you had invested a lump sum about two or three years ago. In that case, you may enter a new fund (large cap or diversified) if you are fine with adding one more fund to your portfolio.
Strategy 2: STP over a shorter time frame
If you have a larger surplus of more than Rs. 1 lakh in hand, you can consider parking it in a liquid fund (from the fund houses in which you have equity funds), and consider a Systematic Transfer Plan (STP) over 4-5 months; if you are keen, you can also set up a weekly STP over 16-20 weeks. This can again be done in the same funds in which you have your SIPs running, or in any equity fund in which you've made a lump sum investment in the past one year.
We are suggesting an STP so that you may park your surplus in higher yielding options such as liquid funds. However, if you rather wish to keep the sum in your bank account, then simply increase your existing SIP values over this time frame.
Why do we recommend this shorter period STP? We believe any volatility in the market, especially arising from FII risk aversion can last until the end of the calendar year for a few reasons:
One, there can be further yuan devaluation;
Two, any US Federal Reserve move can cause volatility;
And three, policy log jam and state elections in India could keep the markets guessing.
Besides, FII portfolio rejigs typically happen at the beginning of a calendar year, and some unwinding of positions is quite possible as the calendar year ends, especially if FII views on certain emerging markets change.
Strategy 3: Get in seriously now
This is a strategy merely for investors who have insignificant (such as a Rs. 1,000 SIP running, or just Rs. 20,000-50,000 of lump sum investment in equity funds), or no holding in equity funds, or for those who have been staying in the sidelines stating 'high market levels'.
The next few months could be among the few cherry picking opportunities you may have in the equity market – if one were to assume that the best of an economic revival is yet to start out in India.
In this case, however, whether you have surplus or not, given that you have not tested the equity market enough, we would urge you to start, or increase the value of your SIPs over longer periods of time. For instance, consider increasing a Rs. 1,000 SIP to Rs. 5,000 or more based on your monthly saving capacity.
If you have some surplus in hand now, consider ploughing an adequate first time investment (at least 5-6 times your monthly SIP), and continue with SIPs in the same fund.
If you do not have sufficient surplus in hand right away, and also have your tax-saving commitments to meet for the current financial year, consider investing over the next six months or so in tax-saving funds. That way, you would have met your tax needs, as well as ploughed money into equities at a good time.
In all this, what we are trying to suggest is to get you to invest more at a time when markets offer such an opportunity. This does not change the way you invest systematically, or otherwise, towards the goals you may already have planned for. These strategies can help you achieve those goals faster as you average more than your usual share in a down market.
FundsIndia's Research team has, to the best of its ability, taken into account various factors – both quantitative measures and qualitative assessments, in an unbiased manner, while choosing the fund(s) mentioned above. However, they carry unknown risks and uncertainties linked to broad markets, as well as analysts' expectations about future events. They should not, therefore, be the sole basis of investment decisions. To know how to read our weekly fund reviews, please click here.
[fbcomments]