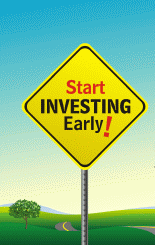 The investment behaviour of most investors suggests that people save and invest too little, too late.  It appears that most people take their investments seriously either when their children are closer to taking up higher studies or to be married or the investors themselves are nearing their retirement.
But often times in such cases, the investor would have very little time left to reach his/her goal and would require a unrealistic amount of savings to reach their goals over a short span of time.
It is this steep, unworkable, financial goals that lead investors to take undue risks – either in products that are unregulated and risky like investing in chit funds or looking for quick gains in products that are meant for the long term – such as equities or equity funds.
Such risks can be easily avoided and targets can be comfortably met if only investments can be started early on in life.
Just take a look at the graph below to know how you can make a world of difference to your financial life by investing early and investing regularly. Rs 5000 a month invested for 10 years (Karan in this example below) and simply allowed to lie (without adding more investments) for the next 20 years would have generated far higher corpus (Rs 3.45 crore) when compared with an investor who starts 10 years later (Pranav in the graph given below) but invests steadily for 30 years hence.
Despite investing a larger sum and over a longer time, Pranav ends up with far lower wealth than Karan. This is simply because Karan started early and hence allowed his money to compound faster, over a longer period; and despite his stopping regular installments after 10 years.
While the benefit of compounding may be nothing new to you, the graph will likely drive home the point on the opportunity lost by you by not investing early in life.
And what better way to make disciplined long-term inflation-beating investments than SIPs in mutual funds?
[fbcomments]