With the tax-saving season in, we'd like to highlight two funds that are good to have in your tax-saving portfolio. But before we do that, here are a few things worth taking note of to ensure you make smart choices.
What you need to know this tax-saving season
Increase in limit: You can now claim Rs 1.5 lakh as deduction from your total income under Section 80C of the Income Tax Act, instead of the earlier limit of Rs 1 lakh. That means, if you come under the 30 per cent tax bracket, you can save about Rs 15,000 more. The new 'maximum' that you can save under 80C is thus Rs 45,000. Make the most if it.
For those of you looking at traditional options of investing the additional limit now allowed, here's what you need to know about how they work for you, before you decide to increase those investments.

Traditional options are also not great wealth builders, if you look at historical performance. Here's an illustration that will tell you how efficiently you build wealth with a tax-saving fund, instead of traditional options such as PPF.
In the illustration, you will see Rs 10,000 invested in a PPF and in the ICICI Pru Tax Plan. Rs 38,000 built over 16 years in a PPF took just 5.5 years to accumulate with ICICI Pru Tax Plan!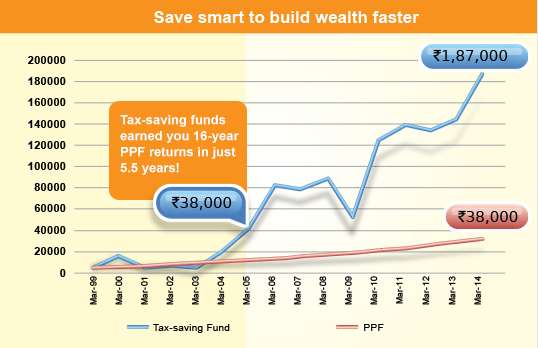 Actual rates of PPF taken. ICICI Pru Tax Plan was launched in August 1999. Past returns are not indicative of future performance. PPF is a 15-year investment product but earns interest up to its 16th year. Hence, investment comparison has been done on a similar basis.
The table and graphics earlier will tell you enough about how tax-saving funds compare with traditional options. Here are two funds that we chose based on their consistent performance and quality of portfolio.
Launched in 2010, this fund delivered the best risk-adjusted returns in the last three years. Ability to contain volatility, willingness to quickly increase cash when markets are turbulent and readiness to also up mid-cap exposure a bit in rallying markets such as the present one has made Axis Long Term Equity among the most noticeable funds in the tax-saving space.
Axis Long Term Equity has an enviable record of beating its benchmark, S&P BSE 200, 100 per cent of the times on a daily rolling one-year return basis over the past three years.
Such consistency was possible with a two-pronged approach. One, holding a reasonably defensive sector strategy that contained volatility; two, very adept stock picking that stemmed from a pure bottom up investing approach.
Apart from high exposure to banking and finance, the fund has, over the course of the last one year, continued to prefer relatively defensive sectors such as IT and pharma. That it managed to hold to this strategy and still deliver at a time when cyclical sectors outperformed, speaks of its stock-picking prowess.
For instance, in the mid and small-cap segment, stocks such as Symphony, Speciality Restaurants and Astra Microwave Products have worked well for the fund, although none of these would quality as sector calls.
The fund is managed by Jinesh Gopani.

Returns over 1-year are annualised. Returns as of November 7, 2014
Had you put Rs 1 lakh in this fund 10 years ago, your money would have grown over 7 fold – to Rs 7.25 lakh. This is a classic example of how a tax-saving fund can help build wealth in the long term. Since there are not too many tax-saving funds with a 10-year plus record, you may not have realised the power of compounding in these funds.
ICICI Pru Tax Plan is a more aggressive fund compared with relatively less flashy ones such as Franklin India Taxshield. But like Axis Long Term Equity, this fund too sport a large-cap tilt; in fact, close to three fourth of its assets are currently in large-cap stocks.
But ICICI Pru Tax Plan is known to take exposure to mid-cap segments in earlier bull markets. Its overall correlation to the broad markets is therefore higher than Axis Long Term Equity.
The fund is best suited for longer periods or for investments through SIPs. In fact over a 10-year SIP, the fund scores the best among funds with a similar long-term track record.
Unlike Axis Long Term Equity, ICICI Pru Tax Plan has overweight exposure to cyclical sectors such as energy. It is, therefore, suitable for those looking for more aggressive exposure to the equity market.
Tips for investing in tax-saving funds:
– Unless performance sags, continue with the same fund for your tax-saving need every year. There is no need to add new funds every financial year.
– While the lock in for tax-saving funds is only three years, view them as any other equity fund and hold them for not less than 5 years, or until you actually need the money for any goal.
– If you are at the beginning of your career, use an SIP to invest in tax-saving funds. They will serve you the purpose of saving tax and building wealth for the long term, if you do not have too much surplus to invest separately.
[fbcomments]