There are several investment avenues doubling up as tax-savers under Section 80C of the Income Tax Act's capacious umbrella. And at Rs. 1,50,000, the Section 80C limit is no mean amount – it often forms a good bit of your total investments. Therefore, the choices you make in order to save on taxes should also help you build wealth over the long term.
One must-have is life insurance. But there is certainly no need to keep adding to the line of policies you have just to save on taxes. One term insurance policy that has an adequate sum assured relative to your income will do. Then there is the Employee Provident Fund (EPF), which most salaried individuals will also have.
So, what about the remaining amount of that Rs. 1,50,000 that you can claim? If you want smart investment options for the long term, you should consider Equity Linked Saving Schemes (ELSS) as a part of your tax-saving portfolio. It has three main factors rooting for it.
Building wealth
One, an ELSS has a relatively shorter lock-in period of three years. The ever-popular Public Provident Fund (PPF) has a minimum lock-in of 15 years, and allows only conditional withdrawal before that. The EPF is usually locked in for the term of your employment. Tax-saving Fixed Deposits, or the National Savings Certificate (NSC) are locked in for five years or more. The National Pension Scheme (NPS) is locked in until you reach 60 years of age, and only allows conditional withdrawal.
Two, an ELSS does not suffer from any taxes, whether on dividend paid or at the time of redemption. Agreed, both the PPF and the EPF don't suffer taxes on interest or redemption either. But interest earned on tax-saving deposits and the NSC are taxed. The NPS is taxed at the time of redemption.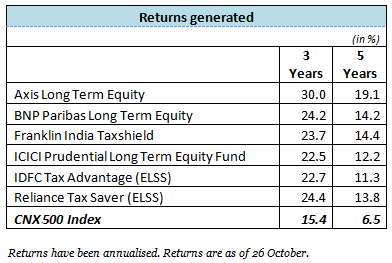 Three, an ELSS delivers superior returns over the long term. An ELSS invests almost its entire portfolio in equities, which is a superior asset class. For this reason, ELSS delivers better returns than the traditional tax-saving options (provident fund, deposits, NSC etc), which are pure-debt instruments. Debt, as most of you know, does not always beat inflation too.
What an ELSS does require is for you to take higher risk than traditional options. In return for this, you are certainly rewarded well. Take a look at the graph below. It shows you where a yearly investment of Rs. 1 lakh in the PPF over the past 15 years would place you now, against a similar investment in Franklin India Taxshield, a moderate risk ELSS. We have considered 15 years as that is the minimum period for a PPF investment.
Still wondering how to save on taxes wisely, then?
Choose the best
The dozens of ELSS funds available can make it a confusing exercise to zero in on one. ELSS funds can invest across market capitalisations and have a mix of investing styles, making it hard to differentiate between their risk-return profiles, or judge performance. You can thus choose from the six ELSS funds in our Select Funds list. Here is a brief profile of each of these.
This fund scores very well on the volatility aspect, with its standard deviation of returns far lower than the average of its category. Barring a couple, the fund also scores the best on the metric of risk-adjusted returns. BNP Paribas Long Term Equity Fund is suitable for investors with a moderate risk appetite.
The fund began to improve on its performance from 2010 onwards; since then, on a three-year rolling return basis, it has done better than its category around 70 per cent of the time. In the one, three, and five-year periods, the fund's returns are 2 to 4 percentage points above its category.
Benchmarked against the CNX 200 index, the fund tends towards large-cap (those with a market capitalisation of over Rs. 12,000 crore) stocks, which make up around 70-75 per cent of its portfolio. As with most other funds from the BNP Paribas stable, this fund too is betting big on the telecom sector taking off.
This fund sports a shining record of consistent, low volatile performance. On a three-year rolling return over the past five years, the fund has bettered its benchmark, CNX 500, as well as its category, almost all the time. This is despite the fund's penchant for large-cap stocks, which are stable performers, unlike other consistent peers' preference for mid-cap stocks during rising markets. It is extremely adept at containing losses, and scores well compared to its category on risk-adjusted returns. The fund, therefore, suits those with a moderate risk profile.
The majority of Franklin India Taxshield's portfolio belongs to the large-cap space. Even in its mid-cap picks, the fund opts for quality names and not risky ones. A limited portfolio churn and a focus on quality is what sets this fund apart.
IDFC Tax Advantage is benchmarked against the BSE 200 index, and has outperformed it in the one, three, and five year periods by a solid margin of five to 10 percentage points. The fund takes higher cash calls, up to 10 per cent of its portfolio, during uncertain markets or when markets turn expensive. IDFC Tax Advantage is among the best in its category at keeping its volatility low, while maintaining higher risk-adjusted returns. The fund also mostly sticks to large-cap bets. For investors with a moderate risk appetite, the fund is a good fit.
On a three-year rolling return over the past five years, the fund has been better than its category average a good 90 per cent on the time. The fund, however, takes somewhat concentrated bets and holds a relatively compact portfolio of around 35 stocks.
This fund holds an impeccable record of beating its benchmark; on a three-year rolling return basis in the past five years, the fund has stayed ahead of the BSE 200 at all times. Its five-year return of 19.1 per cent is far above the BSE 200's 6.2 per cent. In fact, in the one, three, and five year periods, the fund's returns have been more than 10 percentage points better than the BSE 200's. Its risk-adjusted returns are among the best in its category.
Even so, comparatively, the fund slips up on the volatility metric. Its usually low cash calls, and its recent predilection for mid-cap stocks together make Axis Long Term Equity suitable for investors with a higher risk appetite. The fund's top stock holdings can also get quite concentrated, with the top five stocks accounting for just about a third of the portfolio.
ICICI Pru Long Tem Equity (Tax Saving)
This is another fund for those with a higher risk appetite. ICICI Pru Long Term Equity allocates a good 25-30 per cent of its portfolio towards mid-cap stocks. The fund is benchmarked to the CNX 500 and has beaten it comfortably by two to six percentage points across time-frames. Over the longer term, the fund also manages to outperform its category consistently. Its volatility, however, is on the higher side. During bearish markets, the fund does not really do better than its category at containing losses. Portfolio churn, too, is much more when compared to peers. The fund takes slightly contrarian views as well, and does not always go with the flow of the market.
Reliance Tax Saver is the most volatile of the tax-saving funds. Even though its benchmark is the BSE 100, it often puts nearly half its portfolio in mid-cap and small-cap stocks. This risk is not without reward; over the past five years, Reliance Tax Saver has beaten even the broader CNX 500 index more than 95 per cent of the time on a three-year rolling return basis. While its longer term record is intact, the fund suffers from brief periods of underperformance such as in 2009 and 2013. In the past six months too, the fund has not matched up to its peers, thanks to its wholly contrarian bets. Therefore, the fund suits only those with a high risk appetite, and who can stomach sharp declines followed by a good outperformance over the long term.
FundsIndia's Research team has, to the best of its ability, taken into account various factors – both quantitative measures and qualitative assessments, in an unbiased manner, while choosing the fund(s) mentioned above. However, they carry unknown risks and uncertainties linked to broad markets, as well as analysts' expectations about future events. They should not, therefore, be the sole basis of investment decisions. To know how to read our weekly fund reviews, please click here.
[fbcomments]