It's quite not that time of the year when investors start actively looking to save taxes under Section 80C of the Income Tax Act. But it's best to start early and avoid making choices in a hurry. Tax-saving mutual funds, which have a lock-in period of three years, are the perfect route to save taxes while still generating healthy, inflation beating returns over the long term. Moreover, they are among the best vehicles to get a dual tax advantage – one, deduction from income at the time of investing the principal, and two, capital gains exemption at the time of redeeming the investment.
Tax-saving funds are a diverse lot, and can invest across market capitalisations. For investors who would like a stable, moderate risk fund with a large-cap focus, Franklin India Taxshield is a good choice.
Performance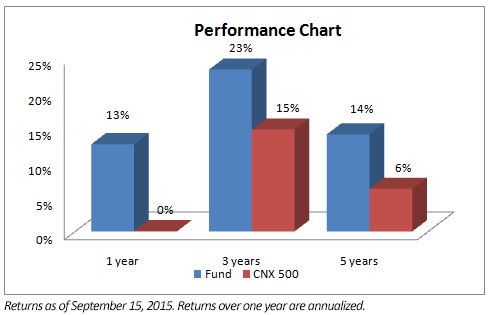 The fund, in the one, three, and five year timeframes, has consistently ranked in the top quartile of funds in its category. It has outdone its benchmark, CNX 500, by a strong margin of 8 to 12 percentage points. Franklin India Taxshield sports a consistent track record too – it has beaten its benchmark almost all the time on an annual rolling return basis over the past five years.
Though the CNX500 is a broad index, Franklin India Taxshield tilts heavily towards large-cap names (market capitalisation of over Rs. 12,000 crore), colouring it less risky than peers such as Reliance Tax Saver, or Birla Sun Life Tax Relief '96. Of course, because of the lack of many small or mid-cap names, the fund tends to under-perform its peers during sharp rallies such as the one in 2012.
But then, the fund contains losses much better than peers – in the 2011 slide, for example, its 16.7 per cent loss was leaps ahead of the category's 27 per cent loss. Franklin India Taxshield is less volatile too, with a standard deviation measure lower than over half its peers. On a risk-adjusted basis as well, its returns compare favourably with its peers.
Sector Shift
Franklin India Taxshield usually stays invested more than 90 per cent in equities. Large-cap stocks make up for 65-70 per cent of the portfolio. The few mid-cap names are usually sound ones such as Amara Raja Batteries, Ipca Labs, Gujarat Pipavav Port, or Federal Bank.
The fund does take concentrated exposures; the top three sectors, for instance, usually account for around 40 per cent of the portfolio. The top ten stocks too make up a similar portfolio proportion. But the fund's adroit juggling of sectors, its limited portfolio churn, and focus on quality work in its favour.
Banking is, of course, the top sector holding with a 26 per cent share. Exposure, though, has been pared over the past few months after being hiked sharply over the 2014 rally. Here, the fund has stuck to private sector names such as HDFC Bank, Axis Bank, Yes Bank, and so on for the most part.
Holdings in software and pharmaceuticals was dropped early on at the start of 2014 when opportunities in other sectors such as auto, industrials, telecom, and logistics opened up. Given the slower revenue and earnings revival in several of these, as well as their quick run up, the fund has recently begun to lower exposure to a few sectors such as cement and chemicals. The fund's current consumer focus through services, auto, auto ancillaries, and consumer non-durables should hold it in good stead.
Franklin India Taxshield has an asset size of Rs. 1,779 crore, and is jointly managed by Anand Radhakrishnan and Anil Prabhudas.
FundsIndia's Research team has, to the best of its ability, taken into account various factors – both quantitative measures and qualitative assessments, in an unbiased manner, while choosing the fund(s) mentioned above. However, they carry unknown risks and uncertainties linked to broad markets, as well as analysts' expectations about future events. They should not, therefore, be the sole basis of investment decisions. To know how to read our weekly fund reviews, please click here.
[fbcomments]