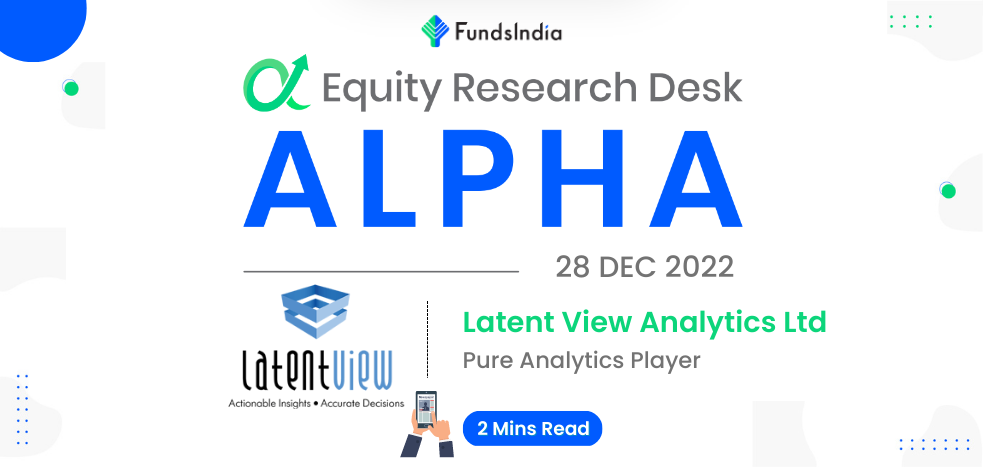 Latent View Analytics Ltd. – Pure Analytics Player
Latent View Analytics Ltd (LVAL) is among the leading pure-play data analytics services companies in India based on its expertise in the entire value chain of data analytics from data and analytics consulting to business analytics and insights, advanced predictive analytics, data engineering, and digital solutions.
Across industries, data and analytics are being leveraged by enterprises to guide business strategy and optimize spending decisions amid growing financial uncertainties. It engages and provides services to blue chip companies in Technology, BFSI, CPG & Retail, Industrials, and other industries.
It has emerged as one of the most trusted partners to several Fortune 500 companies in recent years and has worked with over 30 Fortune 500 companies in the last three Fiscals.
Valuation:
Across sectors, data has become a valuable source of competitive differentiation among companies. Companies prioritize product development and marketing decisions based on real-time insights from consumer buying behaviors, spending patterns, and social media interactions. Latent View as a full-time analytics player can benefit more from the ongoing data analysis demand. Hence, we recommend a BUY rating in the stock with a target price (TP) of Rs.430, 45x FY24E EPS.
If you are new to FundsIndia, open your FREE investment account with us and enjoy lifelong research-backed investment guidance.
[fbcomments]