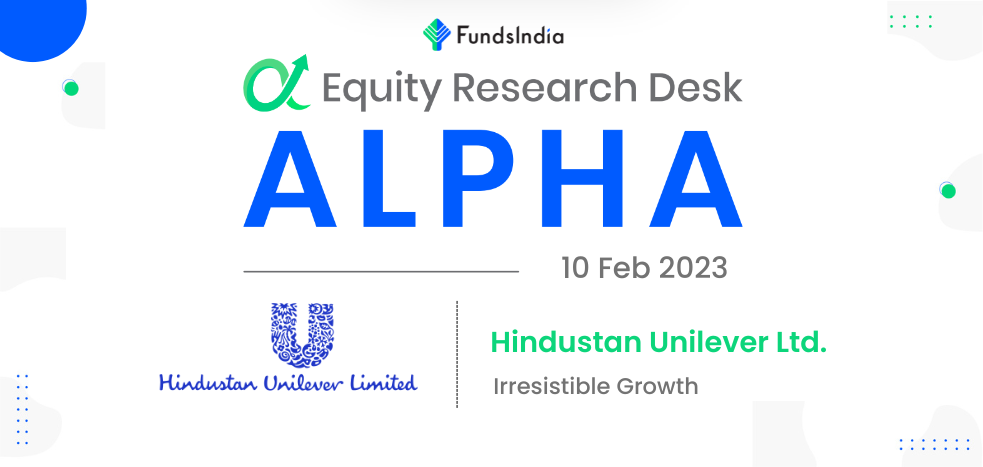 Hindustan Unilever Ltd. – Irresistible Growth
Hindustan Unilever Limited (HUL) is India's largest fast-moving consumer goods company. It is a majority-owned subsidiary of UK giant Unilever, one of the world's leading suppliers of food, home care, personal care, and refreshment products with sales in over 190 countries. As India's largest consumer goods firm, HUL markets brands that include beverages, food, and home and personal care goods.
With 50+ brands spanning 15 distinct categories such as fabric solutions, home and hygiene, life essentials, skin cleansing, skincare, hair care, colour cosmetics, oral care, deodorants, tea, coffee, ice cream & frozen desserts, foods, and health food drinks. The company is a part of the everyday life of millions of consumers across India. The company has about 21,000 employees, ~1330 suppliers, and around 9 mn stores selling their products. 9 out of 10 Indian households use one or more of their brands.
Products:
Its portfolio includes leading household brands such as Lux, Lifebuoy, Surf excel, Rin, Wheel, Glow & Lovely, Pond's, Vaseline, Lakmé, Dove, Clinic Plus, Sunsilk, Pepsodent, Closeup, Axe, Brooke Bond, Bru, Knorr, Kissan, Kwality Wall's, Horlicks and Pureit.

Subsidiaries: As on March 31, 2022, the company has a total of 12 subsidiaries namely Unilever India Exports Ltd, Lakme Lever Pvt. Ltd, Hindustan Unilever Foundation, etc.
Key Rationale:
Market Leader – HUL is the largest FMCG company in India with market leadership across product segments. The company has 16 brands with over Rs.1,000 crore in annual sales. In terms of market share, its brands hold the top two spots in most categories it has a presence in. More than 75% of its business is winning both value and volume market shares. The market share gain of the company in FY22 was the highest it had in more than a decade. The market share in Hair Care touched a 15-year high in 2021. Surf Excel is the number 1 laundry brand and in the last five years, the liquid detergents and fabric conditioners business has grown four times.
Q3FY23 – HUL posted overall revenue of Rs.15,597 crs, an increase of 16% YoY in Q3FY23, supported by increased volume growth (5% YoY), significantly outperforming the market. The home care segment had another excellent quarter, logging revenue of Rs.5,514 crs (32% YoY, 7% QoQ) and double-digit volume growth. Growth was driven by higher prices for the fabric wash and household care portfolios. The beauty and personal care segment grew 11% YoY to Rs.5,764 crs (3% QoQ), led by strong value and volume growth in skin cleansing, as well as other segments. Meanwhile, revenue from the foods and refreshment segment revenue grew 7% YoY to Rs.3,700 crs (-1% QoQ), led by robust performance in food, ice cream, and coffee products.
New Royalty Structure – Management has approved new royalty and central services arrangement fee structure that involves an increase from 2.65% to 3.45% (+80bps) of the turnover. The increase will be staggered over the next 3 years, with a 45bps increase from February to December 2023, 25bps from January to December 2024, and 10bps from January 2025. This is expected to impact margins in the near term. However, with the observed moderation in inflation rates, the company, supported by its premiumisation and economies of scale, will be able to offset the impact.
Financial Performance – The company is financially strong with zero debt and healthy cash & equivalents of Rs. 7490 crs. It has a good return on equity (ROE) track record with 5 Year avg. RoE of 30%+. The company also pays a healthy dividend for the investors consistently. The operating cash flow of the company has grown at a 12% CAGR for the period between FY17-22.
Industry:
The fast-moving consumer goods (FMCG) sector is India's fourth-largest sector and has been expanding at a healthy rate over the years as a result of rising disposable income, a rising youth population, and rising brand awareness among consumers. With household and personal care accounting for 50% of FMCG sales in India, the industry is an important contributor to India's GDP. Indian beauty and personal care (BPC) market are the 8th largest in the world. Fragrances, Makeup and Cosmetics, and Men's Grooming are all expected to grow at a CAGR of 12-16%. The personal hygiene market is expected to reach $15 Bn by 2023 in India. Traditional trade is the dominant retail channel in India accounting for 81.8% of FMCG sales and leading the way for FMCG growth. With over 11.5 million offline stores growing at a 4% compounded annual rate, currently, this highly dynamic retail channel is evolving to be more convenient for consumers.
Growth Drivers:
The Government of India has approved 100% FDI in the cash and carry segment and in single-brand retail along with 51% FDI in multi-brand retail.
Rural per capita consumption will grow 4.3 times by 2030, compared to 3.5 times in urban areas.
India's retail trading sector attracted US$ 4.11 billion FDIs between April 2000-June 2022. 100% FDI in single-brand retail under the automatic route.
Peer Analysis:
The company has generated better Sales and PAT CAGR than its peers historically and has been consistent in terms of overall Performance. In terms of profitability growth, HUL is one of the best among FMCG companies.
Competitors: P&G Hygiene, Colgate-Palmolive, etc.
Outlook:
The Management is seeing a gradual improvement in the FMCG business environment. The company remains cautiously optimistic in the near term and expects price-led growth. The company has experienced a real comeback in rural markets compared to the previous months. It also believes that the peak inflation has cooled off and at the current inflation levels, the margins can grow on the back of premiumisation. The company continued to launch new products with a focus on innovations. It launched a new brand under the soap category 'St. Ives' & variants under Lifebuoy and new shampoo variants under 'Tresemme'. It also launched variants in the tea, coffee, and jams & soup segment. With commodity prices staying at current levels, the gross margin trajectory remains upward. The company is likely to increase ad spending to perk up volume growth in the next few quarters.
Valuation:
Hindustan Unilever continues to outperform the market and gain market share despite the macro challenges. With the inflation cooling off on account of continuous rate hikes and improving rural demand, we expect the volume growth to continue across the portfolio. Hence, we recommend a BUY rating in the stock with a target price (TP) of Rs.3080, 55x FY25E EPS.
Risks:
Raw Material Risk – Any increase in raw material costs such as Crude oil and Palm oil will impact the margins of the company.
Royalty Price Risk – Any slowdown in the rural recovery will impact the revenue and thereby impact the ability of the company to offset the Royalty price hike.
Competitive Risk – The Indian FMCG industry has both organised and unorganised players across segments and products. HUL continues to face stiff competition, with the entry of new players, including multinationals, in segments such as soaps and detergents, personal care products, and packaged foods.
[fbcomments]