In the latest issue of ATMASPHERE, a monthly publication by ATMA India – a professional body for Technical Analysts in India, I had written an article on action/reactions and sloped retracements. Click here for to read the May issue of ATMASPHERE. In this context, let's take a look at Titan Industries which has been battered out of shape in the past few weeks and the stock is down over 10% today.
This post is just an attempt to dissect the price action using trendlines and the principle of action and reaction. The pitchforks and trendlines used in the charts below capture the essence of action/reaction. as described by Sir ISAAC NEWTON in his third law of motion. Kindly direct your attention to the daily chart of Titan Industries featured below.
Form the above chart it is apparent that the stock has been in a steady uptrend which is captured by the swings marked in green. While the recent fall has been sharp and taken everyone by surprise, it has not disrupted the overall sequence of higher highs and higher lows. The recent fall, captured by the red set of swings comes across as a correction within a broad uptrend.
The question now is was this fall expected? What were the clues to suggest that price would turn near Rs.300 recorded towards the end of May? The daily chart featured below addresses these questions.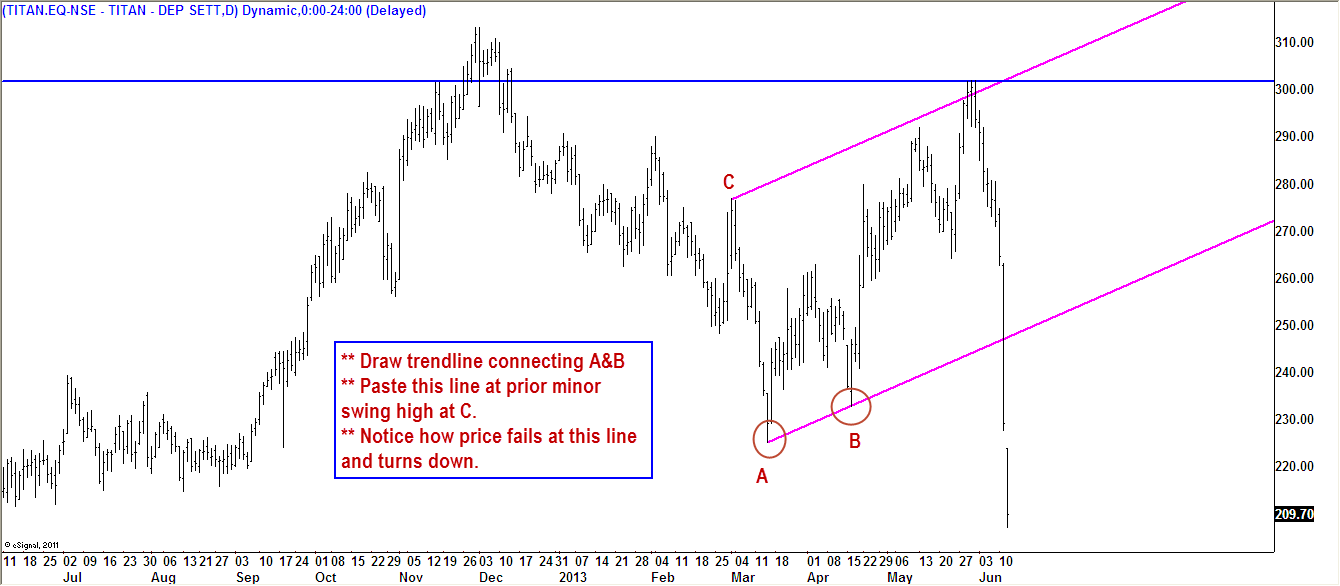 Interesting to note that the price reverses off the trendline placed at pivot C, highlighted in the chart. Also of interest is the blue horizontal line drawn off the minor swing high recorded in November 2012. Notice how this swing high as resistance when price revisits this level after about six months. The similar concept is at play in the Nifty chart as well. We discussed this concept at length in last week's FREE MARKET OUTLOOK WEBINAR.
Now that price has cracked big time, where is it likely to seek support? This question is addressed in the following chart.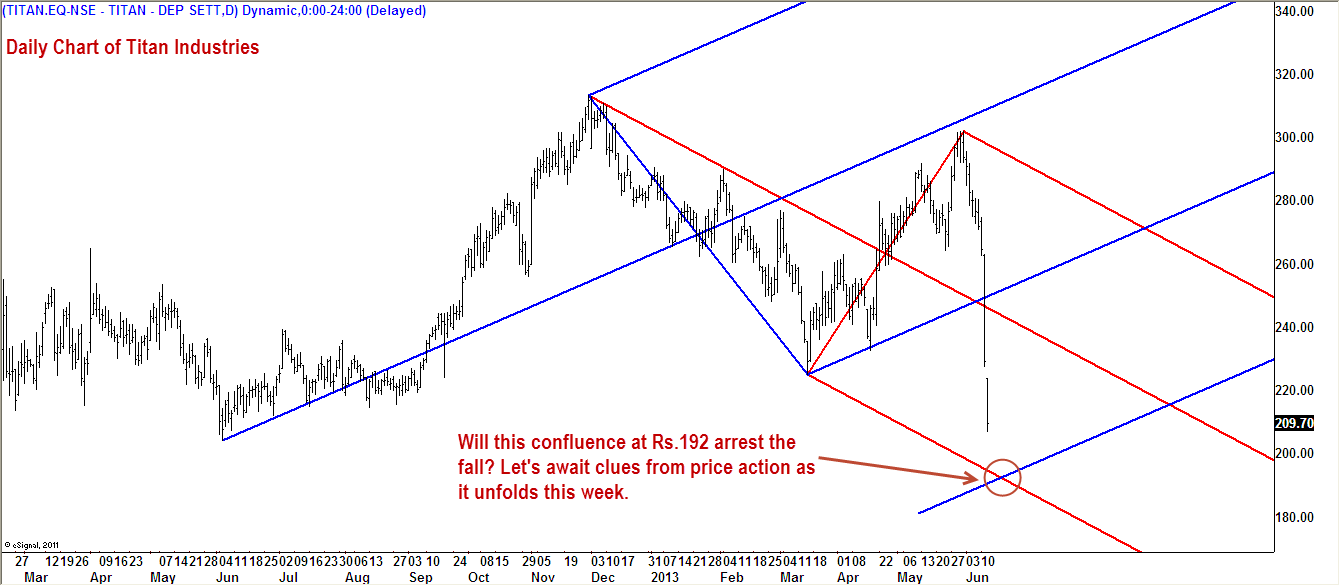 The price has cracked below the middle red of the red fork and it could test the lower red line at Rs.192-ish. Also of interest is the confluence of red and blue lines at Rs.192. This confluence gives a high probability time/price target. Whether the price respects this confluence is the moot question now. As always, let's wait for price action to unfold rather than second guessing.
If price stabilizes at this confluence, it could present a low risk buying opportunity in Titan to participate in a nice up move, even if it turns out to be a counter-trend correction. Await an update shortly.
[fbcomments]