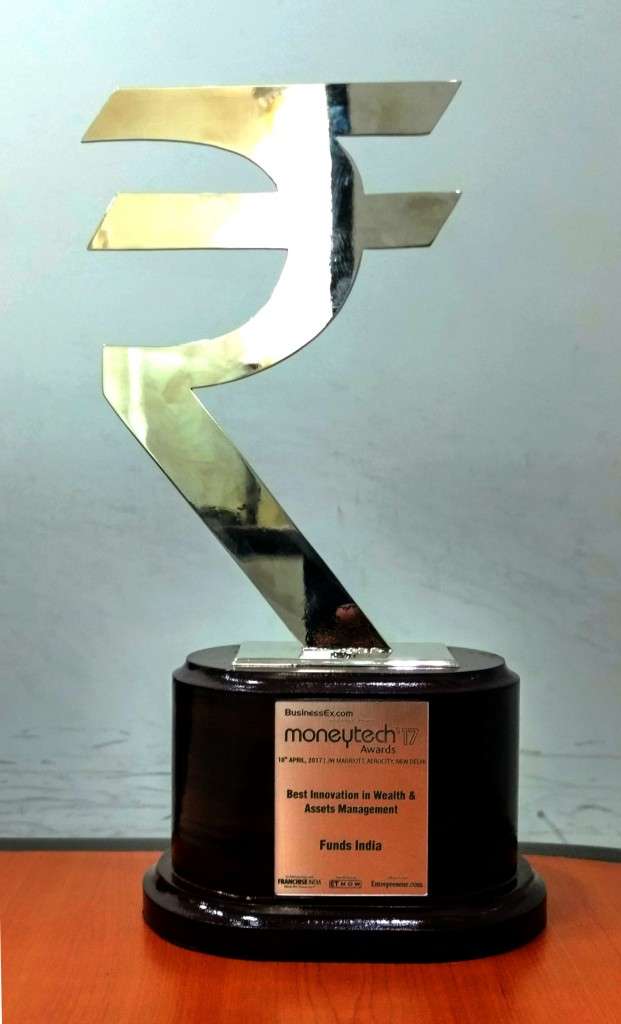 Since the very beginning, FundsIndia has aimed to make investing easier and more accessible to Indian investors. From introducing unique value-added services like value-averaging plans and trigger-based investing to pioneering robo-advisory services in India – we've constantly worked towards improving the overall investing experience for our customers.
Our efforts in this direction have been recognised yet again. It makes us very happy to announce that FundsIndia has won the award for 'Best Innovation in Wealth and Assets Management' at the MoneyTech Awards 2017. These awards serve to acknowledge excellence in innovation and customer service. The award ceremony was held at the JW Marriott Hotel, Aerocity, New Delhi on Monday, April 10, 2017.
FundsIndia was chosen as the winner in this category for our various innovations in the fields of mutual fund investing and investment advisory, especially for our one-of-its-kind robo-advisory service, Money Mitr.
The awards incorporated a thorough and independent judging process in which all nominees were assessed based on parameters like innovation, user experience, ease of implementation, scalability, the solution's ability to interface with other systems, and the growth of the business.
The jury for the award was comprised of experienced industry professionals. Winners were picked after a thorough analysis of their performance and data.
Srikanth Meenakshi, co-founder and COO, FundsIndia, said, "Our aim has been to simplify investing and help Indian investors become financially secure by providing them with great investment advice and a powerful platform where they can execute it. To this effect, we've worked hard to simplify and streamline the entire investment experience. Our Aadhaar-based eKYC makes it easier for customers to get started with our platform, and our comprehensive robo-advisory service, Money Mitr, provides good investment advice instantly, at any time. In addition to this, our gamified investment platform, powerful technological tools, insightful reports, and on-demand advisory services make investing engaging, and encourage investors to stick with us."
We thank you, our investors, for supporting us throughout our journey. We promise to keep making strides in the online investing space and to offer you the best investment experience, always.
[fbcomments]