You might be familiar with the Motilal Oswal house-slogan of 'Buy right, sit tight'. The fund house does not only preach this to its investors, but follows it in its own fund investing style as suggested by its portfolios.
Motilal Oswal MOSt Focused Multicap 35 Fund (Focused 35 Fund) is one of the diversified fund offerings from the Motilal Oswal house. As the fund was launched only in April 2014, it gives us little by way of track record to assess its performance. However, its performance and portfolio warranted a notice and hence this review, even as we remain neutral and watchful on the fund's performance.
This write-up will seek to provide some interesting insights on the fund's strategy and portfolio.
The Fund
As is the case with other funds from the Motilal Oswal stable, the Focused 35 Fund too seeks to run a compact portfolio of stocks. The fund can invest in a maximum of 35 high-conviction stocks across market caps. That means owning as high or close to even the 10 per cent stock limit allowed by the regulator per stock. Currently, the top holding in the fund (Maruti Suzuki India) accounts for 8.98 per cent of the portfolio.
The general hypothesis behind a compact portfolio is that over-diversification does not necessarily reduce risk, and on the contrary, can dilute returns.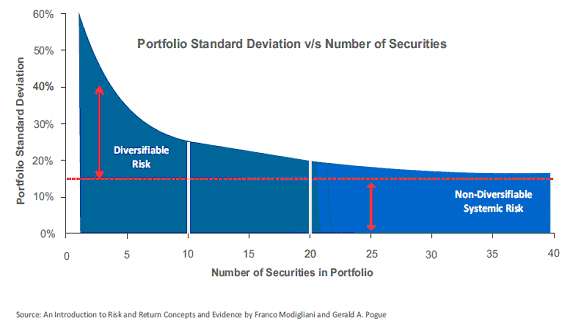 The Portfolio and Strategy
The Focused 35 Fund has only about 20 stocks in its portfolio at present, suggesting that it has high conviction in the stocks that it holds. While the concentrated portfolio may carry risks, we notice that over 95 per cent of the portfolio consists of stocks with a market cap of Rs. 10,000 crore.
That means the fund hardly has any concentrated exposure in the smaller market cap segment. This, to some extent, reduces the risk of volatility, and also significantly reduces the impact cost on exits – risks that are present in a focused portfolio approach.
The fund's portfolio turnover is low at 0.22 times (June 2015); however, a look at the portfolio over the past year suggests that while there aren't too many entries and exits, the fund has been adept in pruning and increasing exposure at all the right opportunities in its stocks.
For instance, while stocks such as Tech Mahindra and TCS, which were among the top 5 holdings a year ago, continue to remain in the portfolio, they account for lower weight in the portfolio now; not necessarily from selling the stock, but by increasing exposure in other stocks. On the other hand, it used corrections in large-cap stocks to up exposure in holdings such as HDFC Bank and Eicher Motors.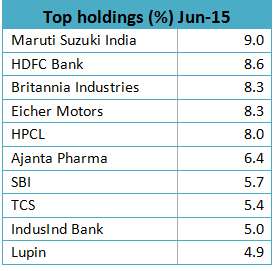 The portfolio strategy of the Focused 35 Fund over the year appears to give an impression of pure bottom-up stock picking, and less of sector-based stock picking. That it moved away from top sector holdings such as Information Technology (IT), banks and pharma a year ago, to auto, banks and consumer non-durables currently appears to be merely a fallout of its stock strategies.
Still, the semblance of a consumption-tilted approach can be seen in the portfolio now. The entry of winners such as Maruti Suzuki India and Britannia Industries in early 2015 speak of a consumption bias. This is stemming from both a bet on urban consumption pick up, as well as lower crude oil price. So was the well-timed entry into HPCL in September 2014.
It is interesting to note how the fund built positions in these stocks gradually, entering reasonably ahead, and buying itself time to still capitalise from the upsurge. The group's Portfolio Management Service (PMS) approach to building portfolios is reflected in its funds' portfolios as well.
Performance
Focused 35 Fund's 1-year returns of 52 per cent beat its benchmark's (CNX 500) return of 16.6 per cent, as well as the category performance of 24.6 per cent convincingly. CNX 500 is a diversified index as against the fund's focused approach. A few winners can make all the difference in a concentrated portfolio, and that can be seen in Focused 35's performance.
While data is skeletal for us to meaningfully roll the returns of this fund, the quarterly returns below suggest that the fund has been fairly consistent in its outperformance, particularly in managing positive returns in the June 2015 quarter when indices were down.

The fund is managed by Gautam Sinha Roy, with co-fund manager Taher Badshah joining him from May 2015.
FundsIndia's Research team has, to the best of its ability, taken into account various factors – both quantitative measures and qualitative assessments, in an unbiased manner, while choosing the fund(s) mentioned above. However, they carry unknown risks and uncertainties linked to broad markets, as well as analysts' expectations about future events. They should not, therefore, be the sole basis of investment decisions. To know how to read our weekly fund reviews, please click here.
[fbcomments]