Short on time? Listen to a brief overview of this week's recommendation.
What
Equity fund that can move across market capitalisations
Concentrated portfolio with limited number of stocks
Why
Strong performance compared to market and peers
Picks companies with quality managements and long-term growth prospects
Does not churn portfolio frequently to chase returns
Whom
High-risk investors with at least a 4-5 year horizon
With a one-year return of 27%, Motilal Oswal MOSt Focused Multicap 35 soars above other diversified equity funds. The category on an average holds at 18.8% in the one-year period. The Nifty 500 index delivered a 20.7% return in the same period. Launched in 2014, the fund has just crossed the three-year mark. But its performance even in this short period is top-notch, with the fund beating the category average virtually all the time when rolling 1-year returns since its inception. The fund is also a new entrant in our Select fund list in this quarter's review, in the high-risk equity category.
Strategy and portfolio
MOSt Focused Multicap 35 (MOSt 35) follows its sponsor's buy-right-sit-tight approach, picking stocks based on the four factors of company quality, higher return on equity, longevity of its business, and valuations. It does not follow a pure value strategy and can buy high PE stocks if the return the company generates and its competitive advantage hold strong.
It also follows a concentrated or focused approach – by mandate it can hold a maximum of 35 stocks. The top 10 stocks in the portfolio have accounted for anywhere between 60-70% of the portfolio, with the total number of stocks between 20 and 30. A focused approach, when picks work well, affords a higher outperformance over the market. MOSt 35's average 11 percentage point excess when rolling 1-year return since its inception is much more than other diversified funds. Of course, this huge margin is partly attributable to the good timing of the fund's launch. The fund's top holdings such as HPCL, HDFC Bank, HDFC, Bajaj Finance, and Eicher Motors, have all delivered well.
MOSt 35 doesn't add and delete stocks to its portfolio frequently. Instead, it juggles stock exposures within its portfolio, buying more into some stocks to step up their concentration, or booking profits, or paring stake in others. Stocks such as Interglobe Aviation, Maruti Suzuki, Eicher Motors, Britannia Industries, and Ajanta Pharma, all of which were top portfolio holdings at some point or the other are examples where the fund has played around with exposures based on their performance and other opportunities. These stocks have also clocked strong gains, apart from Interglobe Aviation. The fund also exits stocks if the prospects don't play out or have run their course, such as Infosys, Lupin, Page Industries, and SBI. Other timely calls were in energy stocks, and consumer stocks such as Avenue Supermarts and Manpasand Beverages.
Top 10 stocks in the portfolio

Stock
% of portfolio
Sector
HDFC
9.2
Financial Services
HDFC Bank
8.9
Financial Services
Maruti Suzuki India
7.7
Automobile
HPCL
6.8
Energy
IndusInd Bank
6.2
Financial Services
BPCL
5.7
Energy
Bajaj Finance
5.4
Financial Services
PNB Housing Finance
5.3
Financial Services
Eicher Motors
5.2
Automobile
Max Financial Services
4.6
Financial Services
As of September 2017
Given the stock-focused approach and limited holding, the fund doesn't really have any sector themes going for it. For example, there is a focus on the consumption side through financials and consumer stocks but also on the cyclical side in energy, and still further on the value side in pharmaceuticals. The fund's sector weights, therefore, have minimal correlation with its benchmark Nifty 500.
Performance
MOSt 35 has held in the top quartile in the 1, 2, and 3-year periods. On rolling 1-year returns since inception, the fund also beats the Nifty 500 index all the time in addition to the category average. This indicates a consistency in outperformance.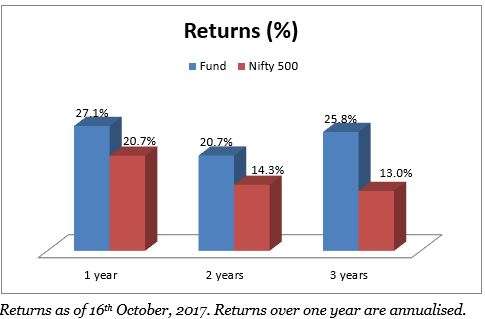 While stock markets from 2014 haven't had a meaningful downturn to test MOSt 35's mettle in containing losses, the brief spurts of corrections in late 2015 and 2016 suggest that the fund is able to weather well. Its losses in those periods were 1-2 percentage points lower than the average and the fund ranked in the top quartile even in those times. Rolling its 3-month return daily over the past 3 years, the instances of losses was much lower than the Nifty 500. It was also lower than other low-volatile funds such as Parag Parikh Long Term Value and ICICI Prudential Dynamic Plan. Its Sharpe ratio, which measures the return delivered for the risk taken, is also well above the category average.
Suitability
MOSt 35 is a good fit for high risk investors, with a 4-5 year horizon despite a large-cap portfolio tilt. One, a focused approach itself requires higher risk. The strategy can pull returns down sharply in correcting markets or if even a couple of calls go wrong and the fund takes time to address it. The fund's growing AUM – it's Rs 9,178 crore now – could mean that somewhere down the line it may not be able to take as highly concentrated calls as it currently does. To some extent, this could reduce the margin of its outperformance
Two, the fund does not have a record in a steeply falling market like that of 2011 or 2008. The stock market itself is undecided right now – it could simply carry on consolidating waiting for earnings to catch up, or it could correct if growth takes longer to come about than expected. Either way, to enter a fund whose strategy hasn't gone through a downturn is on the riskier side.
Goutam Sinha Roy is the fund's manager since inception. Siddharth Bothra is the co-manager.
FundsIndia's Research team has, to the best of its ability, taken into account various factors – both quantitative measures and qualitative assessments, in an unbiased manner, while choosing the fund(s) mentioned above. However, they carry unknown risks and uncertainties linked to broad markets, as well as analysts' expectations about future events. They should not, therefore, be the sole basis for investment decisions. To know how to read our weekly fund reviews, please click here. 
[fbcomments]