Short on time? Listen to a brief overview of this week's review.
[soundcloud url="http://api.soundcloud.com/tracks/337126332″ params="color=ff5500&auto_play=false&hide_related=false&show_comments=true&show_user=true&show_reposts=false" width="100%" height="166″ iframe="true" /]
What
Diversified equity fund that invests in a mix of large-cap and mid-cap stocks
Follows a strategy of buying into undervalued stocks
Why
Steady success in identifying undervalued themes
Moves across market-cap segments to find value
Strong long-term performance
For whom
Moderate and high-risk investors with at least a 5-year view
Investors willing to take phases of underperformance arising from a value strategy
ICICI Prudential Value Discovery has long been an investor favourite. From a size of Rs 2,000-odd crore in 2013, the fund is now a giant Rs 17,568 crore. Despite its large size and recent underperformance (its one-year return of 10.3% is below both the 18.3% diversified fund average and the 17.9% of the Nifty 500, its benchmark), we think it remains a good investment option for three reasons.
One, it suits the current market scenario well.  
In the current market, with valuations well ahead of earnings growth for several sectors and stocks, a value-focused approach can be a judicious one for fresh investments into the market now. Value Discovery is a pure value fund, considering metrics such as price-to-book value, price-to-earnings, long-term risk-reward proposition, management quality to zero in on sectors and stocks. In addition, the value focus is not just in stock selection. It shifts between market capitalisation segments to seek value.
So while the fund was a mid-cap focused one in earlier years, it increased allocations towards large-cap funds from 2015 onwards, thus morphing into a diversified fund. From mid-caps accounting for about half the portfolio in 2014, the fund held less than a third in such stocks by early 2016. With mid-caps still showing no signs of letting up their heated rally, the fund continued to find value in the large-cap segment. Since January this year, mid-caps made up around 17% only of the portfolio. Large-cap stocks have averaged 74%. Going by market cap orientation, the fund could well be a large-cap one today.
This ability to move where value is, sets the fund apart from its peers. There aren't many truly value-focused funds; others usually mix growth and value stocks to keep returns higher.
Two, it has shown the ability to call value correctly in the past.
Following a value strategy means that the portfolio can be contrary to the prevailing market sentiment. Further, once a stock that the fund holds hits uncomfortable valuations, the fund would begin booking out. This may result in the fund not capturing further upside in such a stock.
For Value Discovery, current holding in software and pharmaceuticals at high levels has dragged 1-year returns. The fund also has a higher single-stock exposure within these sectors, amplifying the impact of a poor stock run in these sectors. For example, Sun Pharmaceuticals forms a good 8.9% of the portfolio. The stock is down 40% in the past year. Similarly, Wipro is another top holding at 7.7% of the portfolio. The stock's 4% one-year return is well short of the Nifty 500 or even the Nifty 50.
Value Discovery is one of the few funds that is not overweight on banking, holding just a few quality ones such as HDFC Bank, Kotak Mahindra Bank, and SBI. Another reason dragging recent performance is its avoidance of favourite auto stocks, preferring instead the more beleaguered Mahindra & Mahindra and Tata Motors. It holds a good share of logistics, which can work well in the long term after benefits of the new tax structure kicks in.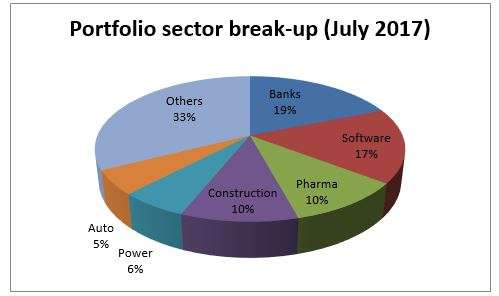 In earlier years, the fund's value calls have usually worked. It wasn't big on financial services in 2012, when the sector rallied smartly. It added to it in 2013, when banking was troubled. This paid off in the massive rally that took place in the following years. The fund picked up energy stocks well ahead in 2011 shuffling between power, oil and gas, and petroleum products gaining through the rallies in 2014 and 2016. It added to agrochemical stocks in 2014, gained from this in 2015 and 2016 and pruned it back now.
It is not that Value Discovery doggedly holds on to picks regardless of developments. Where it does not see the value panning out, it scales back or books out. For example, it pulled out of Bharti Airtel, which it had added to last year, as the sector and stock troubles deepened.
Three, its long-term performance is strong.
Rolling 5-year returns since the fund's inception has it beating diversified funds and the Nifty 500 all the time. The average extent to which it has outperformed diversified funds is a good 6%, though some of this is attributable to the fund's earlier mid-cap bent. It has not delivered negative returns in any five-year period. Value Discovery maintains this good long-term record even when stacked up against midcap funds in the same period, beating the mid-cap average 92% of the time.
Value Discovery's performance record in correcting markets is also strong. In the 2008 and 2011 downturns, the fund did better than mid-caps and diversified funds – and the fund was more mid-cap focused at these times. In the sideways 2013 market too, the fund did far better than other mid-cap funds.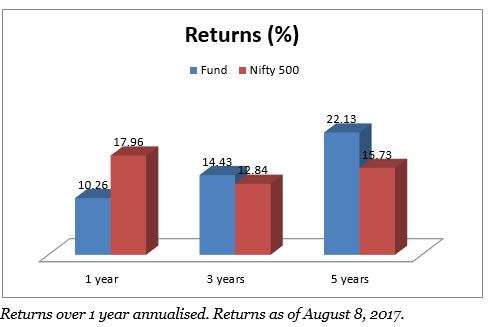 Despite the poor 1-year performance, the fund's risk-adjusted return (measured by Sharpe) is well above the category average. Its Sortino ratio, which measures deviations on the downside, also holds above average.
Suitability
Its often contrarian portfolio introduces diversification to an investor's portfolio. But its value stance and chances of underperformance from time to time make it suitable for investors who have perseverance to hold through phases of underperformance. A longer holding period of at least 5 years is required for the fund to deliver. Investing through SIPs in this fund is ideal. The fund's manager is Mrinal Singh.
FundsIndia's Research team has, to the best of its ability, taken into account various factors – both quantitative measures and qualitative assessments, in an unbiased manner, while choosing the fund(s) mentioned above. However, they carry unknown risks and uncertainties linked to broad markets, as well as analysts' expectations about future events. They should not, therefore, be the sole basis for investment decisions. To know how to read our weekly fund reviews, please click here.
[fbcomments]