One fund that has quietly made a strong comeback in recent times is Religare Inveso Growth, a large-cap equity fund. Its one-year return of 13 per cent places it above peers such as Franklin India Bluechip and Birla Sun Life Frontline Equity. The fund holds a good record of containing losses during bearish or directionless markets, such as those witnessed in 2011, and the early part of 2013.
But it is when markets trend up that the fund has faltered, despite staying invested at over 90 per cent in equities even during bearish phases. In both the 2009-10 and 2012 rallies (the fund was formed in August 2007), it has fallen short of its category averages.
It did pull up its socks in the sharp 2014 rally though. The fund's Assets Under Management (AUM) also swelled with the uptick in performance, growing from around Rs. 35 crore to over Rs. 100 crore now. Religare Invesco Growth will also see quant-based Religare Invesco AGILE merge with it from September 2015.
Lower volatility
Religare Invesco Growth primarily stocks up on large-cap names (those with a market capitalisation of over Rs. 12,000 crore), which account for over 85 per cent of the portfolio. This partly accounts for its under-performance in a rally where mid-caps take the cake, as some peers up their mid-and-small-cap holdings.
The fund does score on the metrics of both risk-adjusted returns and volatility, where it holds above the category's average. In the one, three, and five year time-frames, the fund's margin of out-performance over the BSE 100 is 5-9 percentage points. Since its inception in 2007, the fund has outpaced its benchmark, BSE 100 Index, 73 per cent of the time on an annual rolling return basis.
Concentrated bets
In the 2009-10 rally, the fund's heavy calls on oil and gas, and a few other stocks – Indian Oil, ONGC, Reliance, and L&T, for example – cost it dear. In the recent rally, picks such as Britannia, HDFC, HDFC Bank, TCS, Dr Reddy's and Maruti Suzuki helped propel its returns skyward.
In its current portfolio, private sector banks and housing finance companies form the heaviest weight, which can hold it in good stead as banks benefit from both a recovery in investments and consumption. Other sector heavyweights are technology, automobiles, and healthcare. All three hold reasonable medium-term prospects with help from a depreciating rupee and a domestic consumption surge.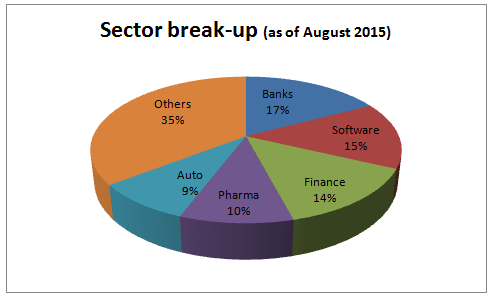 Religare Invesco Growth has a concentrated portfolio, however, with the top four sectors accounting for more than half of the portfolio; historically, the top ten stocks have taken up anywhere between 35 to 55 per cent of the portfolio. Conviction in sector performance, therefore, needs to pay off. The fund is managed by Vetri Subramaniam and Amit Ganatra.
We do not currently have a recommendation on this fund, but will continue to keep an eye on its performance.
FundsIndia's Research team has, to the best of its ability, taken into account various factors – both quantitative measures and qualitative assessments, in an unbiased manner, while choosing the fund(s) mentioned above. However, they carry unknown risks and uncertainties linked to broad markets, as well as analysts' expectations about future events. They should not, therefore, be the sole basis of investment decisions. To know how to read our weekly fund reviews, please click here.
[fbcomments]