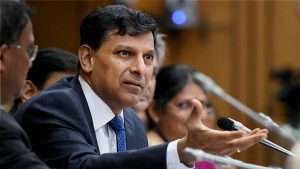 Rock star Raghuram Rajan (or R3 as Subramanian Swamy likes to call him), may cause Monday Market Blues with his letter announcing his impending exit from the Central Bank.
Short-term, knee-jerk capital outflows cannot be ruled out for 2 reasons: one, Rajan has proved his mettle in handling inflation, currency and liquidity situations, providing confidence to investors on market stability. He is therefore seen as the key man in swerving the economy from any deeper economic crisis. Two, the political controversy surrounding an offer of a second term and the seeming reluctance of the ruling government maybe viewed as lack of focus by the government in bringing stability to the economy.
Dr Rajan's announcement would, no doubt, therefore disappoint market participants.
However, it would be taking it too far to say that it would be the primary reason for foreign investors to react and exit completely.
Does not change the fundamentals
India's fundamentals does not change as a result of the above move. In fact, it have been showing enough signs of picking pace.
Core activity in the economy – be in transport, auto sales, cement or cargo or credit to infrastructure sector – have all shown clear signs of uptrend
The GDP growth in the March quarter of 2016, at 7.9% positively surprised the markets
The March quarter earnings have surprised on the upside – with ex-financials earnings growth of the Sensex at 18% compared with a year ago. Interestingly, cyclical sectors such as industrials, commodities and telecom surprised the markets after prolonged sluggish performance
Among the GDP numbers, consumption growth, which was also reeling under a slowdown, picked pace from 5.7% average in the first half of FY-16 to 7.5% in the second half. Private consumption was stronger indicating that urban and rural demand may be reviving.
India's foreign exchange reserves are at an all-time high and in the words or Dr Rajan, the RBI has done adequate preparation to manage the repayment of Foreign Currency Non Resident (B) deposits, when they fall due later this year.
Besides, there is now an inflation focused framework in place to provide guidance to monetary policy decisions. There is also a whole new structure to allow banks to recover payments from failing projects and to review quality of assets.
The above macro indicators with the policies thus far crafted and in place  should see the economy through until such time a new Governor rolls out his/her vision.
Many heroes from RBI
Also, to think that the RBI has not had too many heroes would be belittling the institution.
Let us not forget that the RBI has had many great leaders; one of the more recent, less flamboyant but equally heroic one being Dr Y V Reddy –  called by many foreign Central banks as the man who saved India from the 2008 Global crisis. Be it the introduction of the new market stabilisation scheme or anticipation of an asset bubble and increasing provisioning for lending in sectors such as real estate or leaving little scope for random securitisation of loans, Dr Reddy did it all before anybody elsewhere thought about it.
While this is not to brush aside the achievements of the man who reigned in the currency – Dr Rajan –  it may be too simplistic to say that there cannot be more good governors.
If domestic and institutional investors react to the one event of Dr Rajan's leaving, they would be no different from the traders, reacting to every news on the street.
You do not have to do the same. Stay put or buy on seemingly 'bad' news. That's how money is made. And remember, there is more to come – Brexit, the Federal Reserve's moves and of course there is Trump!
[fbcomments]