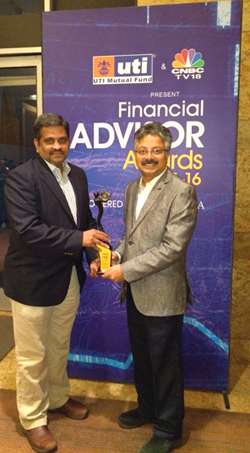 FundsIndia has never just been an online store for investment products. We've strived to be of a lot more value in the lives of our customers by gifting them something invaluable – the gift of prudent and unbiased investment advice. It makes us very happy to announce that for the third year in a row, we've bagged the 'CNBC-TV18 – UTI National Online Advisory Service Award' at the Financial Advisor Awards that were held in Mumbai last night. We won the award this year for our high volume of quality investment advice that was disseminated between 2015 and 2016.
C.R. Chandrasekar, co-founder and CEO, FundsIndia, said, "This award has come at a time when we're celebrating seven years of FundsIndia. Good investment advice has always been the backbone of our business. When we disseminate good advice, people build wealth through their investments and stay invested with us. Every customer on our platform has access to quality, unbiased advice – either through our robo-advisory service or through a dedicated investment advisor, both backed by research. We're happy to be recognised for our efforts in this regard."
The jury for the award constituted renowned financial experts from different organisations. Winners were picked after a thorough analysis of advisory data, and a presentation from each of the nominees.
Srikanth Meenakshi, co-founder and COO, FundsIndia, said, "Mutual funds are still seen as a complex investment product in India. We're trying to dissipate this belief by removing any and all complications out of investing through our platform. While our Aadhaar-based eKYC feature makes the process of getting started with investing quick and easy like never before, our comprehensive robo-advisory service, Money Mitr, offers good investment advice instantly to customers. Our powerful technological tools, instant investment reports, and most importantly, our on-demand advisory services encourage people to continue investing with us."
We promise to keep making strides in the online advisory space by delivering the best investment advice to our customers, always. We promise to keep going because we'd love to keep your wealth growing.
[fbcomments]