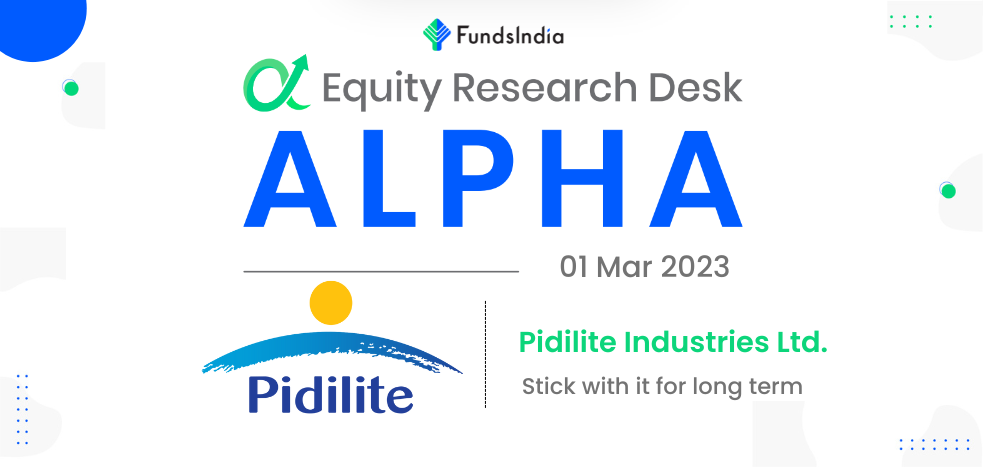 Pidilite Industries Ltd. – Stick with it for long term
Pidilite commenced operations in 1969, with two main divisions: pigment emulsions and adhesives. Over the years, the company diversified into branded consumer and bazaar products, and business to business segment , which accounted for 80% and 20%, respectively, of sales in fiscal 2022. Besides the mother brand, Fevicol, prominent brands include Steelgrip, Dr. Fixit, M-seal, Fevicryl, Fevikwik, Fevistik, Fevilite, Fevibond, and Acron.
The company has 30 manufacturing plants, in Mumbai, Mahad, Panvel, Taloja, all in Maharashtra; Vapi, Gujarat; Daman, Union Territory of Daman and Diu; Baddi and Kala Amb, Himachal Pradesh; Guwahati, Assam and Vishakhapatnam, Andhra Pradesh.
To diversify its revenue stream and facilitate global reach, the company has subsidiaries in the US, Thailand, Dubai, Brazil, Egypt, Bangladesh, Sri Lanka , Kenya, Indonesia, Singapore, Ethiopia and China.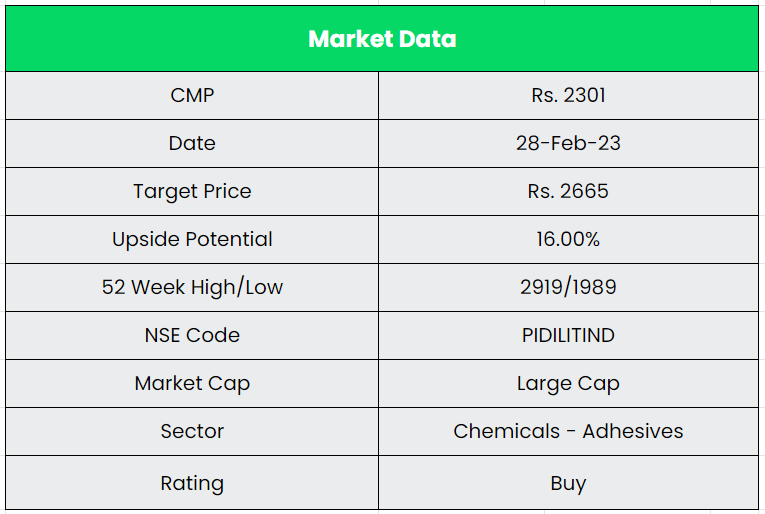 Products & Services:
The Company offers pigment emulsions and adhesives under various famous brands namely Fevicol, Fevicol MR, Dr.Fixit, Fevikwik, M-Seal, Fevistik, Hobby Ideas, Fevicryl and Others.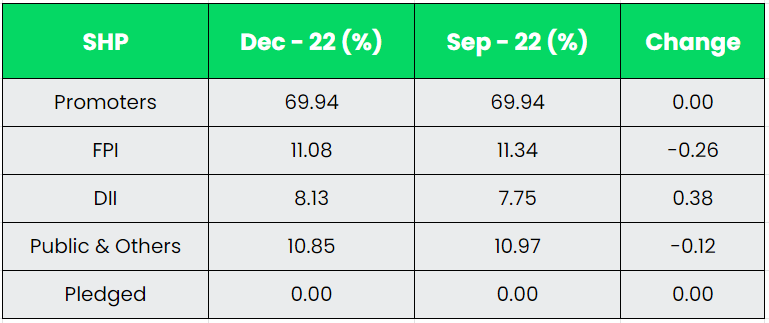 Subsidiaries: As on 31st Mar 2022, the Company has 33 subsidiaries, both direct and indirect. 13 of these subsidiaries are in India and 20 of them are located abroad.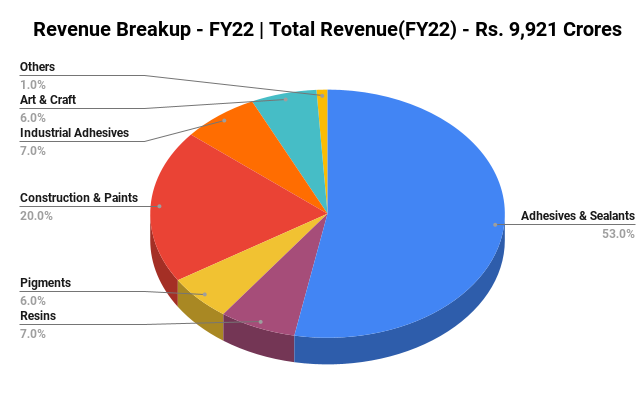 Key Rationale:
Strong Market Position – Pidilite is the Largest player and the market leader in the consumer adhesive and Sealant Industry. Fevicol is the eminent and legendary brand of Pidilite where People used to think as Fevicol itself a synonym for adhesive. The company has leveraged the brand value and the presence of Fevicol to develop new variants and products. The strong brand equity is backed by greater focus on quality, diversified distribution network, and strong advertising support. Over the years, the company has imparted brand equity to commoditised products, through its aggressive and innovative marketing style.
Concall Highlights – The company generates ~65% of its total revenue from repair and maintenance segments while rest is derived from new construction. Water proofing, tile adhesive (Pioneer category) growing faster than other product categories. The company added ~2100 new villages (with population ranging between 5000 and 10000) to expand its retail distribution network 'Pidilite Ki Duniya'. The company has guided to launch one major and two minor innovative products in every quarter for the next 12-18 months.
Q3FY23 – The company reported a muted consolidated revenue growth of 5% to ~Rs.2998 crore mainly due to muted volume offtake (up ~1% YoY) in the C&B (Consumer & Bazaar) segment. The lower volume offtake is attributable to higher base and lower rural demand amid high inflations. On a three year CAGR basis, revenue grew at a CAGR of 16% led by ~10% volume CAGR. Management stated the company has consumed majority of the high-cost inventory in Q3 and the remaining will be consumed in Q4. Management reported that demand in Nov-Dec'22 was better than in Oct'22.
Financial Performance – The company's 10 Year Revenue and PAT CAGR stood at 12% and 14% between FY12-22, respectively. The Cashflow from operations of the company grew 10% between FY12-22. The company has maintained an average ROE of 25% and ROCE of 35% for the past 10 years. The company has a strong balance sheet with a low debt to equity ratio of 0.10x and a cash and equivalents of Rs.815 crs.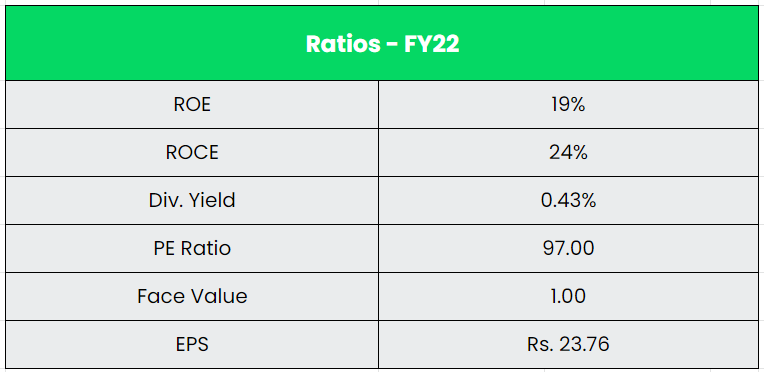 Industry:
The Indian adhesives and sealants market is projected to reach USD 1,703.68 mn by 2026, growing at an estimated CAGR of 8.07% over the period of 2021-26. India adhesives and sealants market is highly concentrated in terms of revenue. The top five players account for a combined share of more than 90%, thus making the market highly competitive. Major factors driving the market studied are increasing demand from the packaging industry and the growing construction industry in the country. In India, packaging is the fifth largest sector in its economy and is one of the highest growth sectors in the country. According to the Packaging Industry Association of India (PIAI), the sector is growing at CAGR of 22% to 25%. Over the last few years, packaging industry has been an important sector in adding value to the various manufacturing sectors including agriculture and FMCG segments.
Growth Drivers:
The growth of individual end user segments of food, beverages, FMCG and pharmaceuticals will trickle down into rising demand of packaging solutions.
A commitment of Rs.79,000 crore for PMAY houses has been made in the Union Budget 2023-24. This is a 66% increase compared to last year. The amount will help increase the supply of low-cost homes under the Pradhan Mantri Awas Yojana.
The India Paper and Paperboard Packaging Market was valued at USD 10.77 Bn in 2021 and is expected to reach USD 15.69 bn by 2027, registering a CAGR of 6.63% during the forecast period of 2022-2027.
Competitors: Asian Paints, Kansai Nerolac, etc.
Peer Analysis:
Pidilite is a near monopoly in its business in the listed space. So, we have compared with the paint companies which caters to the similar construction industry. Pidilite and Asian Paints are examples of Indian companies that have successfully transitioned commoditized products into consumer brands through innovative advertising, packaging and creating a strong connect with the intermediaries (carpenter and painter, respectively). However, the key difference between the two companies is that paints is a primary product whereas adhesive is an ancillary product. Moreover, repainting cycles are significantly shorter that replacement cycles for furniture.

Outlook:
According to the management, rural demand recovery has started from December 2022 onwards with easing of inflationary pressure and pick-up in construction activities. Uptick in real estate industry will help fast recovery in the demand from Tier I and II cities. The company has reiterated double digit volume growth in the medium to long term. The 'Core' category (includes Fevicol, FeviKwik, m-seal, fevicryl, contributes ~70% to overall revenue) growth guidance at 1-1.5x GDP, 'Growth' category (includes Dr.Fixit, Roff, Nina, contributes ~20% to overall revenue) to 2-5x GDP growth, 'Pioneer' category (CIPY, Jowat, ICA Pidilite) Rs.100 crore in the next three years. Over the next five years, the company plans to increase the revenue contribution of 'Growth and Pioneer' to 50%.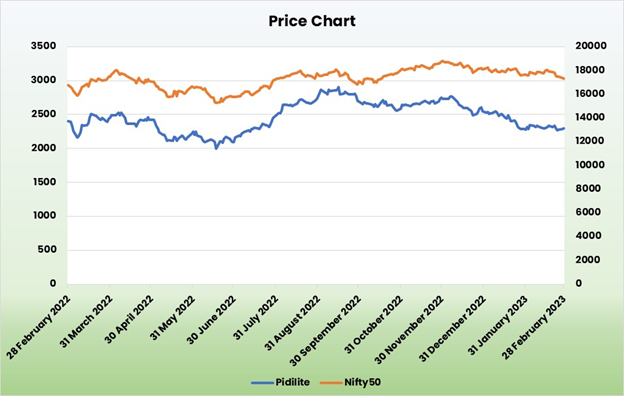 Valuation:
The Management is optimistic in the growth and margin recovery of Pidilite Industries despite the near-term challenges. Revival in the real estate business will be a key demand driver for Consumer & Bazaar segment, going forward. Hence, we recommend a BUY rating in the stock with the target price (TP) of Rs.2665, 65x FY25E EPS.
Risks:
Raw Material Risk – Any increase in the raw material prices like VAM resins, etc. which are derivative products of crude will impact the operating margins of the company. Also, any delay in the passing of the raw material cost will impact the same.
Competitive Risk – The industrial specialty chemicals segment, which is a bulk commodity business, includes industrial adhesives, synthetic resins, organic pigments, and surfactants, and accounted for 20% of total revenue for fiscal 2022. Heavy competition in the said segment will impact the margins.
Economic Risk – Specialty Industrial Chemicals (SIC) segment growth is highly correlated with the overall economic activity in the country. Any slowdown in the industrial spending would imply lower off take of company's products.
[fbcomments]