A ride across equity country
Reliance Equity Opportunities is a good fit for investors willing to 'go anywhere' within the equity universe, to earn market-beating returns. Yes, Reliance Equity Opportunities is a 'go anywhere' multi-cap fund that can straddle across various market-cap segments and various themes in which it detects opportunities.
With a compounded annual return of 20.2 per cent since its launch in 2005, the fund beat its benchmark BSE 100 return of 14.7 per cent convincingly. The fund's ability to generate superior returns against the benchmark has moved up in the last 5 years. For instance, it managed 9.5 percentage points more than its benchmark in the last 5 years.
Suitability
Reliance Equity Opportunities is a good fit for a risk-taking investor's core portfolio. As stated earlier, the fund can 'go anywhere' to seek returns. This can increase the volatility in its performance. Hence, if you cannot stomach risks, this fund may not be apt for you. For instance, in the 2008 downturn, the fund fell as much as 56 per cent even as the bellwether index Sensex slid 52 per cent.
While the fund did bounce back in style the following year, the fall can panic you into stopping SIPs; an act that should be avoided. Just to give you an idea of the kind of returns that an SIP in the fund can deliver, especially if you hold through down markets, sample this: Over the last five years beginning February 2008, an SIP in the fund would have delivered an IRR of close to 20 per cent (11 per cent if invested through lump sum).
The benchmark BSE 100 delivered just 9 per cent through SIPs.
Another Opportunity fund, from the UTI stable, delivered about 15 per cent through SIPs in the same period. Reliance Equity Opportunities is therefore a ripe candidate to buy through the SIP route.
Performance
Over a five-year period, Reliance Equity Opportunities' rolling one-year returns was 19 per cent. This is higher than UTI Opportunities' 16.8 percent as well as diversified fund Quantum Long Term Equity's 17.4 percent. But the high return has come with volatility.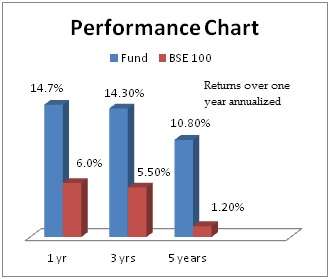 The fund's standard deviation, that is returns deviating from its average, is quite high when compared with the other two funds mentioned above. That means, the fund can not only manage higher than the average but also fall below the average. This is why the fund is best invested through the SIP route. This would help average the ups and downs.
That said, the fund has been adept in beating its benchmark; managing better returns 80 per cent of the times on the above rolling return basis. It also generated negative returns fewer times compared with its benchmark.
Portfolio
Reliance Equity Opportunities has an interesting mix of large- and mid-cap stocks. Almost half of it assets are invested in stocks with a market-cap of over Rs 10,000 crore. This strategy is in stark contrast to UTI Opportunities, which showcases over 85 per cent of its holdings in the over-Rs 10,000 crore market-cap segment. The former's portfolio clearly suggests a more aggressive strategy.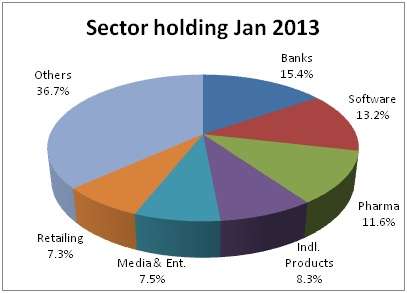 The fund seeks opportunities, often, in unexpected quarters. For instance, until 2011, media sector seemed lack luster. But the fund began to up exposure to this sector a year ago. Stocks such as Hathaway Cable and Datacom delivered as much as 86 per cent in the last one year following regulatory changes.
It also added small-cap stocks such as Hinduja Ventures and Hindustan Media Ventures; that have delivered well in the last couple of quarters. Another unlikely heavyweight is the retail sector with focused bets on stocks such as Trent and Shopper's Stop. These stocks too, contributed significant gains to the portfolio. Evidently, the fund has been picking these sectors ahead of the regulatory changes implemented in the respectively spaces last year.
The fund is managed by Sailesh Raj Bhan.
[fbcomments]