Build a foundation with blue chips
If you wish to start building an equity portfolio with mutual funds, then ICICI Pru Focused Bluechip Equity (ICICI Pru Bluechip) can be a good fund to start your core portfolio. A basket made up of the top large-cap companies in the listed universe, active fund management that throws in a few mid-cap stocks for returns and a bit of derivatives to hedge the portfolio from market volatility have all worked in favour of this fund since its launch in May 2008.
Had you invested in the fund since its inception using the SIP mode, it would have delivered 15.7%, higher than the 9.5% return of its benchmark CNX Nifty.
But a point-to-point return would suggest that the fund lagged its benchmark by less than a percentage point. This is simply because the Nifty had fallen quite a bit by mid-2008, while the fund, just launched and starting off with cash, did not have such a low base to contend with.
Suitability
As stated earlier, the fund is suitable for those who wish to start an equity portfolio. But be prepared for a fall in your portfolio in a bear market as holding blue chips does not entirely insulate your portfolio from market fall. It may, at best, reduce the impact and possibly bounce back faster on a revival.
If you are a very conservative investor and want a tryst with equities without getting hurt, then balanced equity-oriented funds will be a better route.
Opt for the growth strategy and have a time frame of at least 3-5 years. Consider an SIP of not less than 3 years to average costs well. If you are building a long-term portfolio then have longer SIPs. If you become familiar with markets, buy this fund with a small lump sum (besides the regular running SIPs), in market corrections of 5-10%.
Performance
ICICI Pru Bluechip has an exemplary record of beating its benchmark 98% of the times on a rolling one-year return basis since its inception. But it is to be noted that the few instances of underperformances, occurred in 2012. As the quantum of under performance was less than a percentage point in all these instances, it does not cause any undue concern.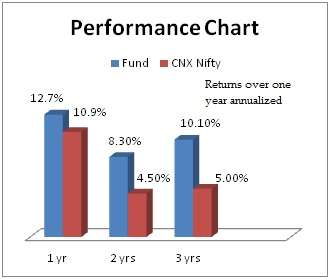 It is also worth noting that the sudden rally in the later half of 2012 may have caught the fund unaware, especially given that it uses a bit of derivatives. While the fund management did change hands in 2012 (from Prashant Kothari to Manish Gunwani), we do not see any fundamental change in the strategy or performance of the fund that warrants concern.
ICICI Pru Bluechip has a risk-adjusted return superior to older large-cap funds such as Franklin India Bluechip and HDFC Top 200 in the last three years.
That said, it has limited room to maneuver outside of the large-cap stocks. Hence, HDFC Top 200 may overtake the fund in rallies that are not very large-cap focused.
But to its credit, its returns do not deviate much from its mean and it also contains declines better than most other large-cap peers, thanks to its occasional use of derivatives, sometimes using the index futures and at other times more stock-specific futures for hedging purposes.
Portfolio
As is the case with most large-cap funds, the fund is heavy on banks. ICICI Pru Bluechip, in fact, increased its exposure to this sector over the last one year.
The usual large-cap performers, HDFC Bank, ICICI Bank and SBI, besides Kotak Mahindra Bank together accounted for a fifth of the portfolio.
While IT sector was the second largest holding, FMCG stocks interestingly saw an increase in exposure in the space of a year, with United Spirits and Nestle coming in, even as Marico exited the portfolio, in the later part of 2012. Auto and auto ancillaries too were in the top 5 sector exposures.
Energy stocks such as Petronet LNG, Cairn India and PGCIL offer some balance in terms of 'value' exposure, against the otherwise 'growth-heavy' portfolio.
[fbcomments]