Quite often I am confronted with this question from traders about how should they frame a trade when the price reaches a Turn-Zone or an area of support or resistance from where price is likely to resume its primary trend.  Let me address this question with a practical example. Kindly direct your attention to the daily chart of the Nifty featured below.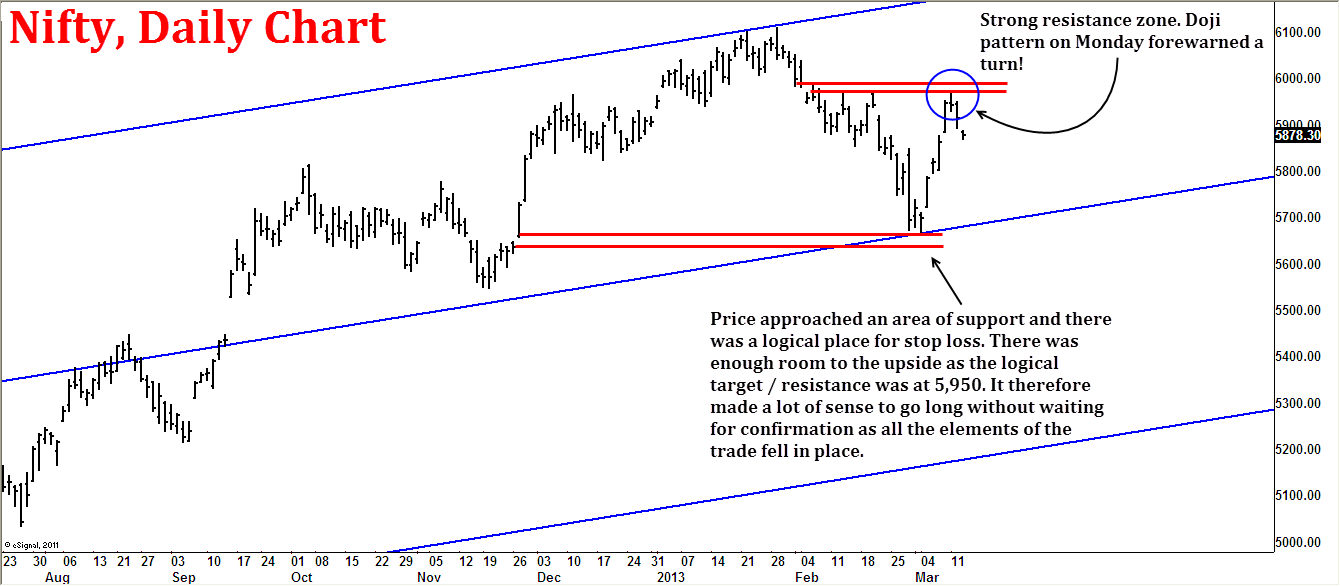 When price fell to the support at 5,650 on the Budget-day, we said, in our FREE WEEKLY WEBINAR held every Friday, that there was a case to go long at current levels. Why did we say that? Price was at an area of support and more importantly, there was a logical level to place stop loss which was the prior swing low at 5,545. Hence, I was not keen to wait for confirmation as the risk was clearly defined and affordable and there was enough room to the upside as the logical resistance/target was at 5,950-5,970.
Let's consider the other side of the spectrum. Those who are relatively risk-averse may await confirmation to see how price behaves at the support or resistance area. There is nothing wrong in waiting for the confirmation, but this would lead to a relatively lower or higher entry compared to the first approach. But, this is price one has to pay for more information. I typically use this approach while taking a counter-trend trade and/or in the absence of a logical level for stop loss placement.
It's apparent from the chart that the 5,950-5,970 zone is a area of resistance for the Nifty. When price approached this zone on Friday, there were a few options for a trader. An aggressive trader could have considered short position as price approached the resistance area, provided there was a logical level for placing stop loss. In this case, the logical stop loss had to be above the major high at 6,111.
We have been cautioning investors to stay on the sidelines since Friday when the Nifty approached the resistance level at 5,950-5,970.  It is apparent that there was no clue until Monday regarding how the price would behave at this resistance level. The completion of a Key Reversal Day pattern on Monday was an early sign that price is respecting this resistance level. Those comfortable with candlestick charts would have identified a Doji pattern on Monday, suggesting indecision and a probable change in direction.
Aggressive traders may have shorted towards the close of Monday's trading if they had spotted the Reversal Day pattern. The logical stop would have been  above the day's high in this case. The fall yesterday confirms that price is respecting the resistance level. Those who are risk-averse may now await a pull back to short the Nifty with a stop loss above 5,970.
The objective of this post is not to dish out a trading idea, but to address the question about how to frame a trade as price approaches a Turn-Zone. There is nothing right or wrong about any approach. It ultimately boils down to risk management and making money consistently.
Trade Safe and Don't Get Hurt.
[fbcomments]