A year ago, we recommended ICICI Pru Dynamic, given that a volatile market required an active valuation and asset allocation strategy (You can click here to see the call).
Had you invested then, you would not have regretted; the fund delivered 13.4% returns in the past 1 year, as against the 2.5% return by benchmark CNX Nifty and the 2.2% category average return. What's more, an investment using SIP would have generated over 20% returns in the past year.
This superlative performance, even while keeping risk at bay, is not a short-term phenomenon. The fund's rise to fame has become more evident in the last 5 years, especially after the 2008 downturn.
While the uncertainty on the economic, political and corporate fronts may be less daunting now than it was a year ago, holding a fund that will dynamically allocate its assets between equity and debt may provide some hedge to your portfolio, as it contains downsides better. Investors with a long-term perspective can add ICICI Pru Dynamic along with other equity funds as part of their core portfolio.
The Fund
ICICI Pru Dynamic seeks to invest in equities taking in to account the price to book value of the market. The fund will up its exposure to equities when valuations fall and lower its exposure when market valuations become steep. That means that the fund can take cash calls in prolonged bull markets when valuations rise too sharply.
For instance, by end 2007, when the market went into euphoria, the fund steadily reduced exposure to equities. Similarly, in end 2012, when markets had delivered well, its equity holding was reduced to as low as 80%. The ensuing months – beginning of 2013, saw equities underperform.
The takeaway for you from the fund's investment style is that there could be periods during bull phases when the fund underperforms as a result of a relatively higher cash holding compared with peers. But such calls would be part of an overall market strategy and going by past instances, the fund's earlier calls have proved right on hindsight. Hence, do brace yourself for less impressive returns in a market rally. Use the fund as a good hedge in your equity portfolio.
Performance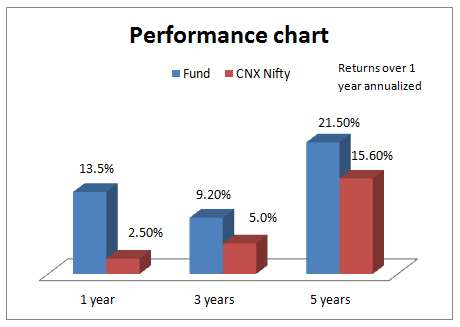 ICICI Pru Dynamic comfortably beat its benchmark over a 10-year time frame, with a compounded annual return of 20% as against 12.4% return of the CNX Nifty and a category average of 15.8% annually. While the fund's performance might seem exceptional, its rolling returns bring out periods of underperformance, especially in a rallying market.
On a rolling 1-year rolling return basis (in the last 3 years), the fund beat its benchmark 83% of the times. The short spurts of underperformance happened during sharp rallies. Still, the record is good enough for a diversified equity fund. On a risk-adjusted basis too (measured by sharpe ratio), while the fund scores well in the diversified fund category, a large-cap fund from the same stable, ICICI Pru Focused Bluechip Equity scores better. While this is not to undermine ICICI Pru Dynamic's exceptionally good performance, you will do well not to be carried away by the present high returns.
Portfolio
ICICI Pru Dynamic's portfolio turnover suggests that the fund churns its portfolio quite often. While the fund held about 81% in equities in end –December, it increased its stake in January, given the correction over the month. The fund also takes exposure to derivatives when required. As of January, it held Nifty index futures.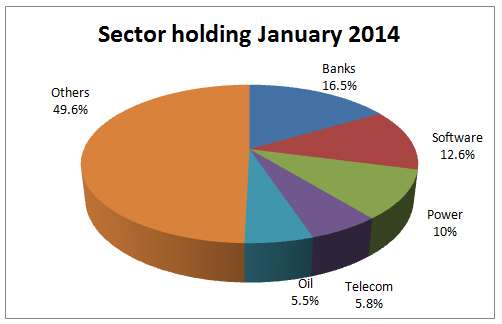 While over two-thirds of the fund's exposures are in large-cap stocks, it has some contrarian picks as well in this market cap segment, perhaps picked as a result of beaten down valuations. NMDC, Power Grid Corporation and Cairn India are such examples. The fund is managed by Sankaran Naren and Mittul Kalawadia.
[fbcomments]