On the front line for over a decade
Birla Sun Life Frontline Equity is among the handful of equity funds with over a decade's track record. While quite a few funds with such a record have fallen by the way side, this fund managed to chug along well, keeping itself in the top quartile of the performance chart.
This large-cap focused fund delivered 15% annually in the last 5 years, convincingly beating its benchmark S&P BSE 200 by a good 6 percentage points.
Suitability
Birla Sun Life Frontline Equity is suitable for an investor's core portfolio. That said, if your priority is to minimize volatility in your portfolio, then another more established player – Franklin India Bluechip, must be your first choice.
The standard deviation, or a fund's deviation from its mean returns, is higher for Birla Sun Life Frontline Equity than for Franklin India Bluechip, suggesting that it is relatively more volatile. But this feature also makes the Birla fund an ideal candidate for investing through SIPs as it averages rupee costs well when its NAV falls and gains. Its 5-year SIP return is superior to that of Franklin India Bluechip for this reason.
Performance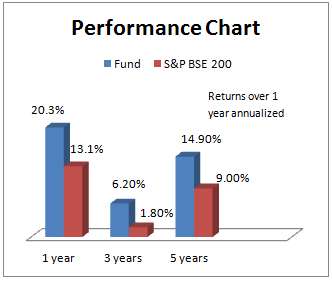 Birla Sun Life Frontline Equity beat its benchmark 88% of the times on a rolling one-year return basis since its inception in late 2002. While that is a good show, it ramped up performance in the last 3 years, when it did not once underperform its benchmark, even as returns were similarly rolled. Clearly, the fund has, in recent years, been trying to demonstrate better consistency in performance.
In terms of its risk profile, the fund is somewhat closer to HDFC Top 200, although the latter may have marginally higher exposure to mid-caps than the former. Both the funds also share a common benchmark.
Given that its benchmark BSE 200 is a tough index to beat (considering that Birla Sun Life Frontline Equity invests predominantly in large-cap stocks), especially in a rallying market, the fund has mostly beaten its benchmark in years of up market only by 2-3 percentage points.
But it improved on this score in 2012, beating the benchmark by a convincing 5 percentage points. Overall, it adequately made up for this marginal outperformance by containing declines well in market falls such as the ones in 2008 and 2011. It fell 5-7 percentage points lower than the benchmark in those years.
Portfolio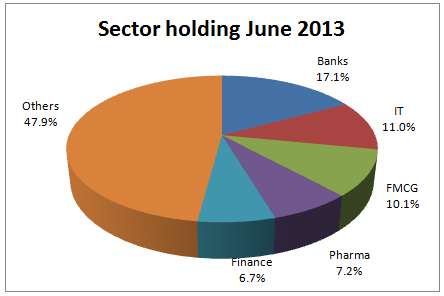 Birla Sun Life Frontline Equity contained declines well, but mostly by holding a higher position in cash and debt. For instance, in the market low of March 2009, which was when the turnaround started, the fund held as low as 73% in equities, in contrast to the over 90% held by Franklin India Bluechip. Similarly, in end-2011, when markets received a beating that year, the fund held about 91% in equities, even as bold ones likes HDFC Top 200, went all out with an almost full equity exposure.
But thus far, the fund has not paid much of a price for this approach as the returns tend to normalize over a longer term.
Birla Sun Life Frontline Equity reduced exposure to consumer-oriented sectors such as automobile and auto ancillaries between December 2012 and June 2013. This may have helped to some extent as these sectors took a beating in the market fall year to date.
It is also among the few funds that managed to stay away from negative turf on a year-to-date basis.
The fund marginally reduced exposure to banking and finance space in the wake of rate uncertainties and upped exposure to FMCG and pharma. Holdings in IT remained about the same.
The fund also appeared to fancy the energy space and held stocks such as Alstom, Power Grid Corporation of India, Cairn India and Oil India. While exposure to infrastructure and capital goods stocks was not high, it held quite a few stocks (with less than 0.5% holding) such as Adani Ports, IL&FS Transportation Networks and Jindal Steel & Power from these spaces.
The fund is managed by Mahesh Patil.
[fbcomments]